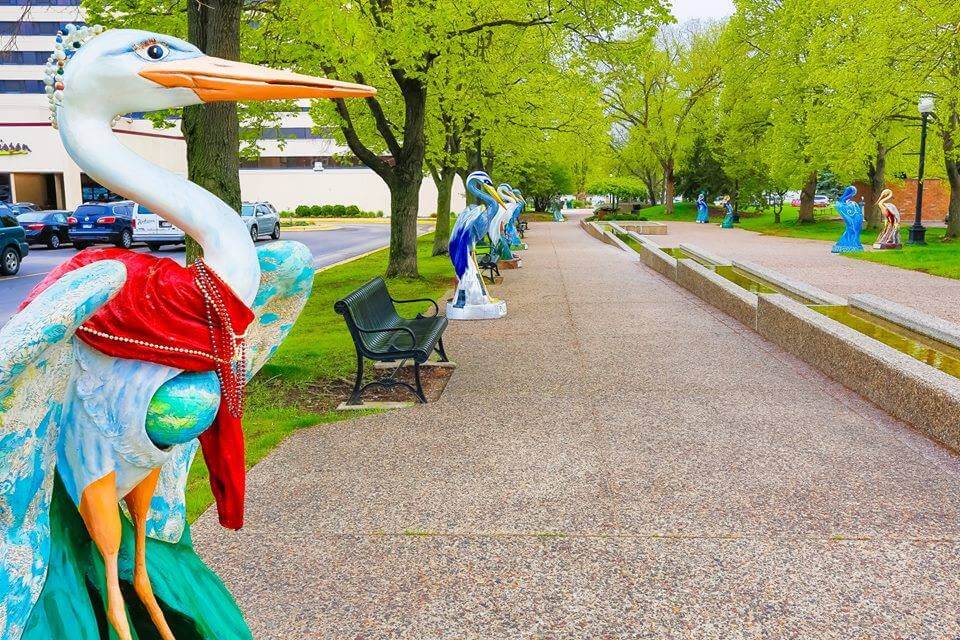 At a glance…
What: Herons of La Crosse "Flock" Exhibition
When: Friday June 1, 2018 | 5:00 PM – 7:00 PM
Where: Main Street Plaza, 200 Main Street, La Crosse
Herons of La Crosse "Flock" Exhibition Opening
Friday June 1 in the Main Street Plaza
The Herons of La Crosse are returning for a 10 year anniversary celebration. The statues from the Pump House public art project have landed in downtown La Crosse again.
Originally displayed in 2008, each 6-foot-tall sculpture is an original work of art created by local, regional, and national artists. The 2018 project includes 21 herons; Some of the herons are currently placed in Main Street Plaza, 200 Main Street, at the intersection of Main Street and Second Street in downtown La Crosse and all will be placed by June 1 for the Exhibition.
The Pump House, in partnership with Downtown Mainstreet, Inc. and Explore La Crosse, are making them available this summer with a "Flock" exhibition in downtown. Organizers asked the community to chip in to bring the "Herons of La Crosse" back to the area. Support was received from the community with underwriting sponsorship from Kwik Trip and the La Crosse City Vision Foundation.
The heron project was first organized by the Pump House beginning in 2004. Area businesses, organizations and families sponsored individual herons, which were then decorated by regional artists in unique ways to reflect their sponsorship and the community.
Individual heron sponsorships are available. Your sponsorship will be acknowledged on the heron sculpture of your choice (subject to availability).
The Pump House is a non-profit 501(c)(3) organization; donations are tax deductible as allowed by law.
The Pump House Regional Arts Center in La Crosse, Wisconsin was founded in 1977. The Pump House frequently hosts performing artists in the 140-seat Dayton Theatre. Visual artists exhibit in two galleries, and art classes are also held at the Pump House. Before becoming an arts center the building served as a main water pumping station for the City of La Crosse, in the late 1800s. In 1913, the building was vacated when the city's need exceeded its pumping capacity. The Pump House was renovated in 1977 with cooperation from the city and the volunteer efforts of many friends of the arts. The original angled wood ceiling was preserved and woodwork from the old La Crosse Post Office was utilized in the renovations. Since 1977, the city of La Crosse has authorized a long-term lease ensuring that the Pump House remains a regional arts center. For information regarding the Pump House, call (608) 785-1434 or visit our website www.thepumphouse.org.