Historic Trolley Tours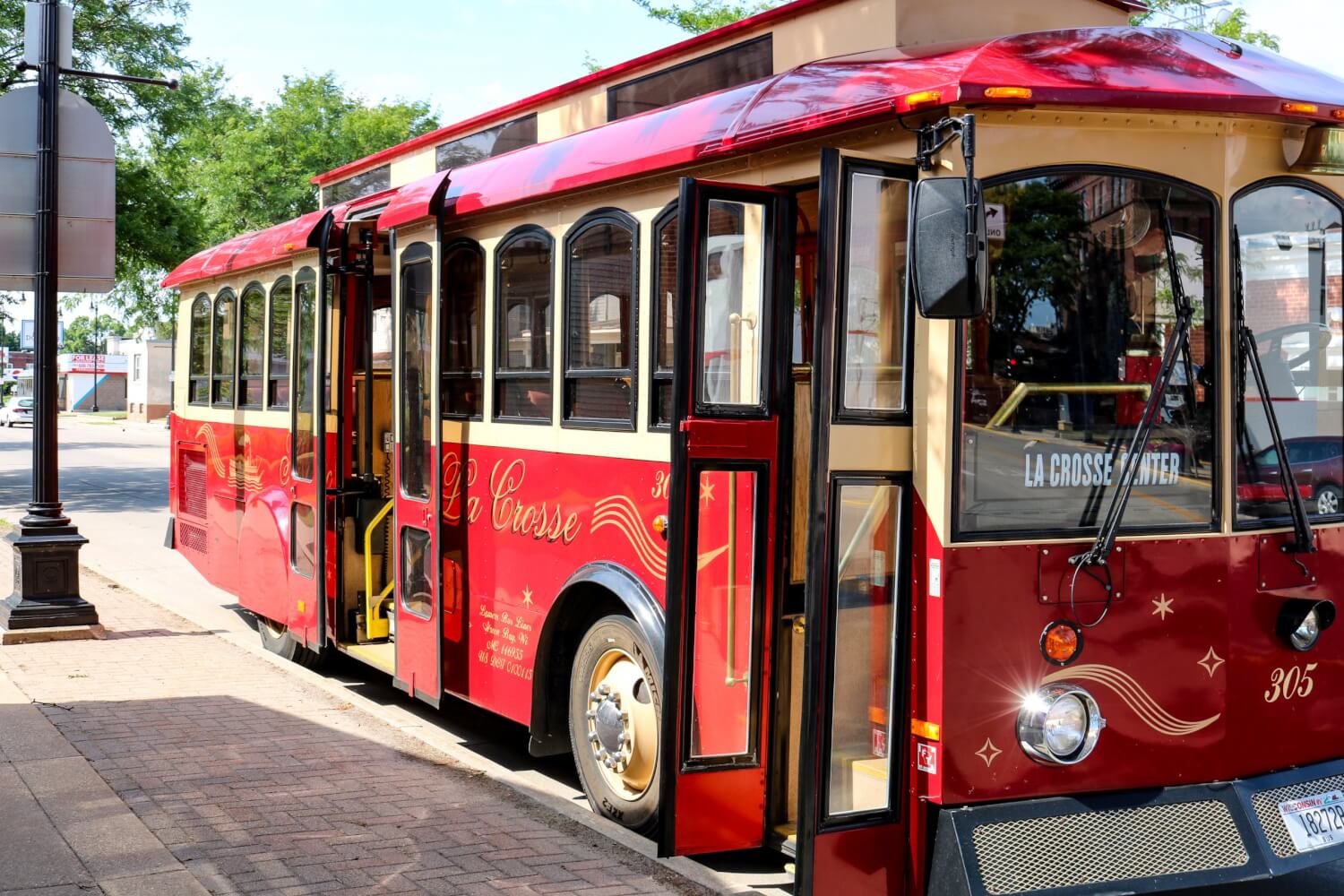 IT'S BACK! Starting Saturday, July 10th until September 25th, 2021, ride into the historic tales of the la crosse region dating back to 1841.
Our air-conditioned trolley bus tours are guided by La Crosse's knowledgable county historical society, helping you uncover the beauty of La Crosse's riverfront and historical districts and scenic parks.
Reservations are recommended, The trolley has a capacity of 20 passengers, and is wheelchair accessible.
To Make Your Reservation, Please Call: (608) 782-2366 or (800) 658-9424
Historic La Crosse Tour
The historic trolley tour trip begins downtown at the La Crosse County Convention and Visitors Bureau located at 123 7th Street S. La Crosse, WI 54601. Enjoy the scenery of La Crosse from 10:30 am until noon, running every Saturday from July to September. The bright red trolley bus is a nostalgic re-creation of the types of vehicles that traversed the streets of La Crosse in days gone by. Tickets are available for $15 for adults, $13 for seniors (62+ years), $7 for children (5- 17 years), and 4 and under ride for free! 

Dark La Crosse Tour
Join the La Crosse Public Library Archivists for the tour focusing on downtown La Crosse's macabre past. Your narrator will guide you down a dark path through the red light district, Prohibition, small-town politics, and vigilante justice in a young and restless river town bordered by the sleepless Mississippi River. The 2021 Dark La Crosse Tour runs 12:30 pm- 1:30 pm July 17th & 31st, August 14th & 28th, September 11th& 18th.
This tour is not recommended for ages 15 and under.
Due to CDC Guidelines, masks are required to be worn on the Trolley until further notice.