One & Done. The Road Trip for All.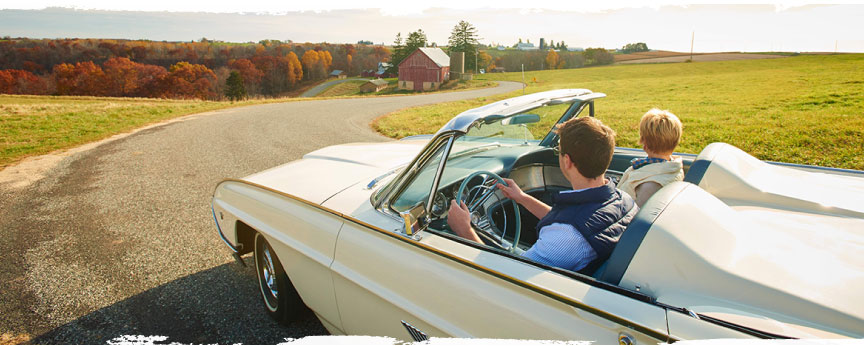 When the time is right, venture to the La Crosse Region! Centrally located on I-90 between Minneapolis-St. Paul, Dubuque, Des Moines, Madison, Milwaukee, and Chicago, the Region is easily accessible and just a road trip away. Don't worry about how to pack and prepare. We've pulled together 10 tips to help you achieve a safe and memorable road trip to the La Crosse Region!

Packing:
1. Create Your Travel Playlist
From a custom mixed tape to Pandora, we all know the audio to an excursion will make or break the drive. Leave the search and worries in the dust – Create your playlist or find your favorite podcast ahead of time!
2. Prep Snacks for the Road
Passing time is the name of the game, and what better way than to munch on some of your favorites! Why not pick up some Wisconsin Cheese Curds on the way? Whether your motivation is to limit pit-stops and be socially responsible, or you just prefer home-made goodies, preparing your snacks ahead of time will satisfy your cravings and get you energized for your upcoming adventures.
3. Bring Your Camera
The La Crosse Region is beautiful… like, really stunning. Trust us, you want your camera or at least clear some memory in your phone for storage. Whether you're exploring the public art walks and Riverside Park or adventuring up the bluffs to famous overlooks, the photos you take will be as priceless as the memories you make.
4. Pack Hand Sanitizer, Sunscreen & Bug Spray
Need we say more? Plan to be socially responsible on your trip by packing a mask and some hand sanitizer. Oh, and when you visit the Midwest, sunscreen and bug spray are a must. Save the "burn" for your campsite bonfire 😉
5. Wear Activity-Friendly Shoes
The La Crosse Region is prime for outdoor recreation and the appropriate shoes will help you enjoy it to the fullest. If it's Teva's for kayaking or hiking boots for all the trails, you'll thank us afterwards!
6. Remember a Water Bottle
Get green on your road trip by bringing your own reusable water bottle. By bringing your own you are saving the earth and helping keep the community sanitized during these unique times. Go you!

Planning:
7. The Road Less Traveled
The beauty of a road trip is that there isn't always a rush to get to your final destination… it's the journey that counts! While the La Crosse Region is conveniently located on I-90, check out some back-road routes and explore the Midwest in a unique way! For example, if you're headed from Minneapolis, MN, consider taking the Great River Road for a scenic drive through unique river-towns and along the Mississippi River.
8. Plan Your Lodging Ahead of Time
Whether you prefer staying at a campsite, Bed & Breakfast, or hotel, planning your lodging before you visit is ideal. During these unique times, businesses and campgrounds are navigating their sanitation practices and availability daily. To ensure the lodging best aligns with your standards, research and book your stay ahead of arrival.
9. Prep Your Itinerary
Responsible recreation abounds in the La Crosse Region but based on your length of stay, you may want to plan your bucket-list in advance. Here are some helpful links to help you build your perfect itinerary:
Where to Eat | Things to Do | Outdoor Recreation | Seasons to Visit

Immerse Yourself:
10. Shop and Eat Local
A road trip is a classic way to immerse yourself in a new environment and experience local cultures. The La Crosse Region is proudly home to many family-owned and small businesses. From antique stores and boutiques to vintage martini bars and handcrafted breweries, there is a plethora of local stores and restaurants to visit. Don't forget to drink Leinie's or Spotted Cow and experience La Crosse's famous Old Fashions and Bloody Mary's while you're here! We thank you in advance for supporting La Crosse Region businesses during these unique times.
*Fuel* Throttle Ahead! Kidding… Please don't speed.
Plan your stay nestled between towering bluffs and along the grand Mississippi River. With indoor and outdoor activities, arts and culture, and a vast variety of places to eat and stay, you're bound to enjoy the area from sunrise to sunset. We look forward to safely host you when you're ready! Drive Safe!