Blogging on the River, Food & Drink, Foodie Favorites, Sara Walters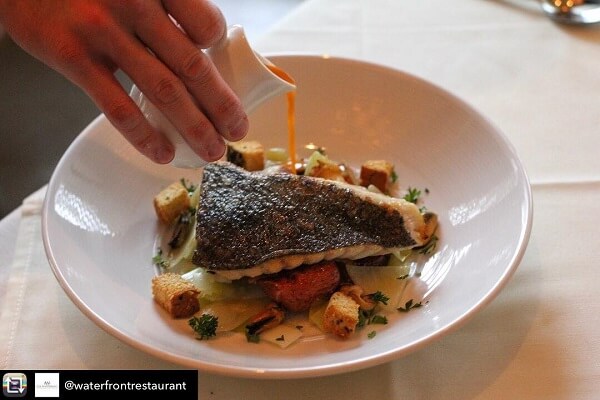 Can't wait to capture that perfect Instagram shot of your meal? If documenting the dining experience is your thing, check out these five* photo-ready restaurants in La Crosse County.
Too Pretty to Eat
The food at The Charmant is made for Instagram. Unique dishes, perfectly plated and paired with a cocktail or a coffee, will make your followers jealous. The beautiful atmosphere of the hotel adds to the appeal of this social media must-stop.
Dinner with a View
The food is excellent and camera-ready, but it's the view at The Waterfront that will earn you the likes online. Dine on the patio and capture that stunning Mississippi River sunset.
Video-Worthy
Get ready to record! The cheese curds at David Reay's are as big (and delicious) as they come. Your followers won't want to miss some live footage of you trying to get all that gooey cheese in your mouth, and not on your face.
Impress Your Friends
Heaping platters of meat and helpings of mac n' cheese are always on the menu at Big Boar BBQ. Prove to the social media world that you can tackle these impressive portions with a before and after picture of your plate.
Hit the Streets
What's more Instagram than a food truck? The options at Apothik are not only some of the tastiest in town, they're also some of the prettiest with their fresh ingredients and fun variations on classics.
Bonus: Lookin' like a Snack
Satisfy your snack craving and get some shots of the mouth-watering cured and smoked jerky at Holmen Locker & Meat Market. Beef, chicken, or pork, whatever variety you choose of this best-selling snack, your Insta-pics will make your followers drool.
Sara Walters
Writer
Sara Walters is a writer, mom and marketing professional. She lives in La Crescent, MN with her husband and two daughters, Caroline and Maggie. Visit Sara's website at creativecontentandconsulting.com.
*Disclaimer: This is just my perspective on La Crosse County events, businesses and activities. I'm only one local opinion. Explore the rest of the site to learn more on those that I've missed.