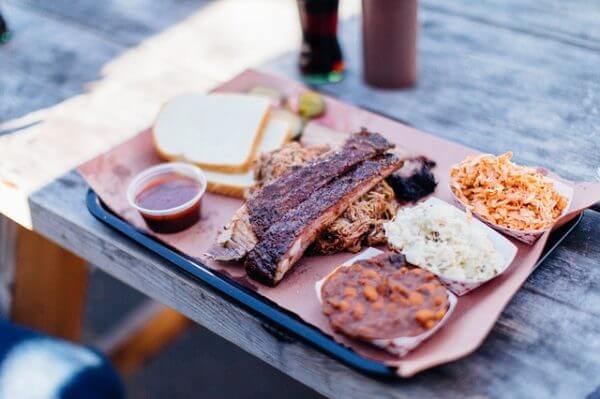 https://www.explorelacrosse.com/wp-content/uploads/2018/01/BBQ-e1515514300183.jpg
By: Sara Walters
Grab your stretchy pants and a handful of napkins.
There's a great assortment of BBQ joints in La Crosse County to try! Whether you like fall-off-the-bone ribs or a nice saucy, smoked-meat sandwich, you can't go wrong with these five favorites.
Big Boar Barbecue – West Salem
Repeatedly voted "Best BBQ" and "Best Caterer" by La Crosse County, this West Salem business has grown to become a popular BBQ hot spot. And for good reason—locals demand their Big Boar! With a traditional menu of sandwiches, ribs, and platters, the sides at Big Boar are also a perk (mac n' cheese anyone?). Want to take the deliciousness home or to your next gathering? Try the "Pick up 'n Go BBQ" option and grab a couple bottles of their homemade sauce, while you're at it.
Famous Dave's – Onalaska
This franchise favorite continually ranks among the top choices for La Crosse County residents' BBQ needs. Bring the family for a sit-down dinner and select from a full menu of tasty options. They've also got a great catering option that features "pit-smoked BBQ and made-from-scratch sides."
Piggy's Restaurant & Blues Lounge – La Crosse
If ribs are your thing, Piggy's has Pork Back Ribs you don't want to miss. Rubbed with herbs and spices and cooked for a full 24 hours, this rack is a BBQ lovers dream. The rest of the smokehouse selection at Piggy's, a downtown La Crosse staple, is also worth exploring on your next dinner outing.
Sweet Lou Barbeque (Food Truck) – Onalaska
Mobile meats are the speciality for Sweet Lou's Barbeque food truck. Owner Andrew Fischer has competed in national BBQ competitions and now takes his talent of slow-smoked meats to the streets of Onalaska and surrounding areas. This is a great pick for a lunch date during warmer months, as Sweet Lou's is only open from April-November.
Red Pines Bar & Grill – Onalaska
The self-proclaimed "really good ribs" at Red Pines are a local favorite. These in-house BBQ smoked ribs go well with the fun lakeside atmosphere of this neighborhood hangout. If you're dining with a non-BBQ fan, try the signature walleye sandwich. You won't be disappointed.