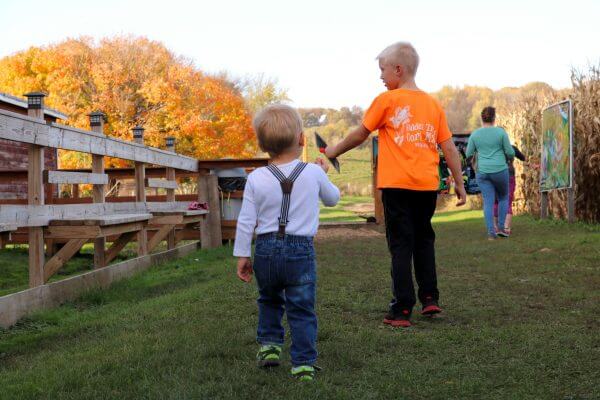 La Crosse and its surrounding communities are rich in recreation and entertainment opportunities. But, in many cases, it's not just limited to adults. Kids love La Crosse County, too! Here are eight local spots to maximize your family fun.
Children's Museum of La Crosse
With rotating exhibits and generous donors, the Children's Museum always has something new in store for kids and their families. Play pretend, work out some wiggles, and have some old fashioned, hands-on fun at this La Crosse staple.
This iconic Riverboat, which docks in Riverside Park, will wow your youngsters with its giant paddlewheel. Enjoy a step back in time on a variety of Mississippi River cruises. A great family option is the relaxed, 1.5-hour Pizza Cruise, a late afternoon ride that features—you guessed it—free pizza!
Does your family love farm animals? They're nice and friendly at Rainbow Ridge Farms in Onalaska. If you're coming from out of town, the on-site bed & breakfast has Wi-Fi, air conditioning, and other modern amenities you need to keep kids comfortable. Outside, the goats steal the show—even joining visitors on hikes and for yoga!
Shefelbine Orchards and Pumpkin Patch
Home of the RiverBelle and Pazazz apples with plenty more kinds of apples and pumpkins, Shefelbine is a family-owned pick-your-own operation located in the beautiful Holmen Countryside.
There are many wonderful parks in La Crosse County, but younger children really love Kids Coulee. With every kind of nook and cranny you can imagine, the wood structures give the feel of unlimited forts and promote imaginative play. The nearby marsh offers trails and wildlife that are a nice alternative for older children and adults, as well.
La Crosse Fairgrounds Speedway
If your family likes lively crowds and high-speed action, take them to the La Crosse Fairgrounds Speedway in West Salem. With weekly Friday night races, this NASCAR-sanctioned asphalt track provides an evening of super-fast fun. Families are encouraged to visit their favorite racers in the pit, play on the playground, and enjoy the discounted rate of the Family Pass.
Known as "The Apple Capital of Minnesota," La Crescent's annual festival boasts delicious apples from area orchards. Young and old will like the apple-inspired treats, live music, orchard tours, and King Apple Parade. School age kids will also get a kick out of the carnival rides, kiddie parade, Big Wheel races, pedal tractor pull, and the Little King/Little Miss program.
Located just five miles east of La Crosse, Wisconsin on Highway 16, Hidden Trails Corn Maze is just a short drive from anywhere in the tri-state area. Getting lost in the maze is fun, but there is also plenty of other activities that include pumpkin patches, wagon rides, farm animals, and more!
Disclaimer: This is just my perspective on La Crosse County events, businesses and activities. I'm only one local opinion. Explore the rest of the site to learn more on those that I've missed.
Sara Walters
Writer
Sara Walters is a writer, mom and marketing professional. She lives in La Crescent, MN with her husband and two daughters, Caroline and Maggie. Visit Sara's website at creativecontentandconsulting.com.