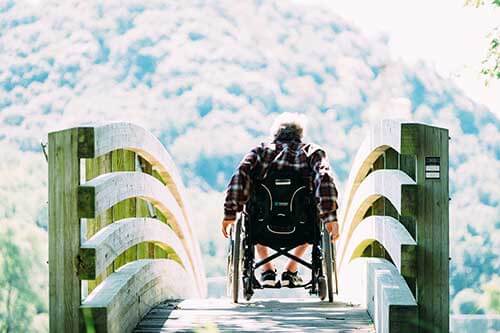 Everyone should have the opportunity to enjoy the beautiful Mississippi River Valley.  We have some great ideas to help you get outside and enjoy the best of nature in our area and have a truly accessible vacation.
Upper Missisisippi U.S. Fish & Wildlife Visitor Center
The Center is located on Brice Prairie in Onalaska and is completely ADA accessible. With a couple miles of paved trails you'll be able to experience the wildflowers and wildlife along the trail.
A 10-minute movie in our theater about the seasonal sights and sounds on the refuge.
Interactive exhibits about the diverse wildlife and habitats.
The River Walk exhibit allows you to "walk on water" and see what lies below the surface of the river.
2 miles of paved flat trails wind through the sand prairie.
Plenty of prairie plants provide year-round color. Visit each season to see the change. These native plants are beneficial to butterflies, bees, dragonflies and more. The prairie is absolutely "buzzing" with activity from late spring through fall!
Restrooms and ample parking for vehicles, including buses and RVs.
View the map of the trails here. These trails bring you to an overlook on Lake Onalaska where you can enjoy pristine views of the Coulee Region.
NASA
Not to be confused with space ships and rockets, NASA (North American Squirrel Association) of the Coulee Region helps support the physically challenged and the elderly with outdoor recreation opportunities.  NASA offers lake tours/fishing expeditions on Lake Onalaska, shore fishing, golf, skiing, bicycling, and hunting opportunities.  Reservations fill up quickly so be sure to sign up early. Using donated funds and equipment from generous individuals and businesses in the Coulee Region, NASA has been able to provide such opportunities free of charge to those in need, all the while continuing to grow. Please visit their website for more information.
Mosey Landing
Mosey Landing is a completely accessible fishing landing and plans are in the works to add to it the only fully accessible Veteran's park in Wisconsin. The pier is equipped with benches and pole holders and there is a wheel chair accessible bathroom.  Mosey Landing is something you don't want to miss on the Prairie.
Your itinerary…
Check out Mosey Landing to do some shore fishing on their accessible landing and later leave on a cruise with NASA to soak up the sun on a boat right on Lake Onalaska, pool 7 of the Mississippi River. Maybe put in a fishing rod as well.  After you get back from your boat ride, head on over to the Upper Mississippi Fish & Wildlife Refuge Visitor Center and learn about the history of the refuge and the wide variety of birds and animals that call it home. The Visitor Center also boasts over 2 miles of paved flat trails that lead you to their new Lake Onalaska overlook.