Explore, Savor and Enjoy Peak Fall Colors This Autumn!
If a getaway is what you're craving, check out these award-winning hideaways to explore fall foliage, enjoy savory food and craft beverages, and find local gems, bursting with gold, orange and red this season!
– LODGING –
Your overnight stay will be nothing less than legendary with these three stays in the La Crosse Region. See epic views, vibrant colors and experience all that Western Wisconsin has to offer!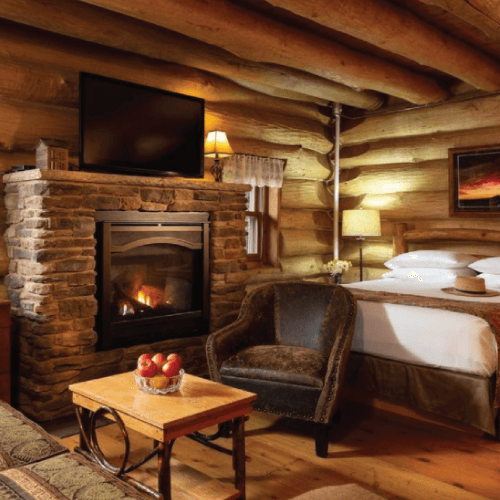 Justin Trails
One of the cozy places to explore and stay in the La Crosse Region is Justin Trails Resort, in Sparta, WI. It has been ranked as a number 1 best Wisconsin luxury cabin rental hideaway. Their picturesque and private, dog-friendly cabins feature whirlpool bathtubs, handcrafted log beds, gas fireplaces and more nestled in their 200-acres of hills, valleys, forests and meadows. Visitors can venture out of the cozy cabins, and explore the fall colors on their trails filled with wildlife such as birds, hawks, deer, fox and more. Oh! And they have 3 pet llamas to hand-feed, fun that's enjoyable for the whole family!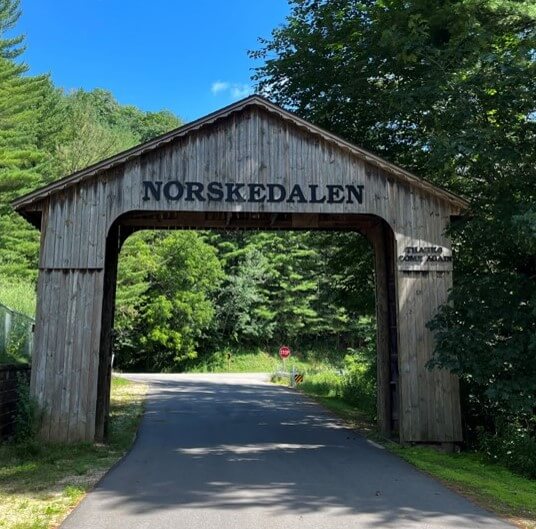 Paulsen Cabin
This authentic log cabin was built 150 years ago and is truly a step back in time. It is nestled in the Norskedalen Nature and Heritage Center with a "little house on the prairie" feel! Due to its location, it's not only a cozy hideaway, but it has epic, outdoor exploration available as well – perfect for one-of-a-kind experience! Norskedalen has 400-acres filled with trails and is located in Coon Valley, WI. The property also highlights the Norwegian heritage with unique buildings and artifacts. Stop and explore the one-of-a-kind property that bursts with history and colors. They offer both guided and self-tours.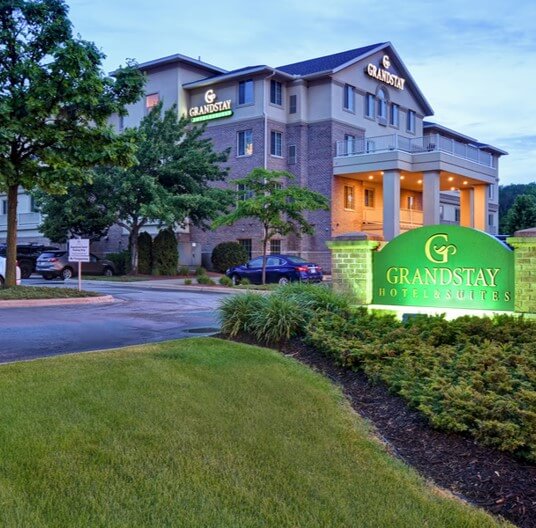 GrandStay Hotel
Awarded Travelers' Choice in 2020 by TripAdvisor and rated one of the top hotels in La Crosse, WI, The GrandStay Hotel & Suites located in Historic Downtown La Crosse. It is conveniently situated near the Mississippi River, International Friendship Gardens and walking trails. The location is perfect for seeing fall in full effect along the river and just close enough for all the seasonal fun in our historic downtown! This pet-friendly hotel is perfect for a short visit or extended stay. Grab a room and enjoy the amenities this place has to offer, such as a small pool, whirlpool and exercise room.
– RESTAURANTS –
The La Crosse Region has become famous for exceptional cuisine, and there are countless places to warm up or enjoy the fall sun and experience diverse ambiances, no matter your taste.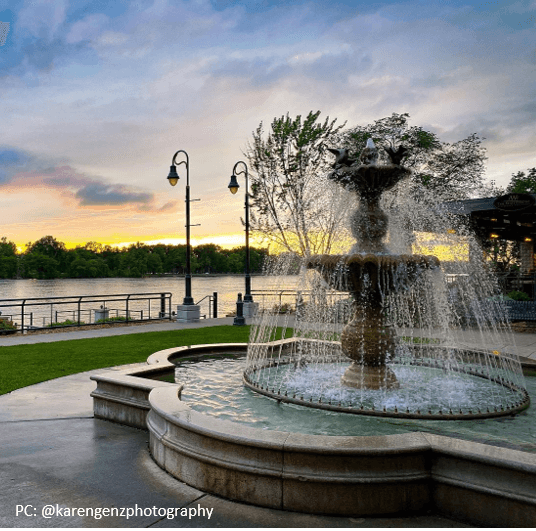 Waterfront
The Waterfront Restaurant and Tavern has become a favorite of locals and a travel destination all in the same. Their menus highlight seasonal American cuisine that includes prime beef and fresh day-boat seafood. The more casual Tavern offers live entertainment weekly with a historic, prohibition era, antique bar.  It features a tavern-only menu of appetizers and light fare. Enjoy the patio on the banks of the Mississippi River, whether meeting friends for a drink, or for a full meal experience.  The patio is one of La Crosse's best riverfront hot spots.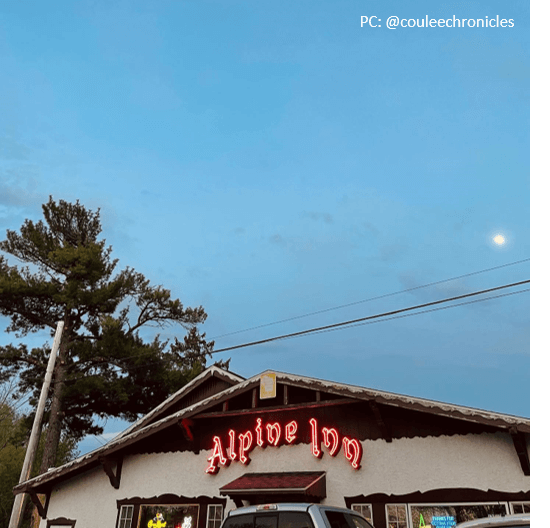 Alpine Inn
Visit the Alpine Inn, a historic bar & grill seated atop Grandad Bluff in La Crosse, WI. You'll find the best views of fall colors here! They're known for great Bloody Mary's, burgers and all around good food. The Alpine Inn is a fun and great destination for those wanting to enjoy a fun atmosphere, great view, and good food. Come and enjoy the outdoor deck, cold drinks (hot in the winter), and Bloody Mary's! They have a great menu, great specials daily, and a fun staff! Daily food specials, drink specials, and a nice place to sit outside.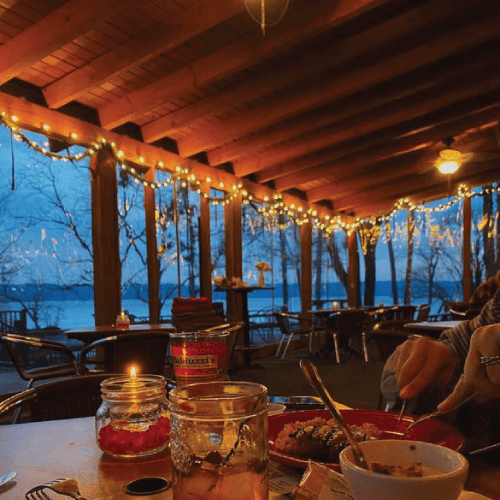 Red Pines
For a Northwoods and casual ambiance, Red Pines Bar and Grill of Onalaska is a sure win. This bar and grill has been voted as the No. 1 fish fry and the No. 1 rural bar and grill in the La Crosse Region. It is also distinguished for its location, sitting along the edge of Lake Onalaska! Here, you'll enjoy expansive views of red, orange, and yellow over the stunning lake. Red Pines has a rustic atmosphere serving hand –prepared walleye, perch, in-house smoked ribs, and homemade pizza.
– Activity –
Don't miss these legendary and iconic fall hikes, walks, and road-trips along the mighty bluffs and winding Mississippi River!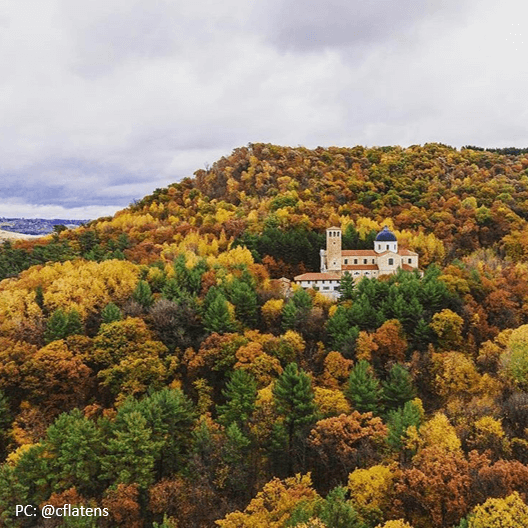 Shrine of Our Lady of Guadalupe
The Shrine of Our Lady of Guadalupe will forever be a spiritual destination for visitors from all over the world. The Shrine is nestled in on over 100 acres of God's Country in the Mississippi River Valley. You won't find any other place that can match the beauty of our region! Spot your favorite fall colors and location here! In addition to the many beautiful chapels, statues, gardens, and devotional areas, the Shrine has a full service café and gift shop open daily. It's a wonder tucked in nature.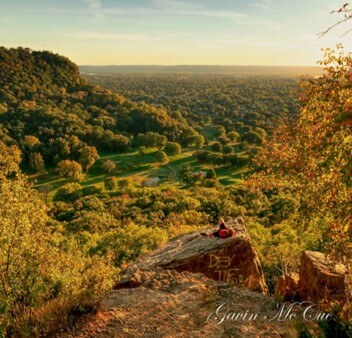 Grandad
Bluff
Grandad Bluff has become not only a destination point for thousands, but also a famous symbol of the great Driftless Region. The 600-ft high bluff overlooks the city of La Crosse, the Mississippi River Valley, Wisconsin, Minnesota, and Iowa. Find unparalleled view just a short 10-minute drive up a winding bluff road, you'll find legendary sights bursting of vibrant fall colors. Voted as "the most scenic view in the state" by Wisconsin Trails readers, this signature sight is a bucketlist must when visiting the La Crosse Region this fall!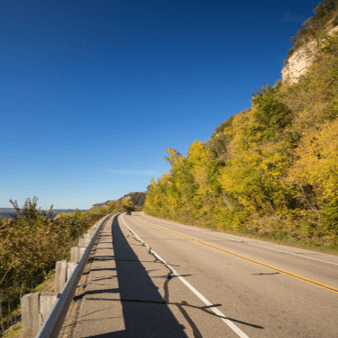 Great River Road
Up for a road trip? Enjoy beautiful scenery, access to excellent hiking, fishing, and boating, rugged bluffs, and of course the picturesque Mississippi River along the Wisconsin Great River Road. U.S. Highway 35 covers 250 miles in the state of Wisconsin, from Prescott in the north to Kieler in the south. Over two-thirds of that distance traverses protected land, offering birdwatching and other outdoor opportunities. And 33 charming river towns dot the highway with convenient stopping points to find, farmer's markets, wineries & breweries, and more.
– Craft Beverage –
Warm yourself from the inside out in the crisp, cool fall air! Sip on divine wine, try a local or new craft beer and taste the wonders of a local-made spirit. There's plenty of craft beverage locations to visit, no matter your niche.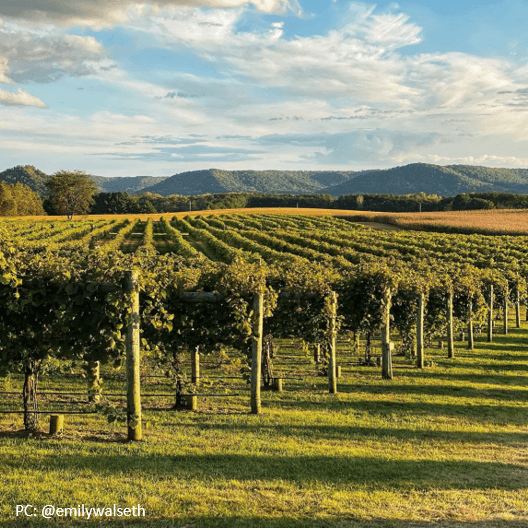 Elmaro Vineyard
Elmaro is found in Trempealeau County and proudly showcases beautiful views of the bluffs and miles of vines. This winery was created with family values in mind so you know you'll get "your Napa, close to home." Enjoy delicious wine, great company and even better views at Elmaro Vineyard!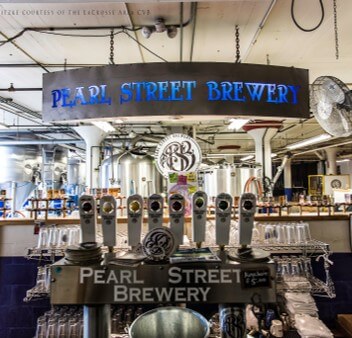 Pearl Street Brewery
Visit Western Wisconsin's premier craft brewery! Since 1999, Pearl Street Brewery has produced award-winning Ales and Lagers. See how they do it with a brewery tour any Friday or Saturday of the year! Catch a tour, or just head on down to have a seat in their Tasting Room and have a pint or two, and pick up a six-pack, growler or case of beer to go.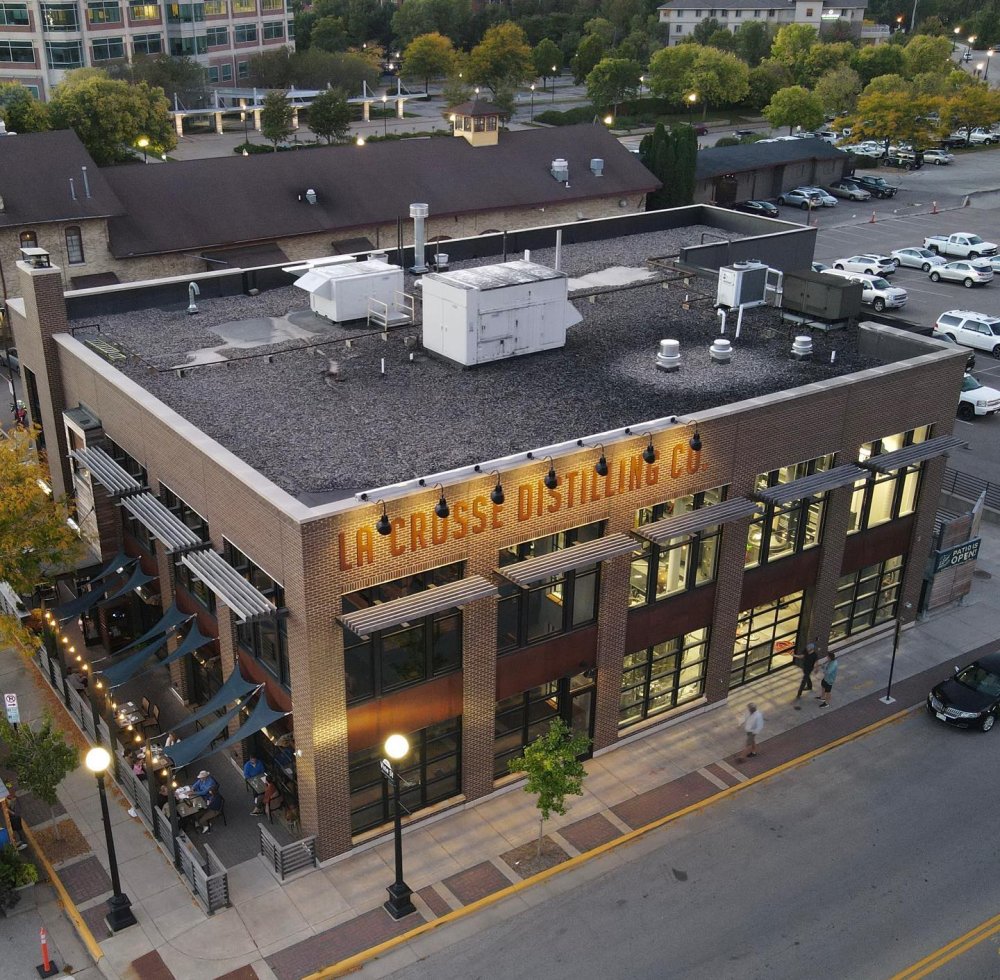 La Crosse Distilling Co.
Come visit the La Crosse Region's first distillery! Tour the facility in Historic Downtown la Crosse and see firsthand how their gin, vodka, whiskey and other spirits are made. Enjoy a handcrafted cocktail at the bar of a world-class tasting room and celebrate the changing of colors with a locally made craft beverage or seasonal, mixed drink!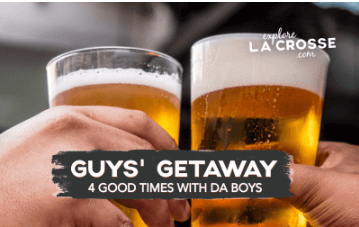 Guys Getaway
Kick it with da boys…
The Boys Are Back In Town might be a song by Thin Lizzy but it's also the type of weekend that guys anxiously await every year! Getting together with "da boys" is an annual tradition that few others can compare to. It's when memories are made (and sometimes forgotten) and there's no better place than the La Crosse Region to conceive those memories with your brothers from other mothers.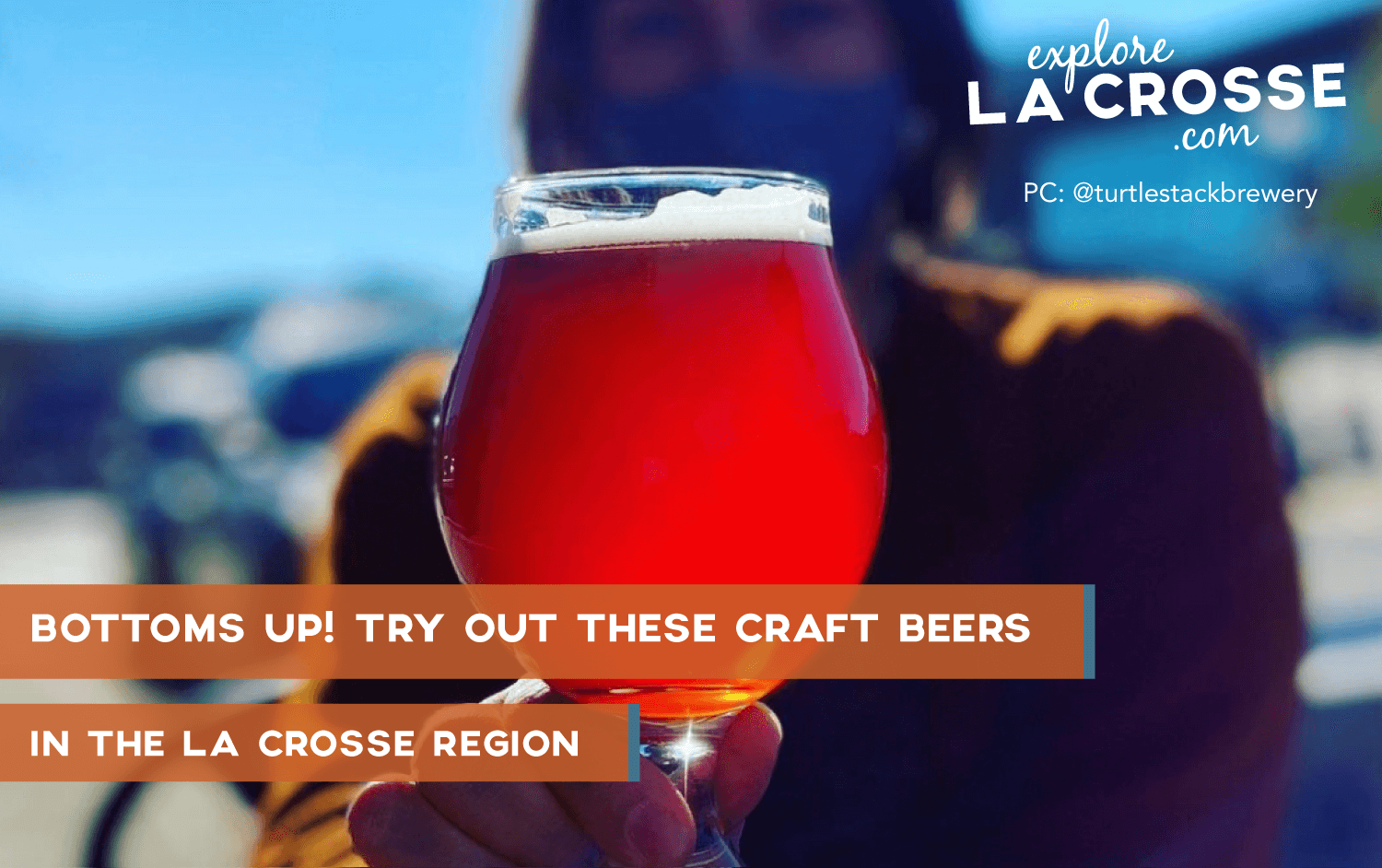 Bottoms Up
Savor a brew where the bluffs rise, rivers flow, and the beer is always cold! Whether you prefer a refreshing beer or crave a rich IPA, the La Crosse Region is becoming famous for the variety of local craft beverage options with unique selections, and eccentric ambiances. Offering a variety of custom flights, sophisticated ingredients, and seasonal specialties, these local businesses are sure to be crowd pleasers for you and your crew!