By: Sara Walters
The holidays (and hopefully the cold snap) are over.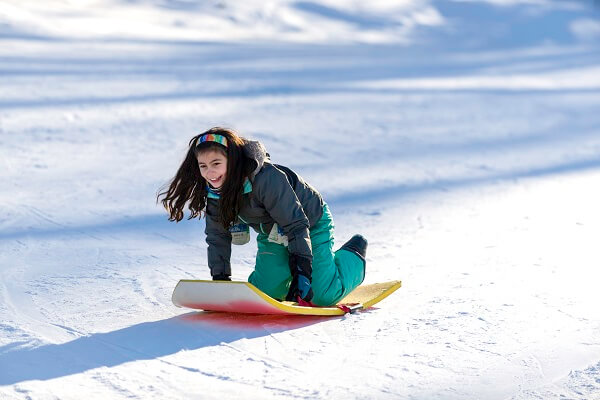 It's time to bundle up the kiddos and get outside. Enjoy the longest season of the year with a timeless, fun-for-all ages activity…SLEDDING! Wear your children out with this comprehensive weekend itinerary of sledding locations in La Crosse and the surrounding areas.
Friday
Friday Night Lights
Hold on tight for a wild ride at Van Riper Park in Onalaska. This local favorite is the perfect Friday night destination because the park's southern portion has a lighted recreation hill.
Saturday
Hometown Hill
Live a little closer to Holmen? Try out Deer Wood Park for your sledding needs. This park is a popular destination in all seasons, but is worth the trip, even in the snow.
Sparta Slopes
Hit the sledding hills of Justin Trails if you're looking for a great large-group destination. This Sparta resort opens at 10am daily and offers two hills—one for brave speed demons and one for the littles looking for a longer ride. You can bring your own tube or use those provided. Trail passes are only $5 for the day and kids under five are free. An added bonus is the use of the warming house, complete with snacks and bathrooms. It's the perfect place to celebrate a winter birthday with special rates for groups—just be sure to call ahead!
Sunday
Tow-Rope Tubing
Do your kids lose interest in walking up the hill after a few runs? Then try Whitetail Ridge Ski Area for your family sledding trip. This recreational area is located near Fort McCoy and has an 800-foot hill with a tow rope. There are five different runs to enjoy, but heads up that sledders must either be 38 inches tall or have a waiver signed by a parent. The hill opens at 12pm on Sundays and there are day passes, as well as season passes, available. Plan to stick around for lunch and enjoy the nearby Chalet, too.