Blogging on the River, Food & Drink, Foodie Favorites, French Island, Fun things to do in La Crosse, Onalaska, Sports, West Salem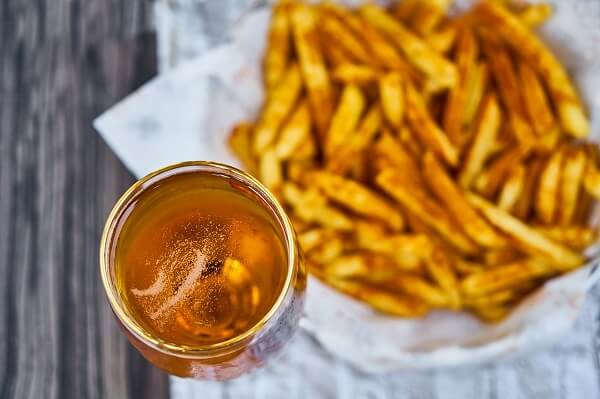 Game day and great food go hand-in-hand. Whether you're a local looking for a new game day hangout or a visitor trying to catch your favorite team on the big screen and a quick bite to eat, we've got 6 perfect places to cheer on your team.
Features Sports Bar & Grill – West Salem
Features' atmosphere provides everything from a quiet night out in the dining room, to a true sports bar experience. They are recognized as having one of the area's largest HD screens. With the surround sound and the size, you're not just watching the game, you're becoming part of it.
A historic La Crosse landmark for decades, Howie's has been a gathering place for friends and families alike. The restaurant has a menu full of gourmet burgers, signature sandwiches and wood-fired crust pizza. The bar offers tap beers, martinis, and specialty drinks. With TVs located at every angle, it's definitely the place to watch your team "get the W."
A local favorite, Schmidty's is a casual restaurant with quality food & spirits at a great value. Delicious appetizers, salads, sandwiches and burgers fill the lunch menu perfect for the big afternoon game.
Located in Onalaska, Coulee Golf Bowl is a friendly local Sports Bar and Grill that offers great food and drink specials. The newly remodeled Sports Bar and Grill offers 13 large televisions for your viewing pleasure, offering every NFL game and the Big 10 Network.
Trust us when we say that Shenanigans is more than an arcade. Watch your favorite teams play on a dozen 70″ TV's, plus two massive 130+" screens. Tackle fantastic food & drink specials while the kids (or you) take a break and hit up the games in the arcade. It's a win for everyone!
When an establishment is known for their "Big Ten" burgers, you know they are a game day favorite! They also offer a great choice of sandwiches, wraps, handmade pizza, wings and more along with 24 taps of ever-changing beers.
Disclaimer: This list is not all encompassing. To view more of La Crosse County's dining options, please visit the Where to Eat.