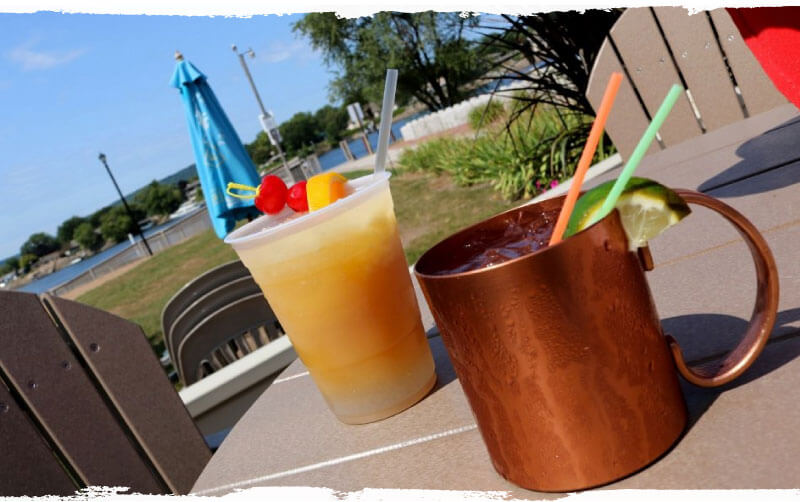 Spring and summer are short and sweet in the La Crosse Region. Want to take advantage of the option to dine outside? Here are five* great places to eat on the water—where there's an abundance of river views and sunshine.  
Moxie's
The Tiki Bar at Moxie's in La Crosse is about as tropical as it gets in the city limits. Located on a large Black River beachfront, patrons enjoy yard games, firepits, covered seating, live music, and of course, tropical-themed cocktails. Island and standard American fare make up the tasty menu at Moxie's.
River Rats
A French Island favorite, River Rats is small in stature but mighty in fun. Pull your boat up to the dock, order yourself an award-winning "Proud Mary," and share some yummy apps out on the patio. Locals love the wings and the cheese curds.
Pettibone Boat Club
After a day on the Mississippi River, nothing tastes better than a cold beer and a burger at the Pettibone Boat Club in La Crosse. Bring the whole family and watch the boats making their way up the main channel. Planning to head back out on the water after your meal? You can even gas up your boat at the club's dock.
Huck Finn's on the Water
If you're looking for live music and sensational seafood, you'll want to grab a table on the marina-front patio at Huck Finn's. The docks are rockin' all summer long at this long-time French Island establishment.
Red Pines Bar and Grill
A Northwoods spin on seafood and has made Red Pines a Brice Prairie fan-favorite. Beautiful views of Lake Onalaska paired with tasty catfish and walleye sandwiches make for a perfect summer dining destination. On chilly summer nights, cozy up in the heated patio or work up a sweat on the sand volleyball courts.
*Disclaimer: This is just my perspective on La Crosse County events, businesses, and activities. I'm only one local opinion. Explore the rest of the site to learn more on those that I've missed.
Sara Walters
Writer
Sara Walters is a writer, mom and marketing professional. She lives in La Crescent, MN with her husband and two daughters, Caroline and Maggie. Visit Sara's website at creativecontentandconsulting.com.