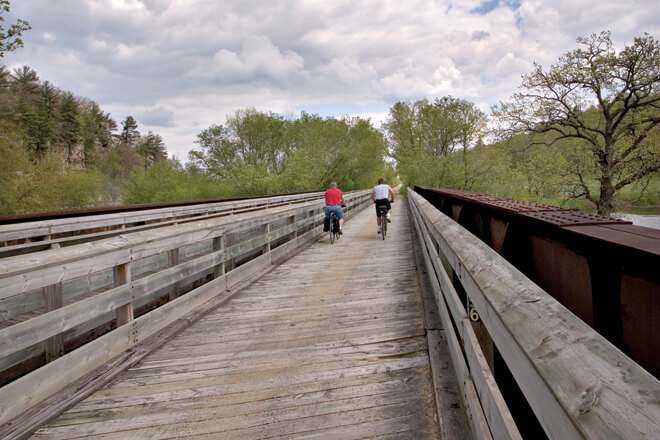 The Wisconsin 400 State Trail is located between Reedsburg and Elroy. Communities conveniently located along the trail between Reedsburg and Elroy are La Valle – 7 miles from Reedsburg, Wonewoc – 7 miles from La Valle; and Union Center – 4 miles from either Wonewoc or Elroy.
This state bike trail travels through the beautiful Baraboo River Valley and crosses the Baraboo River many times over wooden bridges. The trail also follows an equestrian trail for a time.
Part of 101 miles of interconnecting state trails. One can ride from Reedsburg all the way through to Marshland (north of Trempealeau). Conveniently located a half hour from the Dells, the Reedsburg trail head can be the start of a fun adventure. Ride for as little or as long as you like.
Part of the Rails to Trails system, the 400 state trail is named for the train that ran on what was once the Burlington Northern tracks. The train traveled 400 miles from Chicago to Minneapolis and did so in 400 minutes.
Phone: 800-844-3507