Holmen Locker & Meat Market has a large selection of meats and much, much more!
Boutique Wine Bar
Our Boutique Wine Bar is one of the newest wine bars in Western Wisconsin. Choose from over 200 different varieties of domestic and imported wines, and be sure to sample our wine of the week. The Wine Bar is open Fridays 6-10pm and is also available by reservation for special occasions.
Award Winning Wisconsin Cheeses
Holmen Locker and Meat Market's Cheese case includes many artisan cheeses from small cheese processors across the state of Wisconsin. Aged Cheddars, aged from one to nine years; old fashioned string cheese; Juusto cheese; a brand new line of cheese curds from Melrose, Wisconsin; Farm fresh eggs; Wieners; Bologna, Knockwurst; Andouille Sausage; and Smoked Pork Chops.
Microbrew Beers
Holmen Locker and Meat Market has over 130 different microbrews in their beer area. These microbrews are from Local Wisconsin breweries; U.S. breweries; and European imports. Brand names include: Fat Tire, Shells, Grain Belt and everything in between.
And more!
412 N Main Stre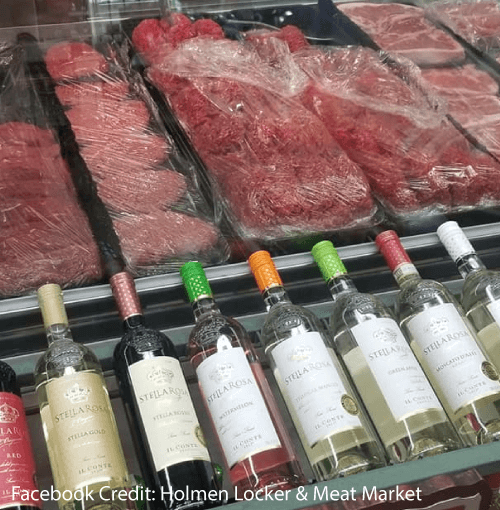 et
(P) 608-526-3112