Explore Wisconsin's very own "Stonehenge"! Kinstone is a modern megalithic garden with stones weighing up to 35 tons and standing up to 23 feet tall! Come to Kinstone to enjoy the beauty and peace of this sacred stone sanctuary that leaves you feeling as if you have visited an older world in a different time. Let the Land and Nature work their magic on you. We offer tours, retreats, workshops, and concerts! Contact us to book a tour, wedding, or other events.
This place is unique in the entire world. It has been said that Kinstone features the largest privately owned stone circle in the world. This has not been confirmed, but we must be close! There are tons and tons of granite boulders, standing stones, and sculptures here. Come be amazed! See our gardens, find a sit spot for quiet contemplation, or take a personal pilgrimage along The Way of the Stones.
Located in rural Fountain City, Wisconsin, just off County Road M on Cole Bluff Lane, Kinstone is a contemplative, park-like place with spectacular views, intriguing stonework, and natural buildings. This stunning 30-acre bluff-top property has over 100 standing stones including three stone circles, megalithic dolmen, classic 7-circuit labyrinth, thatched, cordwood chapel, dry-stack stone sculpture, straw-clay cabin, food forest, raised bed gardens, and more. There are several alignments of interest at Solstices and Equinoxes. Visitors love to wander here and take in the serenity and beauty.
Expect to spend a couple of hours in a wonderland that seems as if it is from another time and place. Bring a water bottle, sunblock, insect repellent, dress for the weather (sun hat, raincoat, umbrella, etc), wear sturdy shoes, and be prepared to walk rough and sometimes steep terrain. Find additional details about tours, visiting, and directions on our website.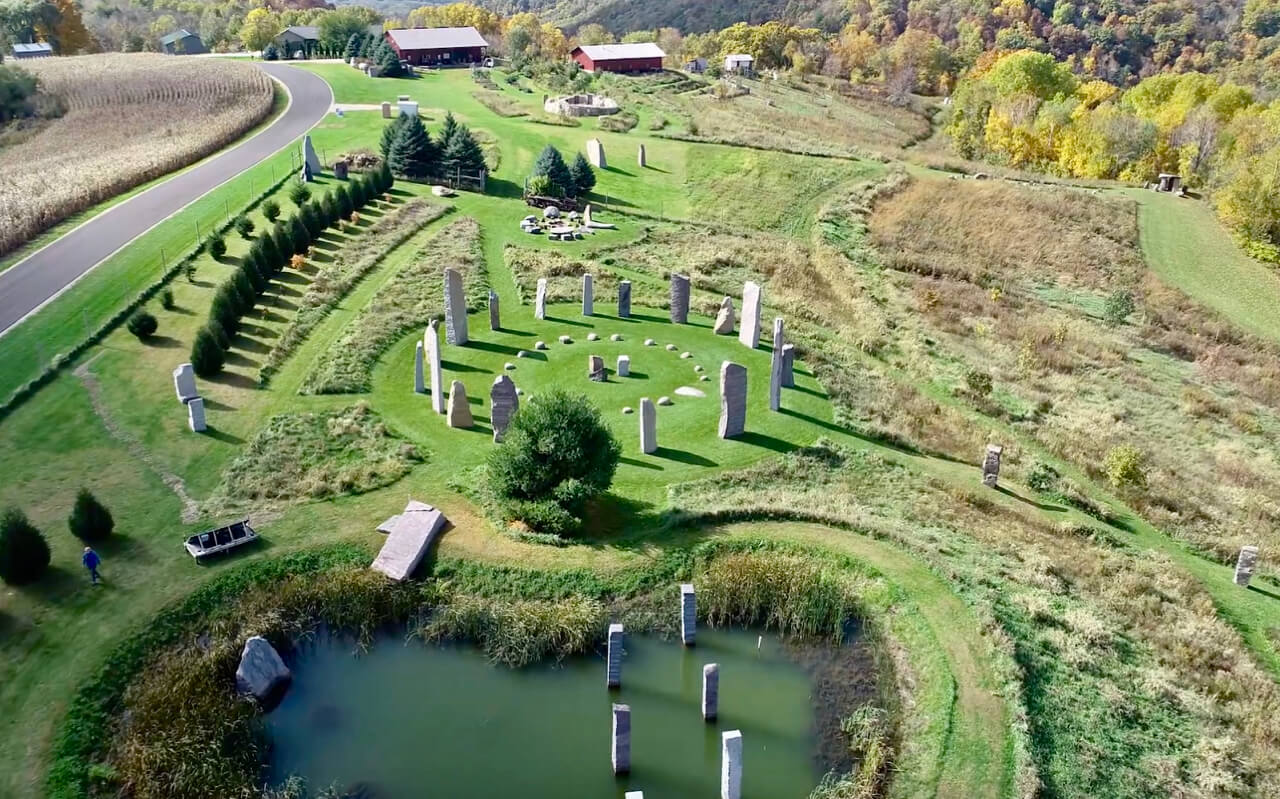 Hours:
May-October
Daily 10am – 6pm
Cost:
$5 – 8 years old +
$2 – 2 to 7 years old
Free – 2 years and under
Private Tours available by appointment
Place your cash admission fee in the blue payment box and explore Kinstone in a self-guided manner during our standard open hours. Every time you visit, stop to read the message boards on our Information Kiosks located in the parking areas for updates, upcoming events, and to pay your entrance fee.
Kinstone
S3439 Cole Bluff Lane
Fountain City, WI 54629
(P) 608-687-3332
Email: info@kinstonecircle.com