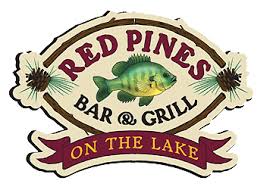 WELCOME TO RED PINES BAR AND GRILL – VOTED #1 IN SEVERAL LA CROSSE COUNTY "BEST OF LA CROSSE" CATEGORIES LOCATED ON LAKE ONALASKA.
Nestled on the shores of picturesque Lake Onalaska, the Red Pines Bar & Grill is a destination location. A casual restaurant delivering high quality, made from scratch meals. We are known for our cozy, rustic atmosphere, hand-prepared walleye, lake perch, in-house smoked catfish and ribs, half pound burgers and brisket as well as our delicious homemade pizzas, soups, sides, dressings, and sauces.
People come from far and wide for our Shrimp & Fish Fry on Fridays – plan for a wait to eat. We provide the perfect atmosphere for a delicious meal with our full menu, daily specials and fully stocked bar that includes a wide selection of craft beers and top shelf liqueurs. Check out our Palette Pleaser list and full menu at Online Ordering by Heartland | Restaurant
Come for live music Saturday afternoons on the deck in the summer from 4-7 pm. We have a beautiful view with heated outdoor patio seating available all year long as well as a sand volleyball court. We were also featured on "Discover Wisconsin" – check out the video on our website at Red Pines Bar & Grill near Onalaska | craft beer near Onalaska | fish fry (redpinesbarandgrill.com)
Escape to the "Northwoods" of Onalaska, WI. Great Food – Always a Good Time! 
W7305 County Road Z
(P) 608-779-2800
http://www.redpinesbarandgrill.com/