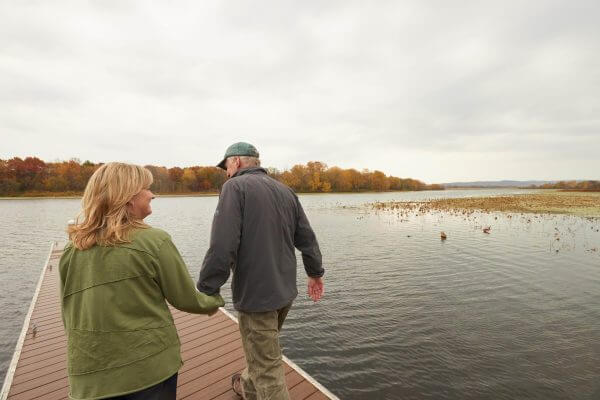 When there's a chill in the air, nothing beats a warm fireplace, comfortable lodging, and snuggling up to the one you love. Fall is the perfect time to plan your romantic getaway. Here are 5 places to add to your next romantic getaway itinerary.
The Charmant Hotel marks the transformation of an 1898-built Candy Factory into a culturally relevant and locally inspired hub of activity for visitors and locals alike. The property is the first independent luxury hotel in the area, and includes a restaurant with ample outdoor seating, a lounge and a rooftop bar.
Finnottes Nut & Chocolate Shop
Finnottes is a family owned nut and chocolate shop located in Downtown La Crosse. They offer both new candies and old fashioned favorites. Stop in and see the wonderful selection they carry and you'll suddenly find this your favorite and "sweetest" stop in La Crosse.
Lovechild Restaurant is a 100-seat restaurant and bar offering uncomplicated food with intriguing ingredients and big flavors – locally sourced and seasonally driven. Lovechild is a modern mashup of influences and passions.
Looking for a place to take in beautiful river views? Between Downtown and the confluence of the Black, Mississippi, and La Crosse Rivers, you'll find Riverside Park. The park is also home to the La Crosse Queen, an authentic paddlewheel replica. Visitors can take to the water and a Friday evening Pizza Cruise or a daily sight-seeing cruise. At the north end of the park take a walk through the Riverside International Friendship Gardens and enjoy the sights and smells the gardens have to offer.
Castle La Crosse Bed & Breakfast
This 1892 house features five guest suites all with private baths, free wi-fi and a lavish morning breakfast. Guests have access to ground floor accommodations that include the music room, library, sun porch and much more. Whether you are an historic home lover or not, all will appreciate the splendor located inside this magical home.
Disclaimer: This is just one perspective on La Crosse County events, businesses and activities. Explore the rest of the site to learn more on those that were not included in this list.