Take a trip down memory lane… to The Hungry Peddler!
You'll Be Drooling in No Time!
This restaurant is truly one of a kind! Founded in 1976, inside a historic building dating back to 1911, you'll find old relics, a family-friendly feel, and their famous specials that keep customers coming back year after year!
Famous History
This historic hall used to be known as the Miller's Tavern and over the years the aesthetic has remained! You'll be able to see the local history lining the walls of carefully crafted relics, photos, cans, and the like. The venue truly makes you feel as though you've stepped back in time for a classic meal with old friends.
Special Features
The Hungry Peddler is known for their French Onion Soup, delicious burgers, and house beer (German Amber House). If you're looking for a special favorite try their Dynamite Duo (steak and choice of seafood served with salad or soup and potatoes/veggies) and share a drink with your friends and family! A local favorite? Swing by for breakfast for their famous eggs benedict! The Hungry Peddler serves Happy Hour Sunday through Thursday with tasty drink specials and feature an all-you-can-eat fish fry on Friday's. There's something special for everyone every day of the week!
Why not visit every week?
It may be cliché, but once you try any of these delectable specials you know you'll want to come back! The Hungry Peddler Team even made a "customer corner" for the loyal customer's that return every day. The staff and ambiance are truly unmatched and you're guaranteed to feel as though you fit right in… So come on in and "hitch your horse" next to the Hungry Peddler mascot sign!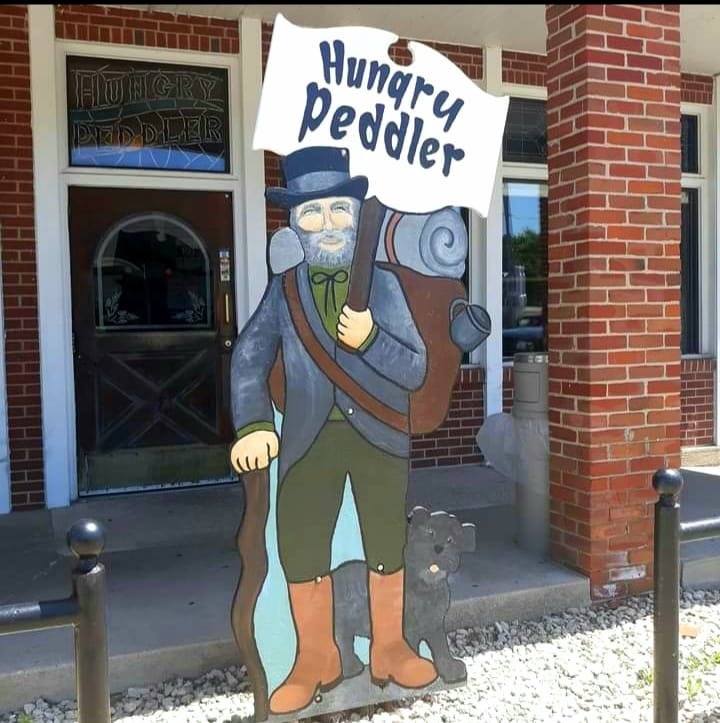 Catch a Glimpse of the Famed Hungry Peddler:
Stop in any day for some of th
e most authentic meals

you've had in a long time… you might even become a regular yourself!