Hunting
The La Crosse area's abundant waterways, wooded bluffs, expansive meadows, and seemingly endless marshes and bottomlands all make it a paradise for outdoor enthusiasts of every stripe, and that includes sportsmen. The hunting in our region is as good as it gets anywhere in the Midwest, with great opportunities for hunting and trapping waterfowl, small game, and, of course, the ubiquitous white-tailed deer. While the fisherman among you may find many of these resources useful, please be sure to visit our dedicated fishing resources page, as well. And of course, all hunting, trapping, and fishing activities are subject to applicable state laws and local ordinances. NOTICE: Lake Onalaska Voluntary Waterfowl Avoidance Area is in effect beginning October 15 through mid-November. When large numbers of diving ducks are present on the lake, buoys marking the boundaries of this area are deployed.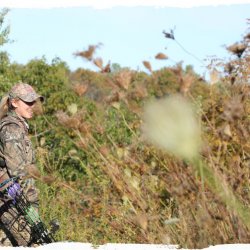 Public Hunting Grounds:
La Crosse River Fishery Area: Stream & forest, 2 mi NE of Angelo. Deer, waterfowl, furbearers, turkeys, fly fishing.
Mississippi Valley Conservancy: 20 preserves spanning more than 2,500 acres across La Crosse, Grant, Buffalo, Crawford, Jackson, Trempealeau, and Vernon Counties. Open to recreational use, including hunting, trapping, and fishing, per MVC's hunting guidelines.
Sand Creek Fishery Area: Bluffs, lowland forest, and streams, located 3 mi S of Melrose. Deer, turkeys, furbearers, fly fishing.
More Information:
City of La Crosse: info on regulations, licensing, maps, and more.
Driftless Folk School: classes of all kinds, including butchering and dressing game, wilderness skills, and more.
Hunt Fish Camp Wisconsin: comprehensive directory for outdoors activities in WI, including info on hunting, fishing, trapping, survival, etc.