La Crosse likes its tradition. So it's shouldn't be a surprise that a city known for a large-scale German Oktoberfest celebration also tailors its menu to the needs of its Roman Catholic residents who observe Lent and avoid most meats each spring.
So begins the Friday night Fish Fry.
No matter if it's a restaurant special, a church fund-raiser or a community event, Wisconsinites will line up in our winter coats outside (see #5 below) so that we can eat deep fried fish with our neighbors.
And unlike a certain Canadian country up north — where restaurants charge 35 cents for every tiny teaspoon of tartar sauce brought to customers who order fish – our Western Wisconsin restaurants thankfully know better. They give us unlimited tartar sauce, along with creamy coleslaw, French fries and some sort of buttered bun. Wisconsin to make sure to try: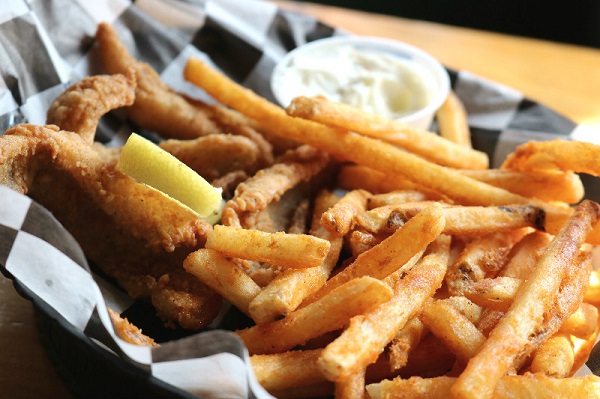 Eat Fish On The Lake
Red Pines Bar and Grill is a restaurant and tavern located on the north shore of Lake Onalaska just north of La Crosse. For a change of pace, try Larry's Lakeshore Walleye Lunch, a pan-fried walleye filet served with American fries, calico beans and Texas toast for less than $10. The fried haddock and fantailed shrimp dinner they offer in the evening is another local favorite and is also under $10. The trick in the evening is to go early (like at 4 p.m.) or after 8 p.m. Otherwise, it will be busy and there will likely be a wait. Check out the back deck for great lake views. Red Pines was voted No. 1 for both Best Fish Fry and Best Rural Bar in Explore La Crosse's annual contest in 2016. There is a reason for the wait.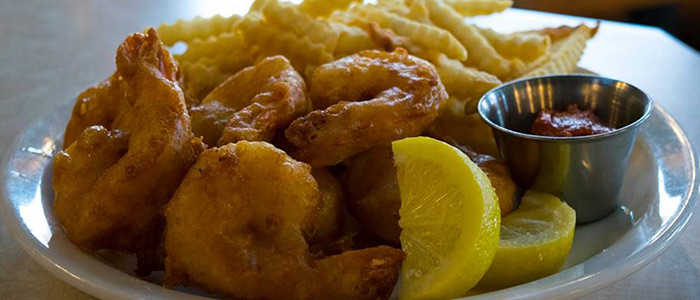 Irish Catholics Hail Here
Houghton's Jackson Street Pub on La Crosse's South Side has always been known as a good spot to get Guinness on tap during St. Patrick's Day. They have four leaf clovers pasted to the building for Blarney's sake. Houghton's offers up a more traditional deep fried cod Fish Fry on Friday nights, and this special also comes with soup and salad bar. Non-Catholics should hope their chicken dumpling soup is on the menu that night. It's a local tradition, and it's that good. Houghton's is centrally located close to both the hospitals and downtown. Parking can sometimes be a challenge when there are events nearby, but it's worth the effort.
Named For A Main Highway
Here is another traditional cod filet Fish Fry dinner, along with soup and salad brought to your table, at another South Side location. The Arterial, located at the corner of Sixteenth and Jackson Streets, has been a family-owned La Crosse tradition for more than 100 years, dating back to pre-prohibition. Historians say it's been a tavern, a general store, a seamstress shop and more. The Arterial was also among the first group of area eateries to accept www.restaurant.com gift certificates, so Web savvy users save money on their visits when they plan ahead.
An Oasis From Your Kitchen
Visit Club Oasis in Sparta for the traditional All You Can Eat Fish Fry where the wait staff actually come out and ask you if you want more fish instead of hiding in the kitchen after they bring you that first plate. This spot serves Alaskan cod, and it's the kind of hearty meal that can be appreciated by Wisconsinites because we don't mind spending $11.95 on All You Can Eat fish that comes with salad bar. And if you are not bound by Catholic tradition, consider adding the Oasis Broasted Chicken to your meal for $1 more. It is highly recommended. Good Catholics can just take the chicken home and eat it cold for lunch the next day – even better.
They Line Up For Fish In Stoddard
Generations of families in Vernon County talk about the Good Friday Smelt Fry at the American Legion in Stoddard, where people line up around the block outside despite our cold Wisconsin winters in order to eat these tiny fried fish whole. This smelt fry has been going on more than 60 years, and is attended by local experts who fish the Mississippi River and nearby waters year-round. If the line to eat smelt is too long, divert and walk over to Rocky's Supper Club, which is just down the road. Many people rave about their Bleu Fish, which is their special bleu cheese on broiled fish. Have a cocktail at the bar while they get your table ready. Relax and enjoy your dinner night out.
Anastasia Penchi is graduate of UW-La Crosse and a long-time Coulee Region writer who has written for area newspapers and magazines (www.loislaneforhire.com).