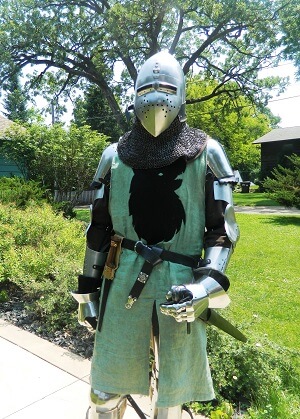 Castlerock Museum in Alma, Wisconsin will hold its annual Castlerock in the Park event on Saturday, July 7th from 1:00-5:00pm at Rieck's Lake Park. This FREE event offers an afternoon of family friendly fun for "Knights and Ladies" of all ages.
Visitors can team up as a "Roman or Celt" in the children's melee or have their photo taken on an armored horse. Other highlights include archery, a homemade catapult that fires soccer balls, a miniature tabletop trebuchet, pony rides, and arms and armor displays by museum volunteers and members of A Life Medieval.
Children will also have a chance to try on chain mail and surcoats and there will be a 3pm program by Jamie LaBreck showing how a knight would armor up for battle.
Concessions will be provided by Tansy's on Main. Rieck's Lake Park is located two miles north of Alma, Wisconsin on Highway 35. If activities at the park get rained out, we will set up what we can back at the museum.
Castlerock Museum will be open from 1-4pm that afternoon for visitors that would like to see its unique collection of arms and armor. Admission is $6 for adults and $4 for students. Children four and under are free. The museum is located at 402 South 2nd Street across from the courthouse. Contact the museum at 608-685-4231 or info@castlerockmuseum.com for details.