By: Stacey Roou
A cabin in the woods
"Write meaningful lyrics to a song and it might come true!" That's the spirit that songwriter and guitarist Lou Shields brought to his song, Cabin in the Woods. At that time, Lou was a rambler, touring in his van across the United States and Europe. He saved as much money as possible from each gig, dreaming of a homesteading life. When the opportunity presented itself, he paid cash for a cabin on 15 acres and planted his roots in southwest Wisconsin.
Lou didn't know it then, but he's not alone; the back hollows and twisting roads of Wisconsin's Driftless Region are home to a surprising number of talented musicians, many of whom live semi-off grid on rugged homesteads that hearken to a simpler time. Hold on to your hats to hear stories of talented folks who live off the beaten path but find friendship through a common dedication to rural life filled with music.
With his scruffy face, signature hat, and long curly hair, Lou often elicits a double-take. But what makes him unusual is not his style or looks, but his passion for music and homesteading. Lou is an artist and teacher by trade but a musician and homesteader by heart. He plays guitar, banjo, and harmonica. "It is not every day that we meet a talented purveyor of fine traditional music who is also a gifted artist," says a friend and neighbor, Rick Redfield. "Lou gets your feet stomping with the lively rhythms. His paintings, like his music, hark back to a simpler time in America when live music was everything."
When Lou and I met we had an instant kindred connection to the past, old souls, "maybe the 1930's" we'd say. Ironically, we met in the high-tech world of social media, brought together by hashtags.
Lou is from the Chicago area but had spent a lot of time as a child where he now calls home. The cabin is made from reclaimed wood and filled with antiques, the barn was built by the Amish and the outbuildings resemble our favorite vacation spot ─ Shack Up Inn in Clarksdale, Mississippi. The latest addition to our homestead is an 1800's hand-hewn log home that was dismantled and moved to our land, and which we're rebuilding over the next year.
Life on the homestead has its own gentle pace. We are off-grid with a simple solar panel structure connected to a battery bank. I love lying on my 1940's forest-found Murphy bed and listening to my favorite vinyl powered by the sun. Lou carries fresh spring water from the lower portion of the land to cook, clean, and water the garden. With four springs, a waterfall, and a creek that leads to the Kickapoo River, it feels like a wonderland to us both. No wonder, when we were married last year, we chose the homestead as the rightful place to do it.
Soon Lou plans to have running water from the well or a spring-fed ram pump, a better solar array, and rainwater catchment for the garden. In the distant future we plan to add animals: goats to control the brush growth and give milk and cheese, chickens for eggs, and maybe a donkey at the request of the kids, Nova & Vada. We still travel extensively for work so animals are last on our homestead checklist. For now, our pasture consists of a few cows and horses from our Amish neighbors.
Even without these dreams, the homestead is a haven for us both. "As soon as we reach our land and walk into the pine forest we're able to breathe in the air of this sacred place and leave all trappings of the 21st century behind," says Lou. His favorite pastime is to work hard all day, take an outdoor cool down in the creek and then play guitar or banjo on the cabin front porch. Often the Amish walk by and wave hello while he is filling the neighborhood with music closely resembling front porch styles of the past.
Kindred spirits
The Driftless Region is a natural wonderland. My sister describes the region as resembling Jurassic Park, and that's no coincidence: Glaciers never scraped the mountains here, so they remain in the form of ancient, deep valleys and high rock-faced bluffs.
When we moved here three years ago, we soon discovered a quaint town called Viroqua, about half way between Madison and La Crosse. It's a magnet for families visiting and relocating from regional cities like Chicago and Minneapolis/St. Paul. It's a town known for music (as well as food), thanks to the adventurous spirit of entrepreneur Eddy Nix and his vision for Driftless Books and Music.
Eddy's store is in an 1800's brick tobacco warehouse with enormously high timber-framed ceilings, vintage furniture, and unusually cool art work. Most people are in awe of the environment and slow to take it in as they enter. Eddy is not only a bookseller, but a music promoter, slowly growing his schedule from an early show with the popular Minneapolis band, Cloud Cult, to five shows a week of local and touring bands.
Thanks in part to the bookstore, we soon began to meet other homesteaders who also play music. Where have these people been all my life, I remember wondering? It's a surreal experience choosing to get away from the grind of the city but also have the craving for a community.
It was at the bookstore that we met musicians Nikki Grossman and Joe Hart. Joe had the presence of a man who walked right out of the late 1920's. His style is always put together from vintage attire and his demeanor is cool and calm. He's a great storyteller and someone you could talk with for hours. Nikki has an infectious laugh and a voice so soothing you'd swear it wasn't from this century. They joined forces to form the band Yellow-Bellied Sapsuckers. The couple tour extensively, often leaving their beautiful garden up to Mother Nature for watering and nourishment. When they return from a run down south, their seven acres, adorable A-Frame cabin, and 1954 trailer is waiting for them. A spring-fed creek runs through their valley surrounded by high bluffs. They share the land with Joe's sister, who has plans for a bus or tiny house.
We love visiting each other's homesteads while trading stories of touring mishaps or the last bit of knowledge we've learned about live-trapping pesky groundhogs. Often will have a sit down homemade meal, cooked by Joe, and we'll share wine and tell travel stories or discuss the next album.
Joe and Nikki both grew up in Minnesota and relocated to the Driftless region when they discovered the beautiful landscape and the opportunity to homestead. Joe grew up in a homesteading family and always dreamed of returning to the lifestyle. He plays a 1930's Gibson guitar and has handles the PR for the band. Nikki plays the sweetest fiddle and spends certain weekdays supplementing their income at a local organic farm, picking and packing for a CSA. They both have the DIY punk ethic in their blood, and homesteading is definitely an extension of that.
They've been working extra hard this year (in addition to raising their 1.5 year old daughter Neva Rose and Joe's 11 year old daughter Molly) and it's paying off. They've had an official showcase at SXSW in Austin, TX and a nomination for "Best Country Band" by WAMI. They've appeared on Public radio shows in Wisconsin and Minnesota as well as Wisconsin Public Television. Their friend and neighbor Rick Redfield describes them as "two talented and fascinating people who found happiness together and a synergistic melding of music that just has to be heard. Nikki's outstanding fiddle playing and singing merges with Joe's vocals and guitar to bring joy to all who listen."
Liz Voz and Jesse Downs, of the band Kickapoo Joy Juice (remember that old soda pop?) are the quintessential adorable farmer's market couple. The live a simple life on a beautiful 13-acre homestead just down the road from us. Their straw and stucco home looks plucked from a fairytale, albeit one powered by solar electric. Their successful market farm includes several beautiful acres of vegetables, free-range chickens, and two "high tunnel" greenhouses where they grow peaches. Yes, peach trees in Wisconsin! They are so delicious that my youngest daughter devoured both peaches by the time we were barely out of the driveway. Recently they expanded their homestead to add 10 acres for an apple orchard and pasture for their mule.
They have an antique wringer washing machine on the porch to clean the children's clothes and enjoy hosting get-togethers where folks play music and the children play. The couple relocated from Minnesota over a decade ago. I would have assumed Jesse had an agriculture degree but learned he's a micro-biology major.
Like many farmers and homesteaders, Liz and Jesse have learned a lot from the back-to-the-landers who migrated to the area in the 1970's. After all, the headquarters of Organic Valley is just a town away, so the organic farming mindset is prevalent in the area. Liz and Jesse have jobs outside their homestead to supplement their incomes – Liz plays guitar, fiddle and piano & is a cook at the fast-growing Kickapoo Coffee establishment in Viroqua and Jesse plays guitar, banjo, fiddle and accordion plus works at a tomato farm.
Neighbor Rick Redfield calls them "an energetic couple who have built a dream life of farming and producing fine food. But it is when Jesse takes up his fiddle and Liz her guitar that the fun really begins. Jesse is a musical historian with an extensive repertoire of fine, old-time folk tunes, played with great finesse on the fiddle, accompanied by Liz's fine guitar playing. Their singing harmonies round out the experience", says Rick.
Modern day pioneers
Writing old-time music inspired by styles from the past or performing traditional folk and country tunes are their first love, homesteading and connecting to nature and an old-fashioned life, with a twist are the commonalities that bring us and these amazing folks together. We are lucky to have found a place that we can finally feel at home and follow our passions. Meeting friends and neighbors who share our longing to live a simpler life surrounding by music is the dream I can't fully snap out of. I appreciate the life we have all built and that our paths crossed in this beautiful place.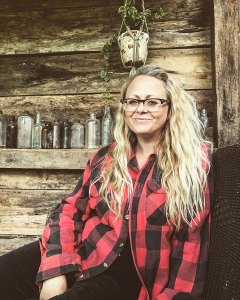 Stacey Roou enjoys exploring the Driftless region and telling stories through her camera. She is a seasoned marketing professional and loves working with web and graphics. She travels extensively with her husband Lou, two children and a cute German Wire-Haired Pointer named Watson. She started @driftlessadventures on Instagram where she's able to carry out her creativity.