Outdoor Adventures For Flannel Season (AKA Fall)
Grab your coziest flannel, hiking boots or shoes, your friends, family or partner for your outdoor fall adventures! Here's a list of itineraries for a weekend fall getaway or an ideal day with gorgeous views of the grand Mississippi River and mighty bluffs!
An Outdoor Afternoon In La Crosse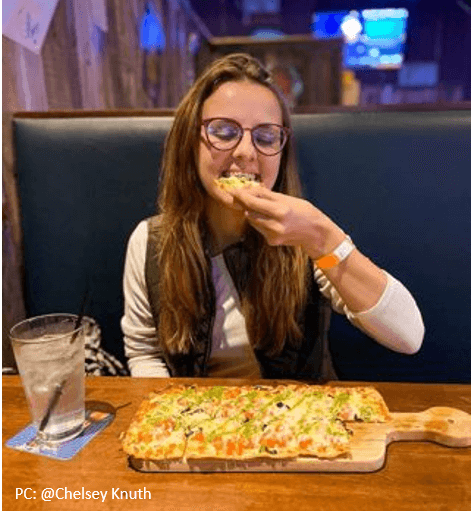 1. Fuel Up For Your Weekend Fun
At Crooked Pint Ale House there's so many varieties of delicious food, try out their Lucy Burgers for a one-of-a-kind lunch or dinner! If you've got little ones, stop by their arcade game room while you wait for your food. Pro-tip: Visit on the weekends for a less-crowded alternative to restaurants in downtown La Crosse!
2. Adventure On The Mississippi River
Hop on a famous gem in the La Crosse Region, better known as the La Crosse Queen Cruises. There's several tour options, but you'll learn about the history of the mighty Mississippi River while winding your way through Wisconsin and Minnesota. Pro-tip: Sit on the upper deck for the best view!
3. Find Hidden Gems
A brief drive past the Upper Mississippi National Wildlife and Fish Refuge is Lytle's Landing. A pleasant, moderate hiking excursion is in store on an old railroad track near the Black River! Enjoy multiple bridges with stunning architecture among the beautiful creeks and waters of the prairie. Pro-tip: Park in the lot near the end of Lytle Road for an easy walk to the bridge!
4. Say Cheese For A Day Well Done
Find your new favorite pizza place at Uno Venti Pizzeria! They use fresh ingredients and home-made pizza dough and sear their pizzas to perfection by using their own stone-fired oven. Take your pick with red or white pies (crushed San Marzano Tomatoes as a sauce or roasted garlic alfredo sauce, a Gluten Free option). Pro-tip: End your meal with one of their unique dessert options!
Falling For La Crosse Itinerary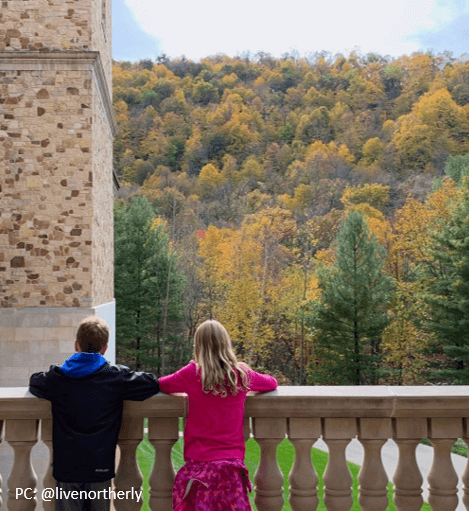 1. See Breathing Taking Views
The Shrine of Our Lady of Guadalupe will forever be a spiritual destination for visitors from all over the world. Stop in for a variety of breathtaking, fall views as The Shrine is nestled on over 100-acres of God's Country in the bluffs of the Driftless Region. There's also many beautiful chapels, statues, gardens, and devotional areas, to rest and reflect on.
2. Wander Through Riverside Park
The renowned Riverside Park is located along the mighty Mississippi River and just blocks away from Historic Downtown La Crosse's restaurants and shopping stops. Riverside Park is both a signature sight and prized jewel of the La Crosse Region. Pro-tip: Walk through the International Friendship Gardens for beautiful views, flowers and more!
3. Relax and Find Yourself
Stroll through the Riverside International Friendship Gardens located on the northside of Riverside Park. Featuring an intimate coy pond, unique plants from all over the world, sculptures, a water wheel, and views of the Mississippi River, the garden is a must see when wandering through the celebrated park. Pro-tip: The gardens represent the sister cities, business partners, students, and people from around the world.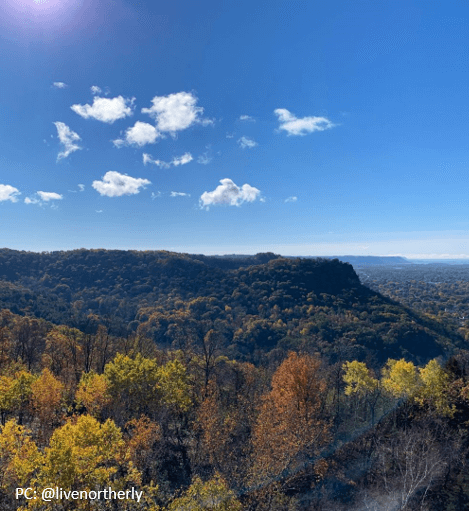 4. Ascend To Great Heights
Grandad Bluff has become not only a destination point for thousands, but also a famous symbol of the great Driftless Region. The 600-ft high bluff overlooks three states, and is just a short, 10-minute drive up a winding bluff road with legendary sights bursting of vibrant fall colors. Voted as "the most scenic view in the state" by Wisconsin Trails readers, this signature sight is a bucketlist must when visiting the La Crosse Region.
See For Yourself Beautiful Spots To Visit This Fall: