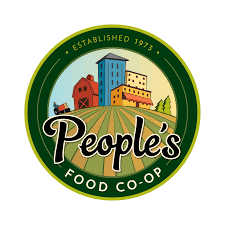 Deli
Finally, a grocery store deli where everything is made from scratch – no five gallon buckets of potato salad here! PFC's deli offers taste sensations from around the culinary world, with familiar favorites like homemade chicken and tuna salad to Greek feta salad, garlic lover's pasta, handmade salmon cakes, blackened tofu steaks and grain salads like barley almond. There's something for everyone. See something that interests you, but aren't sure you'll like it? Don't hesitate to ask for a sample…we'd be happy to give you a taste.
Catering
Are you having a party? People's Food Co-op can help!
Our talented deli and kitchen staff can provide you with a great experience for all your catering needs. Enjoy freshly made products from the finest ingredients around. We use local ingredients whenever possible. We also pride ourselves in giving outstanding customer service, with quality, consistency, and food safety at the forefront of everything we do. Let our experienced Catering staff make your next event a success!
http://www.pfc.coop/in-the-store/catering/
(608) 784-5798