Trolley Pub is a BYOB pedal-powered, eco-friendly, pub-crawling trolley for up to 16 people. Trolley Pub is powered by YOU and your fellow peddlers. It's hard not to smile on Trolley Pub! Trolley Pub tours are the best way to celebrate in La Crosse.
Trolley Pub lets you experience the city in the open air, enjoy your favorite beverage and has room to fit all your friends, family and colleagues!  Rent out the whole Trolley Pub or join a mixer tour if you have a smaller group.  You will be riding around beautiful Riverside Park then making 2-3 stops in historical downtown La Crosse at some of the cities finest local breweries, pubs and restaurants.
Trolley Pub Depot (the former La Crosse Tribune Building)
401 North 3rd Street La Crosse, WI 54601
Phone: (608) 799-2493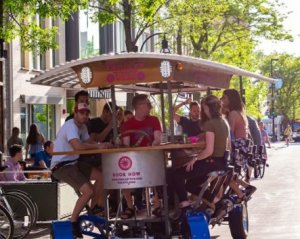 The Ultimate BYOB Tiki Boat Experience
Hop on La Crosses ultimate BYOB Party boat for a beach party on the Black River! The Tiki Pub is a 12 passenger Tiki boat for the ultimate party on the water. Complete with Booming sound system & Beer Pong/Flip Cup table! 
You will find our beautiful Tiki Bar docked just outside of Moxie's nestled in the docks on the Black River. 
jhttps://www.tikipub.com/lacrosse