Whether you're Irish or not, we can all feel lucky savoring the St. Patrick's Day flavors of the La Crosse Region! Treat your taste buds for this fun holiday with authentic dine-in or carry-out meals. Check out these venues to get festive and have a shamrockin' time!
St. Patrick's Day Restaurant Specials
The Monarch Public House
Nestled in the Mississippi River bluffs, The Monarch Public House in Fountain City has been a destination for travelers since 1894, MAKING IT THE STATES OLDEST SERVING ESTABLISHMENT. Whether you're looking for traditional Irish food, a great pizza, burgers, fish and more, they have it all at The Legendary Monarch Public House.
St. Patrick's Day Specials
Appetizers/Soups: Start your savory meal off with The Monarch's Original Dingle Bay Dip with Fresh Bread, the Irish Beef & Vegetable Stew or their Gramma's Irish Potato Soup.
Dinner Plates: There's no shortage of that Irish home-cooked feel with the many dinner plates available. Take your pick from their Tender Corned Beef and Cabbage Dinner, Handmade Bangers and Mash, Bangers and Corned Beef Plate, Their Famous Stacked Reuben, Shepherd's Pie (no peas!), Traditional Bubble and Squeak, and Steak and Bacon Pie!
La Crosse Distilling Co.
Nestled in Historic Downtown La Crosse, La Crosse Distilling Co. was created to capture the heart and glory of the Driftless Region while producing handcrafted field-to-glass spirits with an ambiance uniquely their own.
St. Patrick's Day Specials:
Reuben: Savor this classic entre at La Crosse Distilling Co. This is a house-made corned beef from Niman Ranch, swiss cheese, sauerkraut and house thousand island dressing on Fayze's marbled rye. Wash it down with an ice cold Banshee's Cry Irish Cream Dunkel!

Irish Cream Dunkel: This German-style Dunkel starts out with a rich and nutty aroma and boasts notes of vanilla, chocolate, and hints of toffee. Hazelnuts and sweet almonds come through as you experience the frothy and creamy mouthfeel. A fitting way to toast the Banshee looking over you and if you hear her cry, it's probably a great time to order another round.
Learn More >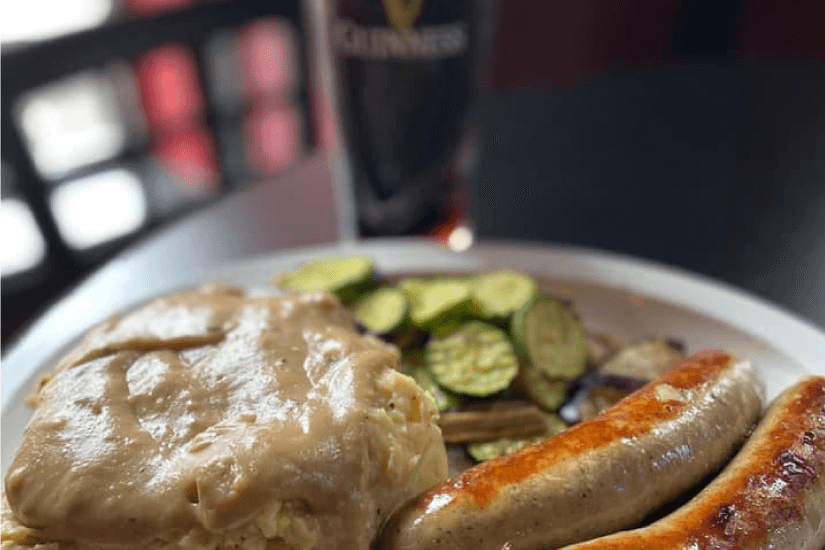 Dublin Square Irish Pub & Eatery
The culture and tradition of Irish pubs are alive and well in Downtown
La Crosse! Offering delicious dining options, unique drinks, and an authentic Irish pub experience, Dublin Square is a legendary destination in the La Crosse Region.
St. Patrick's Day Specials:
Drink Features: Dublin Square hosts the largest Irish fare selection, Irish beer list, and Irish whiskey selection on the West side of Wisconsin!
Learn More >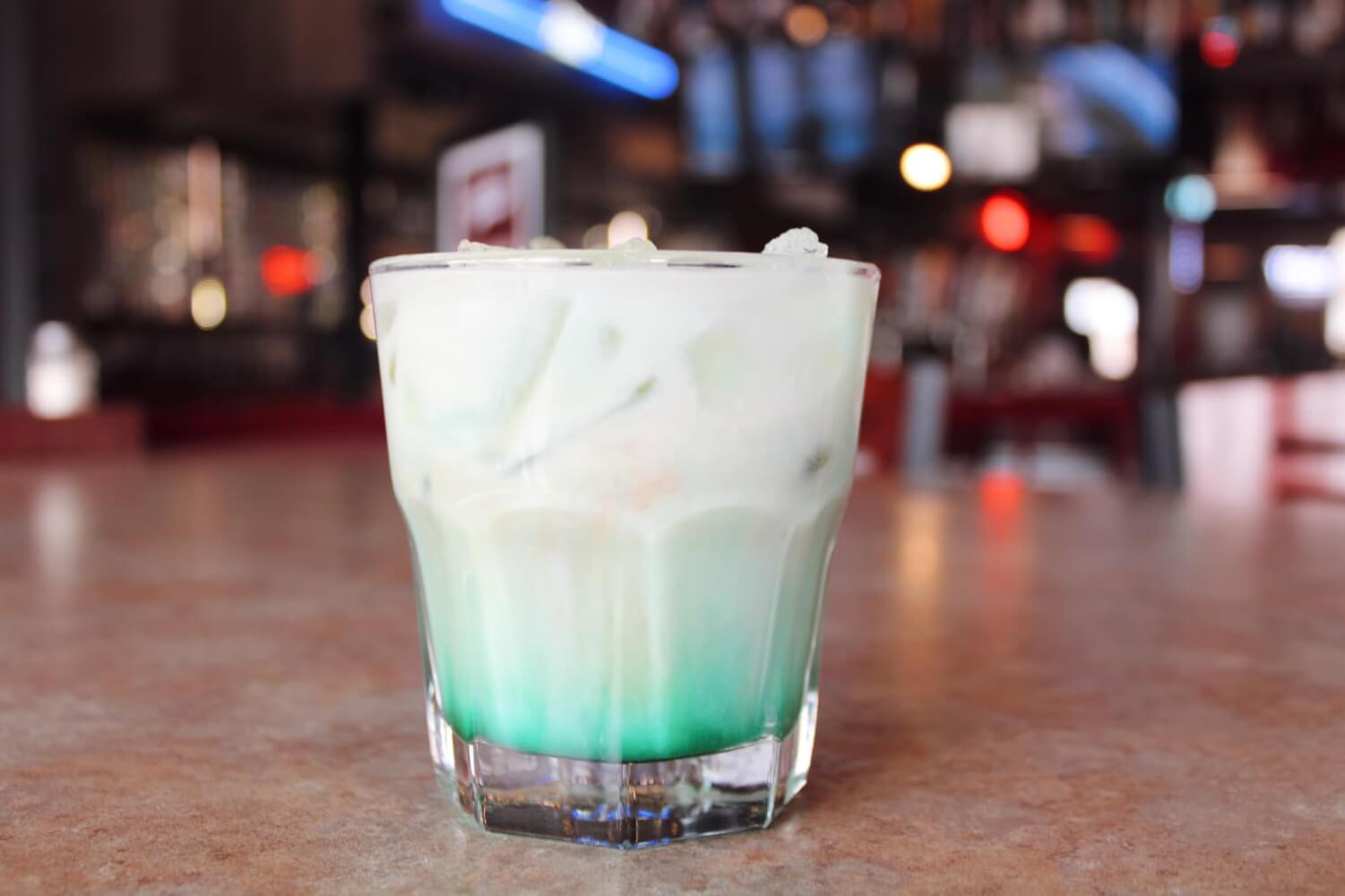 Howie's on La Crosse
Famous as a historic La Crosse Bar and a regional landmark for decades, Howie's is the perfect gathering place for friends and families alike. Featuring a fun and casual atmosphere, the bar and restaurant offers gourmet burgers, signature sandwiches, and in-house smoked meats!
St. Patrick's Day Specials:
Drink Specials: SHANKY'S SHAMROCK: A festive St. Patty's day cocktail made by your Howie's hometown leprechauns!! This shamrock Russian features Shanky's whip, an Irish whiskey Liqueur, grey goose vodka, penndutch peppermint bark cream liqueur, crème de menthe, and a whole lot of luck!
Learn More >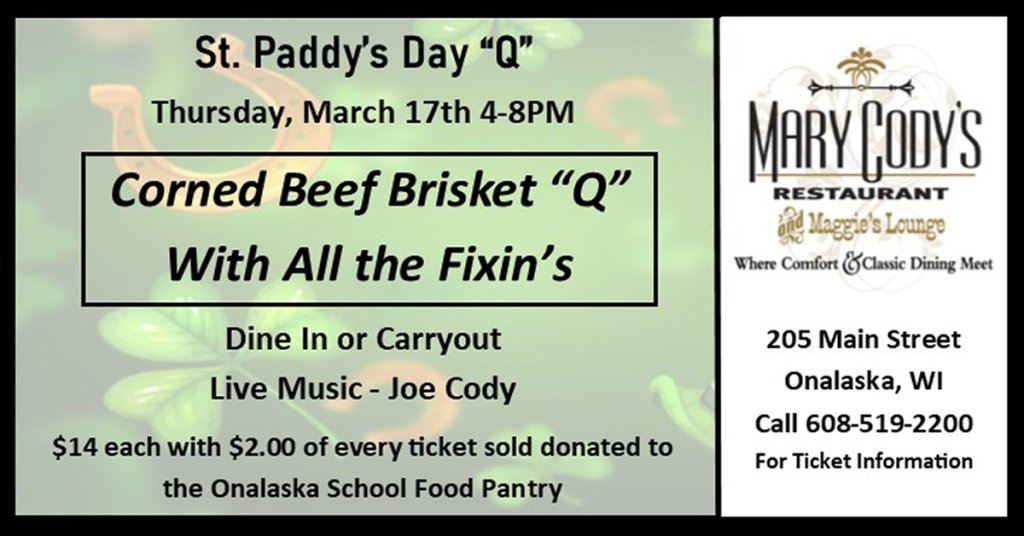 Mary Cody's Restaurant and Maggie's Lounge
Where Comfort and Classic Dining Meet! Serving mouth-watering meals all day, Mary Cody's menu features foods made of high-quality, seasonal ingredients prepared in innovative ways.
St. Patrick's Day Specials:
St. Patrick's Day "Q": Kick your Irish cravings with all the fixin's! Mary Cody's Corned Beef Brisket "Q" features corned beef in a smoky mustard sauce, mashed Irish potatoes, candied carrots, and Irish soda bread muffins. Featured Irish meal available for a limited time, March 17th, 4:00 – 8:00 pm only.
Live Music: Celebrate at Mary Cody's and get down to some music from Joe Cody! A portion of the proceeds go to the Onalaska School Food Pantry.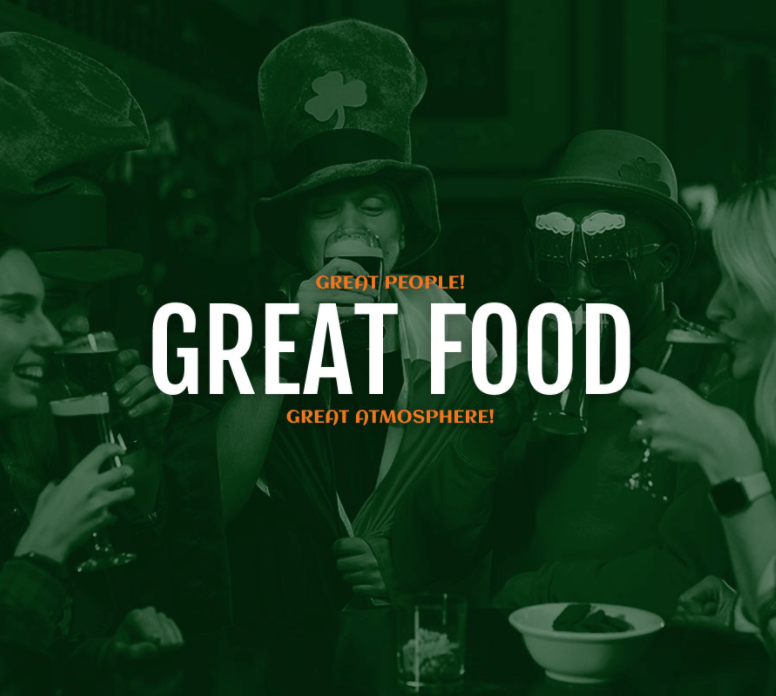 Houghton's Jackson Street Pub
A La Crosse Region favorite for over 29 years, Houghton's Jackson Street Pub is Irish-themed and proudly serves the area with home-cooked food alongside impeccably friendly service.
St. Patrick's Day Specials:
Lunch (Served 11 am – 3 pm): Taste St. Patrick's Day in true form for lunch with Corned Beef and Cabbage, a Ruben Sandwich, a Tuna Salad Sandwich, a Chicken Salad Sandwich, Cod entrees, or a Fish Sandwich!
Dinner (Served 3 pm – close): Celebrate the holiday at Houghton's with a fine dinner of Corned Beef and Cabbage, Cod Entrees, Seared Beef Tips, or a Ruben Sandwich!
Learn More >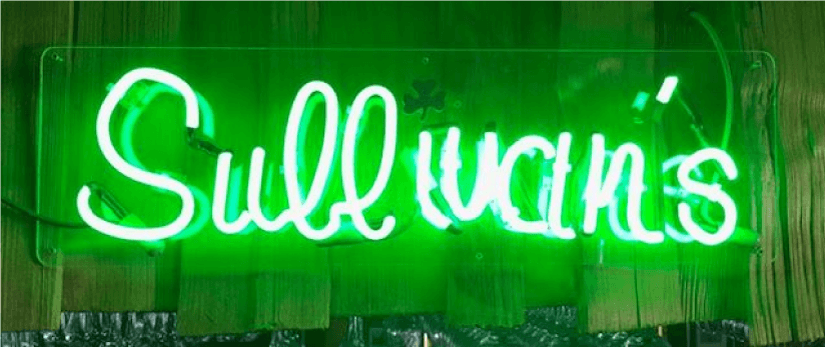 Sullivan's Supper Club
Serving along the Mississippi River since 1968, Sullivan's Supper Club has been considered one of the finest restaurants in the Trempealeau, WI area! Guests are sure to enjoy their scenic setting, excellent service, and delicious menu.
St. Patrick's Day Specials:
"Taste of Ireland" Dinner: This delicious dinner at Sullivan's bursts with tender slices of corned beef, steamed cabbage, baby carrots, whipped rutabagas, and specialty, Irish potatoes.
Irish Tips: Featured for a St. Patrick's Day celebration, enjoy grilled tenderloin tips with mushrooms and topped with a homemade Irish Whiskey gravy.
Carry-out Corned Beef Dinner for Two: This special dining option includes two corned beef dinners with garlic toast and dinner rolls!
Learn More >