Whether you're Irish or not, we can all feel lucky savoring the St. Patrick's Day flavors of the La Crosse Region! Treat your taste buds for this fun holiday with authentic and savory meals. Here are some destinations to get festive and have a shamrockin' time!
St. Patrick's Day Restaurant Specials
Pearl Street Brewery
"Visit Western Wisconsin's premier craft brewery! Since 1999, Pearl Street Brewery has produced award-winning Ales and Lagers. Brewing great beer isn't everything — it's the only thing."
St. Patrick's Day Specials
On Friday March 17th, Pearl Street Brewery is having their annual Saint Patrick's Day Party from 3-9pm. They are featuring live music by the best Irish band around, the Guilty Kilts.
Meal Features: They are also offering free Irish stew with corned beef and cabbage while it lasts!
Creamery Creek Farms
From their farm straight to your door. With a focus on sustainability and high quality animal care – you can be confident in your choices with Creamery Creek Farms! They want to make it easier than ever to buy directly from your farmer.
St. Patrick's Day Specials
Special Discount: Creamery Creek Farms is offering Dry Aged Beef Briskets and Picanhas – 5% off – the whole month of March, while supplies last, and it automatically applies at checkout. Get your lucky green popcorn mix just in time for the holiday! Their Lucky Cheese and Popcorn Gift Box is a $14 flat rate shipping, 48 states and FREE La Crosse local delivery the week of March 12-18th – exclusive for The Bluff Blog Readers!
Taqueria Pato Azul
Taqueria Pato Azul, Spanish for blue duck, is a Mexican restaurant that may not be Irish but they serve authentic Mexican cuisine with a Bleu Duck twist.
St. Patrick's Day Specials
Visit Taqueria Pato Azul on March 13-18th for their St. Patrick's Day specials of:
Meal Features: Corned Beef Taco ~ Potato / Buttered Cabbage Pico / Spicy Mustard Aioli / Rye Crisps -$4 The Patty Dog ~ 1/4 lb All Beef Hotdog / Pretzel Bun / Guinness Queso / Scallions – $8 Reuben Enchilada's ~ Corned Beef / Kraut / Swiss Fondue / Concannon Potatoes – $12
Drink Features: They will be also featuring a Green Margarita drink ONLY on FRIDAY AND SATURDAY: Green Margarita – $10 Tequila Reposado / Lime / Agave / Orange Curacao
HALF OFF on Happy Hour Always from 4-6pm and 8-10pm
Grounded Patio Cafe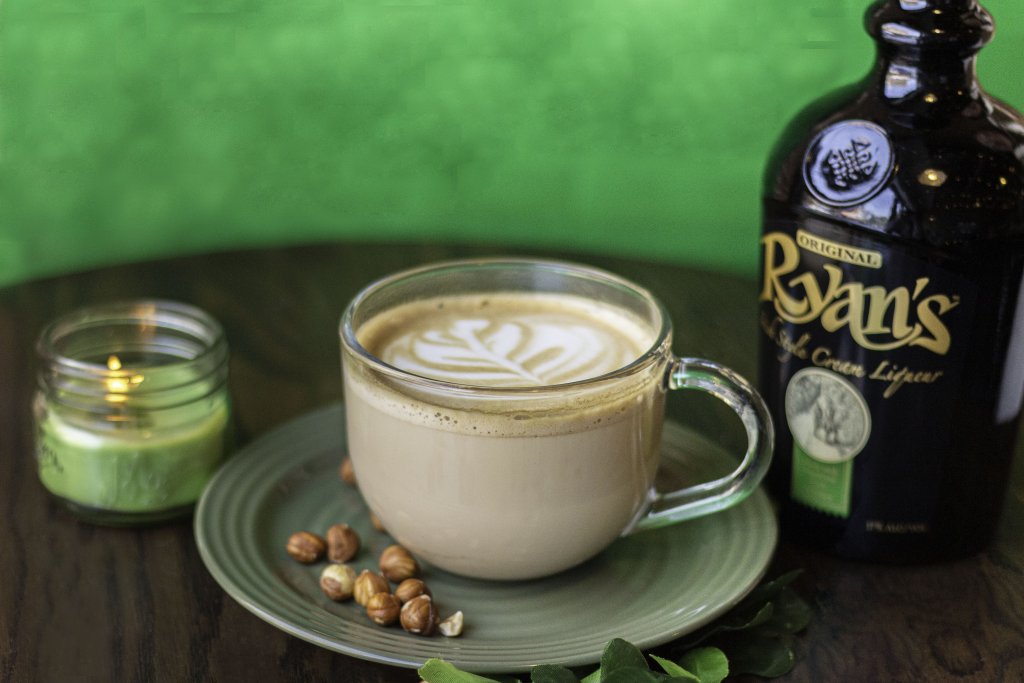 As time goes on, brewing methods evolve and tastes change, but Grounded continues to stay true to their passion of serving quality food and drinks. Check out their tasty holiday specials you may be lucky enough to try!
St. Patrick's Day Specials
Drink Features: Grounded Patio & Cafe will be offering a hot cocktail called the Nutty Irishman: Irish cream with hints of hazelnut and their house espresso. Non-alcoholic option are also available! This seasonal favorite will be available through the month of March and they'll be selling green mimosas for the holiday.
The Monarch Public House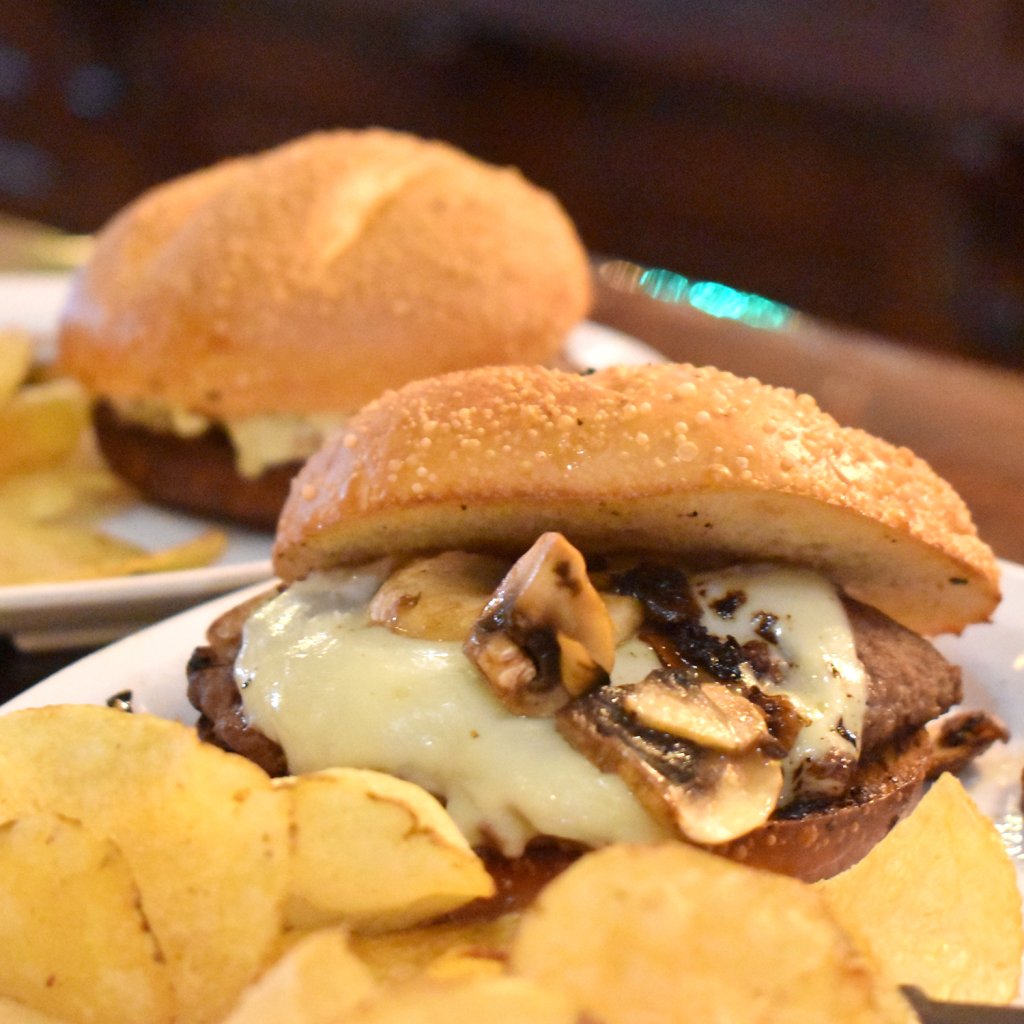 Nestled in the Mississippi River bluffs, The Monarch Public House in Fountain City has been a destination for travelers since 1894, MAKING IT THE STATES OLDEST SERVING ESTABLISHMENT.
St. Patrick's Day Specials
Appetizers/Soups: Start your savory meal off with The Monarch's Original Dingle Bay Dip with Fresh Bread, the Irish Beef & Vegetable Stew or their Gramma's Irish Potato Soup.
Dinner Plates: There's no shortage of that Irish home-cooked feel with the many dinner plates available. Take your pick from their Irish Traveller plate, Handmade Bangers and Mash, Bangers and Corned Beef Plate, Their Famous Stacked Reuben, Shepherd's Pie (no peas!), Traditional Bubble and Squeak, and Steak and Bacon Pie!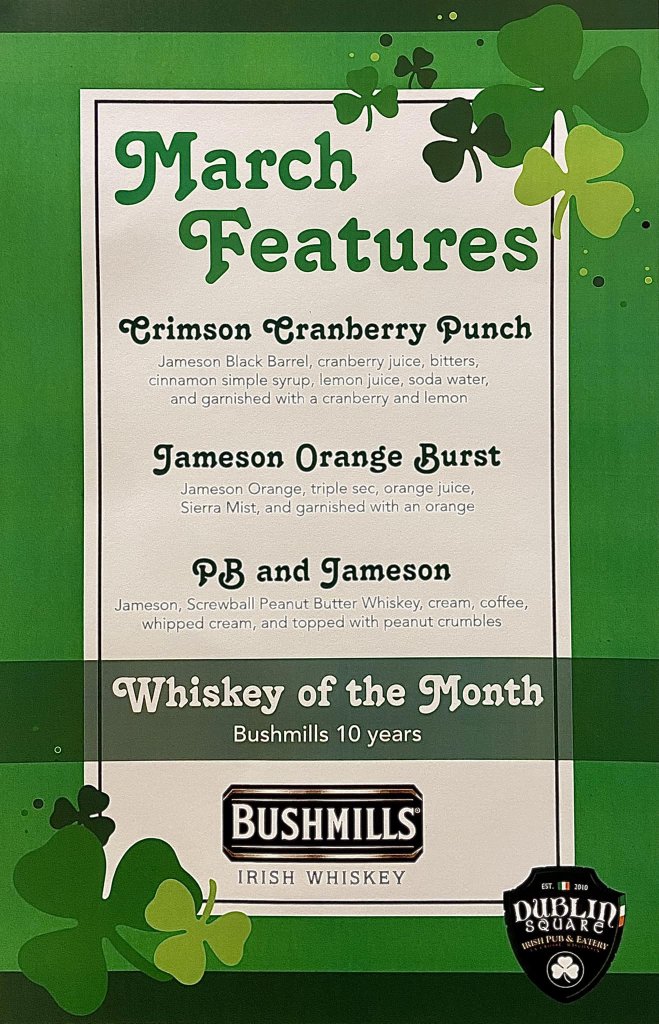 Dublin Square Irish Pub & Eatery
The culture and tradition of Irish pubs are alive and well in Downtown
La Crosse! Offering delicious dining options, unique drinks, and an authentic Irish pub experience, Dublin Square is a legendary destination in the La Crosse Region.
St. Patrick's Day Specials:
Famous Irish Plates: Shepherd's Pie, Corned Beef & Cabbage, Fish & Chips, Bangers & Mash, and Guinness Irish Stew all served with a savory side of home-baked soda bread and honey butter.
Drink Features: Dublin Square hosts the largest Irish fare selection, Irish beer list, and Irish whiskey selection on the West side of Wisconsin!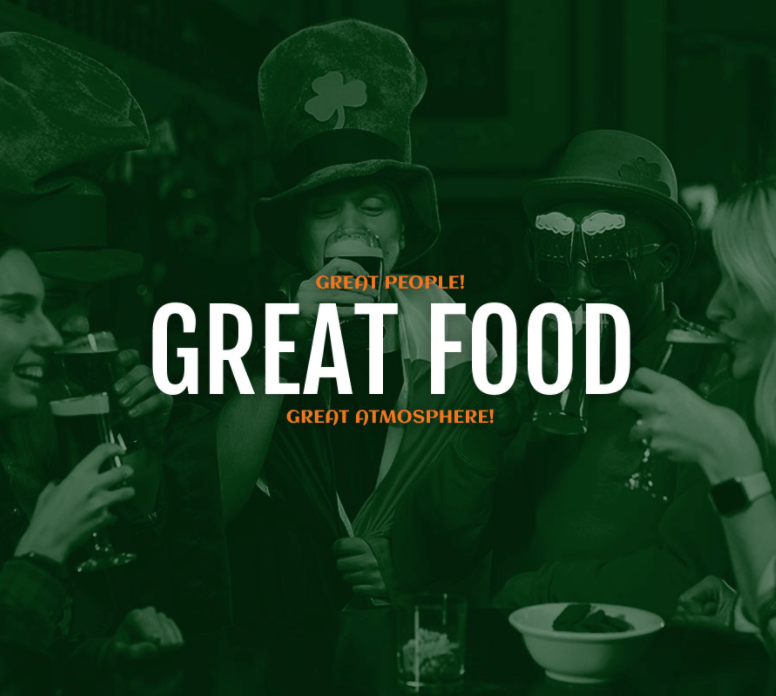 Houghton's Jackson Street Pub
A La Crosse Region favorite for over 30 years, Houghton's Jackson Street Pub is Irish-themed and proudly serves the area with home-cooked food alongside impeccably friendly service.
St. Patrick's Day Specials:
Lunch (Served 11am – 4pm): Taste St. Patrick's Day in true form for lunch with Corned Beef and Cabbage, a Ruben Sandwich, a Tuna Salad Sandwich, a Chicken Salad Sandwich, Cod entrees, or a Fish Sandwich!
Dinner (Served 4pm – close): Celebrate the holiday at Houghton's with a fine dinner of Corned Beef and Cabbage, Cod Entrees, Seared Beef Tips, or a Ruben Sandwich!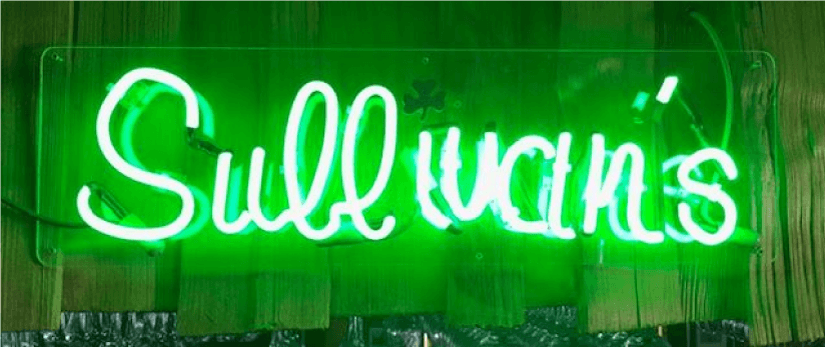 Sullivan's Supper Club
Serving along the Mississippi River since 1968, Sullivan's Supper Club has been considered one of the finest restaurants in the Trempealeau, WI area! Guests are sure to enjoy their scenic setting, excellent service, and delicious menu.
St. Patrick's Day Specials:
Irish Handshake: This delicious special is tenderloin tips and scallops.
Irish Sweepstakes: Featured for a St. Patrick's Day celebration, enjoy grilled tenderloin tips and fish.
The Luck of The Irish: This special is a white and flaky fish paired with tender shrimp. A classic combo.