How to squeeze in one more trip!
Rev up your engines an hit the road for a perfect fall day trip to La Crescent MN! This charming town in the Apple Capital of southeastern Minnesota offers stunning blufftop views, local wineries, scenic byways and miles of hiking trails suitable for all levels. Just a short drive from La Crosse, its the ideal spot for a day trip with friends and family. So what are you waiting for? Head to La Crescent for a day of adventure and relaxation.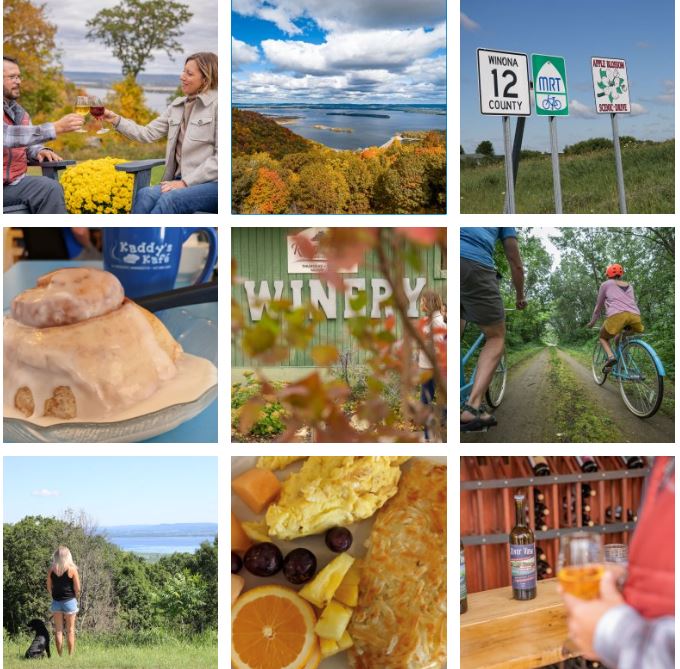 1. Apple Blossom Scenic Drive
Grab a coffee from your local baristas and start your journey to La Crescent, MN! Enjoy a beautiful morning drive on a 17-mile route and ride along with ancient limestone, bluff-top roads that overlook the Mississippi River, then descend into the Pine Creek Valley, and take your time mozying through the charming town, stopping to enjoy picture-perfect lookouts and cozy local shops off the beaten path.
2. River View Vineyard & Winery
After your morning road trip, relax at one of River View Vineyard and Winery's ideal patio seating spots overlooking one of the tallest peaks of the blufftop. Soaring trees and sprouting wildlife frame your view of the Mississippi River. River View was established in 2003, bringing signature wines such as La Crosse (white), Frontenac (red), and Swenson Red (rose) to our region. Choose a bottle of your favorite wine and add another to take home after your trip! Bring along your favorite picnic essentials to enjoy with your new local wine while sitting at one of the many outdoor seating options at River View!
3. Choose Your Outdoor Recreation Activity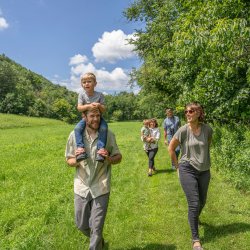 Hiking
Drive to Apple Blossom Scenic Overlook, located on Apple Blossom Scenic Drive. Here, you'll find the entry point to trailheads leading down the bluffs showcasing stunning views of the Mississippi River Valley. Even bring a portable hammock and swing awhile among the trees!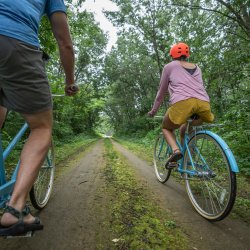 Biking
Apple Blossom Loop is a local favorite for cyclists to decent through the ridge top next to the Mississippi River through many local orchards. On your ride, look out for signs of native wildlife throughout your journey, and don't miss out on the city views of La Crosse and Onalaska.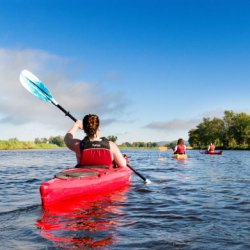 Kayaking
Kayaking local waters await! Head to Pettibone Park, located on the La Crescent side of the big blue bridge, for affordable kayak rentals. Take Wagon Wheel Trail and Shore Acres Road to lead you to the edge of the bridge, then take the stairs down to the Beach front, where you'll find the kayak rentals!
4. Swing Bridge Pub
The Swing Bridge Pub is a popular restaurant and bar located in La Crescent. The pub gets its name from the historic swing bridge that spans the Mississippi River nearby. The menu at Swing Bridge Pub features classic American cuisine including burgers, sandwiches, and appetizers, as well as a selection of beer and cocktails. The pub's cozy atmosphere and friendly staff make it a favorite spot for locals and visitors alike.
5. Best Western Plus
End your perfect day trip in self-care luxury! Take a dip in the Best Western Plus indoor saline pool (options of the adults-only swim from 10 pm – 11 pm). Every room is designed with the customer's comfort in mind, so you can relish in all the memories you've created in La Crescent! Increase your relaxation by sleeping in and using Best Western's late check-out option; this way, you can take this time to enjoy the company of your loved ones without any means of rushing out the door.
6. Kaddy's Kafe Inc.
Don't skip out of a local breakfast favorite (open from 6 am to 2 pm) before returning home. Kaddy's Kafe is a family-owned and locally loved cafe serving outstanding omelets and build your own skillets. If you have a morning sweet tooth, try Lori's french toast made with slices of texas toast garnished with powdered sugar and added fruit toppings- wow! Even take home locally made pies, cinnamon rolls, and cheesecake to share later on. Every day of the week, Kaddy's offers different specials such as the el torero scramble, country fried steak & eggs, or blueberry crunch banana pancakes; The options are endless for your perfect La Crescent trip!