Hiking
There might not be a better place in the world to explore on foot than the La Crosse Region. With wooded bluffs topped by craggy sandstone outcroppings, vast marshes teeming with wildlife, pristine prairies and meadows, and rivers, lakes, and streams everywhere you turn, there's a whole world to explore in this quiet little corner of the Upper Midwest. And with hundreds of miles of designated, well-maintained trails, you won't need a compass to do it! Whether you prefer leisurely strolls along wide, level paths, or heart-pounding climbs up steep, rocky trails, you'll find your hike in the La Crosse Region.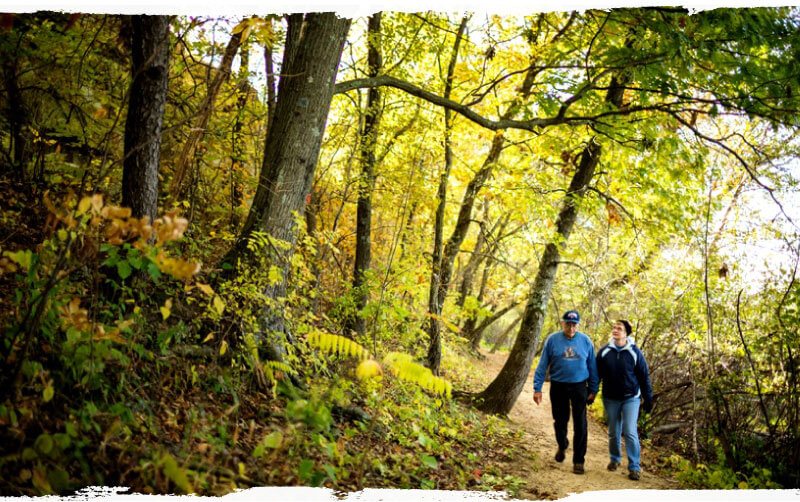 Hixon Forest
Nearly ten miles of hiking and multi-use trails crisscross the wooded bluffs on the eastern edge of La Crosse. Four designated parking areas provide convenient access to the trails, which can also be reached by bike or on foot via connecting trails from Myrick Park, or even downtown La Crosse via Riverside Park. The Hixon Forest Trails offer access to the popular Grandad Bluff Park and its stunning views of the city and river valley, as well as four other designated vistas. Hikers and mountain bikers can also connect to Human Powered Trails at the top of the ridge (across County Hwy FA). Visit the City of La Crosse's Parks, Recreation, & Forestry website for trail maps.
La Crosse River Marsh Hiking Trails
Visitors may delight in the wonders of the flora and fauna of Wisconsin wetlands by running, walking, biking, and using any other mode of human powered transportation on paved and gravel trails. The trail system in this wetland connects Riverside Park to the Great River State Trail, Myrick Park, and Hixon Forest, beginning at the confluence of the Mississippi and La Crosse Rivers and progressing through floodplain forests and marshland. A highly publicized natural area neighboring downtown La Crosse, the La Crosse River Marsh has been an important habitat for a plethora of native marsh mammals, migrating birds, and insects. More recently, this wetland has been used for water supply and flood control, updated by humans over the last one hundred years to include trail access to previously inaccessible parts of the marsh. Take a rest stop at the Myrick Park Center to gain more information about nearby natural areas and to look at animals native to the La Crosse River Marsh and the La Crosse River Marsh Hiking Trails.
Green Coulee
Located off of Green Coulee Road and Stonebridge Ave in Onalaska. At 1212 feet, Green Coulee Park is the highest point in the Coulee Region. 67 acres and consisting of hiking trails that run from the wetlands area at the lower end of the park through areas of oak savanna to the rock quarry at the summit of the bluff that overlooks a portion of Onalaska.
Tip: During deer hunting season the trails are closed to hikers. Green Coulee Park Map
Part of the Mississippi Valley Conservancy, the 24 acres of Savannah Oaks is open to the public for hiking, hunting, and bird watching. The land borders up against Green Coulee Park See a map of Savannah Oaks here.
Outdoor Recreation Alliance
Outdoor Recreation Alliance (ORA) is a growing non-profit 501(c)(3) organization with a goal of maintaining and developing sustainable and environmentally correct trails for the La Crosse, WI region. The trails are located just outside of the City of La Crosse, on County Hwy FA. There is a trailhead and parking lot right next to the National Weather Service Station. Look for the big golf ball (weather ball) in the sky! ORA is dedicated to providing trails for all user types and skill levels. From the parents that want to go out and explore nature with their children, to the hardcore mountain biker, and even the first time cyclist. All of the trails built by ORA and its many volunteers are open for all types of human powered shared use – including hiking, biking, birding, trail running, skiing, snowshoeing, and more. So grab the kids, or call a friend and come out and explore the ever expanding trails on the bluffs overlooking the beautiful coulee region!
Mississippi Valley Conservancy
Mississippi Valley Conservancy is a regional, non-profit land trust based in La Crosse that has permanently conserved more than 15,000 acres of blufflands, prairies, wetlands, and streams in southwestern Wisconsin since its founding in 1997. The MVC's land protection work preserves scenic beauty, protects wildlife habitat, and provides opportunities for hiking, cross-country skiing, bird watching, hunting, fishing, biking, and nature photography. The hiking trails are easily accessible behind Stoney Creek Hotel & Conference Center. Visit their website, www.mississippivalleyconservancy.org, for maps of nature preserves and hiking trails.
Norskedalen Heritage & Nature Center
Norskedalen Heritage and Nature Center, located three miles north of Coon Valley off County Hwy PI, is rich in natural beauty and diversity, encompassing about 400 acres of scenic coulee along Poplar Creek. While hiking 6+ miles of trails one can encounter an amazingly wide variety of flora and fauna. The trails take you through pine plantations, over the cold, clear, creek and the many springs and pools that feed it, along wooded hillsides and rocky outcrops of goat prairies, and along the valley floor. Bring a picnic and the whole family, and be sure to check out Norskedalen's full schedule of cultural and educational programs while you're there.
Van Loon State Wildlife Area
The 4,000-acre Van Loon State Wildlife Area, located north of Onalaska off Hwy 53, is home the McGilvray "7 Bridges" Road trail. The Black River Bottomlands is a globally significant floodplain forest which is notable for its wide variety of wildlife. The fall is a great time to hike the path across all six bridges, offering opportunities to see all of the region's native woodpecker species, as well as Bald Eagle, Red-Shouldered Hawks, and Indigo Bunting. The area is also open to primitive camping, canoeing and kayaking, cross-country skiing, hunting, trapping, and fishing.
The historic McGilvray "7 Bridges" Road trail is 1.8 miles long, one way. It was formerly a County Road which contains a unique combination of five rare bowstring arch truss bridges and one low truss bridge which was adopted from Pierce County. The trail and bridges are open only to pedestrian traffic. There is no entrance fee and the trail is open 24/7.
Wisconsin State Trails
Four rail-bed trails spanning nearly 100 miles from Reedsburg, WI, to Trempeleau, WI, offer some of the best hiking and biking in the region. The trails take you through marshes and valleys, along the rivers, and offer access to several communities, parks, and recreation areas, including Perrot State Park, Veteran's Memorial Park, and the La Crosse River Prairies State Natural Area.
Prairie Walk
The Upper Mississippi US Fish & Wildlife Visitor Center on Brice Prairie has a little under two miles of paved or gravel walkways through 183 acres of sand prairie . The paths are flat and easily accessible from the visitor center. The prairie is full of plant life, including many early summer blooming flowers, and many bird species. The breeze on the prairie and the bluffs in the background make for a relaxing walk.
While there, be sure to stop into the visitor center and enjoy the exhibits that highlight the natural history of the Refuge. The visitor center can be found at: N5727 County Rd. Z, Onalaska. (Tip: if using GPS, put a space between the "N" and "5727")
Holland Sand Prairie
North of Holmen, the Holland Sand Prairie is a 61 acre State Natural Area. Hiking, snowshoeing and wildlife observation are all activities that can be done on the sand prairie. A local girl scout troop did a fantastic job creating a flower identification guide of what blooms on the prairie. The Mississippi Valley Conservancy holds a conservation easement on the property.
Download a Hiking Map of the Sand Prairie.
Eagle Bluff Park
Located in the homey community of La Crescent, MN, Eagle Bluff Park is host to multiple trails to explore. From Red Apple Trail and Eagle's Bluff Loop to the Boy Scout Trail and Red Apple Rocks Trail, you can explore the blufflands of the area at your own pace. Suited for a variety of skill levels, you can find the trail that is best suited for you.
Download a La Crescent, MN Bicycle and Hiking Map.
More information: