Relax, swim, wander and enjoy true natural beauty!
Find Your Sanctuary at Second Nature
Second Nature at Reads Creek is a destination nursery, greenhouse, gift shop, and landscape design center. Now, this is not your typical quick-stop, parking lot, rush-rush garden center… They encourage everyone to wander and wonder, dream and plan, and find the colors, textures, shapes, and sizes that speak to your heart. From the koi pond to the rocking chairs on the porch overlooking the valley, this gem is calling your name. Located at S7301Hwy 14/61 just north of Readstown, Wisconsin, you will come for the plants but stay for the experience!
Location, Location, Location!
Set in the rural Driftless Region of Southwestern Wisconsin, the nursery is nestled in a verdant valley along a meandering Class A trout stream just 7 miles south of Viroqua. Once you have visited, you will understand why people drive hours away to experience the tranquility of their valley, and return year after year for the high-quality plants and landscaping services. The nursery is a safe haven, a place of renewal and rejuvenation. It's a place where worries of the outside world fade away as you begin to stroll amongst the plants and listen to the water coursing over the rocks in the valley or watch the eagles fly high above their nest on the property.​ With the vast collections of annual and perennial plants offered, it makes finding that elusive something special for your garden feel like a dreamy pleasure-hunt.
Special Features
Visit every third Thursday of the month from May to October for an open-air market, full of local vendors selling handmade goods, baked, and farm fresh produce. Enjoy this chance to shop, eat at a food truck and support local businesses! Keep your eyes out for the Gem & Fossil day where kids can sift and search for their treasure among the sand. Don't forget to explore all that Second Nature has to offer by swimming along the creek and setting up a picnic or enjoy delicious food, live music, several fun activities for the kids, bonfires and more! It's truly a place of relaxation.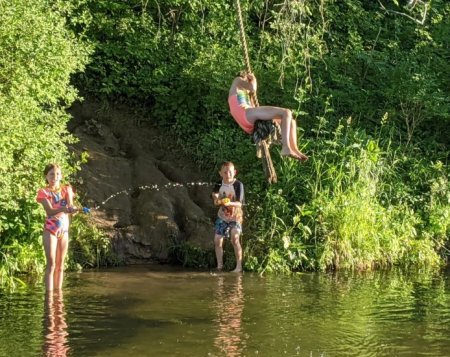 Experience The Difference Today!
Learn why it's called the Second Nature experience and visit all its natural beauty. Shop or get advice from 3 professional designers on any upcoming landscaping projects. Not interested in a new project? Relax with a leisure afternoon stroll throughout the stunning gardens surrounded by nature. Whatever your goal, Second Nature At Reads Creek has it all!
Relax and unwind with a sneak peek into Second Nature At Reads Creek:
Visit Second Nature At Reads Creek today and see why it's a family-favorite!