Biking
La Crosse County's picturesque bluffs, riverlands, and quiet country highways make for some of the best road and mountain biking in the world. Over 100 miles of highly maintained bike paths and trails cover the region, and the City of La Crosse has achieved the Silver-Level designation as a Bicycle Friendly Community, with miles of designated bike lanes, bikeways well-marked by sharrows (shared-lane markings), and more bicycle friendly businesses per capita than any other city in Wisconsin. The Wisconsin Bike Federation sells maps detailing the rideability of Wisconsin's state and county highways. Be sure to check out the City of La Crosse's Trail maps and park locations, and ORA Trails' website for trail condition maps, reports, upcoming projects and volunteer opportunities.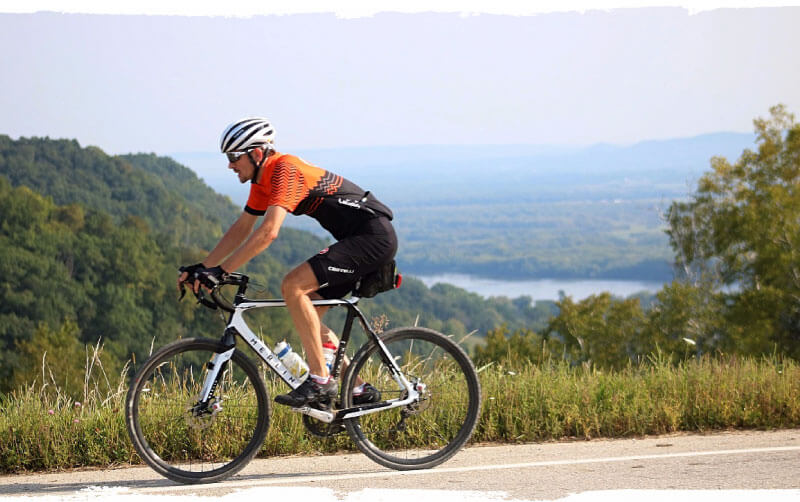 Nearly thirty miles of multi-use trails crisscross the wooded bluffs on the eastern edge of La Crosse, including the 6 miles of newly completed Gateway Trails offering 3 vista overlooks and an excellent experience for hikers, and both new and avid mountain bikers alike. A parking area on Grandad Bluff Road provides convenient access to the trails, which can also be reached by bike or on foot via community connector trails from Myrick Park, 29th street Neighborhood Access Point, Ebner Coulee Neighborhood Access Point, or even downtown La Crosse via Riverside Park through the 5 miles of Myrick Marsh Trails.
The Lower Hixon Forest Trails offer 13 miles of trail with stunning views of the city and river valley, as well as four designated vistas. The Miller Bluff Hiking Trail was recently added to the park and leads users up to a 1 mile ascent to the Miller Bluff Overlook, the first bluff face seen by travelers entering the City from the North. Hikers and mountain bikers can also connect to the Upper Hixon Trail System at the top of the Vista Trail where riders will find all levels of difficulty including a dirt pump track, 10 miles of trail total and three downhill gravity trails. Or connect over to the Gateway Trail System in Grandad Bluff Park at the top of the Aspen Trail, where epic views of the City await at the Grandad Bluff Overlook.
For those more interested in flat land with little elevation, the Chad Erickson Park at the Community Forest's 1 mile paved forest trail is the perfect spot. Take a rest from your ride and check out the outdoor classroom, meditation area or accessible fishing pond. Head over to the 1 mile paved Bud Hendrickson Trail for a neighborhood route that boasts clear views of the bluffline along the way. On your way, be sure to stop at Lueth Bicycle Park and Pump Track to hone your skills before heading back to the trail!
Outdoor Recreation Alliance (ORA Trails). is a growing non-profit 501(c)(3) organization dedicated to building happy, healthy, and resilient communities by providing access to equitable and sustainable outdoor recreation experiences. ORA Trails commits to providing and maintaining trails for all user types and skill levels, because trails are for everyone!
From the parents that want to go out and explore nature with their children, to the skilled mountain biker, to even the first time cyclist, providing a resource that's truly free and accessible to the community is of high importance to our organization and remains part of both the mission and vision for impact for ORA Trails. Trails built or maintained by ORA Trails and its many volunteers offer access to all types of human powered shared use – including hiking, biking, strolling, birding, trail running, skiing, snowshoeing, and more. So grab the kids, or call a friend and come out and explore the ever expanding trails on the bluffs overlooking the beautiful coulee region!
Wisconsin State Trails
Four rail-bed trails spanning nearly 101 miles from Reedsburg, WI, to Marshland, WI, offer some of the best hiking and biking in the region. The trails take you through marshes and valleys, along the rivers, and offer access to several communities, parks, and recreation areas, including Perrot State Park, Veteran's Memorial Park, and the La Crosse River Prairies State Natural Area.
The Wisconsin State Park System requires users of the trails to hold state trail passes. Passes are required for anyone age 16 or older biking on the trails. Children under the age of 16 can bike the trails for free. Walking and hiking on the state bike trails is free.
Bike Sharing in La Crosse – Drift Cycle
Drift Cycle is "an easy-to-use, affordable bike rental program for residents, commuters, and visitors that contributes to the health and vibrancy of the community." The program features 75 bikes and 2 trikes at 15 different docking stations throughout the city of La Crosse. With affordable pricing, convenient bike rack locations, and quick service, individuals are able to explore the La Crosse Region in no time, with or without their own bike!
Cycle and Mountain Bike Rentals & Repairs
If you're ready to take your biking to the next level, check out one of La Crosse's local rental opportunities for a bike that can handle your needs. Smith's Bike Shop and the University of WI-La Crosse offer mountain bike fat bikes, mountain bikes and cruisers. And if you're looking for a Hybrid or Tandem bike, look no further than Wrench & Roll.
The Great River Road
The Wisconsin DOT has a great guide for biking along the Great River Road. The maps show low and high traffic roads as well as the trail information to get through Onalaska and La Crosse.
Mississippi River Trail Bicycle Map
La Crosse County to Chicago
Did you know you can ride from Onalaska to Chicago with most of the route on rails to trails? Local rider Scott McMurray was kind enough to share with us his route for a six day journey from Onalaska to Chicago with a ride back home on the Amtrack Empire Builder.
Click here to download Scott's bicycle route.
SE Minnesota Trails
The Root River and Harmony-Preston Valley Trails is a 60 mile paved trail network that meanders along the Root River amid 300 foot bluffs. Learn more about the Root River Trail Towns.
More information: