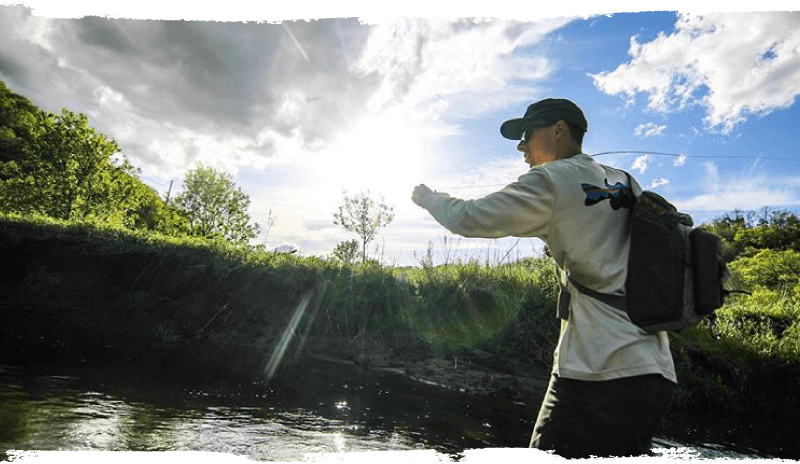 Top Spots to Fish Shorelines in the La Crosse Region
The La Crosse Region is known for being located directly on the Mississippi River, one of the greatest fisheries in the country.  Touting over 119 species, Old Man River is a destination for die-hard anglers and families alike.  Numerous creeks, streams, and other rivers flow into the Mississippi River that also make for excellent opportunities to reel in dinner. 
No boat? No problem!
The area has amazing options to fish from shorelines, docks, piers, floats, and more without ever having to step foot on the water.
Goose Island
Located just 3 miles south of downtown La Crosse, Goose Island Campground is an angler's paradise.  Over 2.5 miles of fishable shoreline through the campground, trails, and the newly expanded roadway into the campground, all of which set up a perfect environment to catch bluegill, perch, bass, northern pike, walleye, catfish, drum, and more!
Pettibone Lagoon
Pettibone Lagoon is the family-friendly backwater bay in Pettibone Park, located directly across the Mississippi River from Historic Downtown La Crosse.  This scenic park offers multiple shoreline areas, docks, and piers to target plentiful quantities of bluegill, crappie, bass, and pike.  Numerous small to medium-sized panfish make this the go-to for new anglers and kids looking for constant action and a lot of catching.
Spillways, Dams, and Floats… Oh my!
The Best Dam Fishing Float and the Clements Fishing Barge are amazing fishing piers located right below the dams on pools 8 and 9, respectively.  These fishing floats are prime locations for vast quantities at everything that swims in the fruitful waters.  The spillways between pools and near the dams also offer great fishing for numerous species.  The current and flow over the spillways create oxygen-rich waters that attract fish and make perfect locations for making memories or catching dinner.
Pristine Trout Creeks
La Crosse is located in the Driftless Region, an area of southwest Wisconsin, southeastern Minnesota, and northeastern Iowa. During the ice age, this region escaped the flattening effects of glaciers and is characterized by spring-fed waterfalls, deeply carved river valleys, forested ridges, and cold-water trout streams. Over 600 spring-fed creeks provide superb habitat for brown trout, brook trout, and rainbow trout. Restoration surveys state astounding populations of trout up to 2,500 fish per mile, a ridiculously impressive number especially for the small to modest-sized creeks of the area. The best part, all of the creeks are publicly accessible to wade or fish along shorelines through the angler-friendly access laws and easement agreements with landowners.
Reel in Some Memories
Whether you consider yourself a pro or just want to spend some peaceful time fishing the local waters, you can enjoy safe, responsible recreation in the La Crosse Region. When you're ready, fish along shorelines like no other and most importantly… have fun exploring!
Helpful Resources
Goose Island Campground: Learn More >
Pettibone Lagoon: Learn More >
La Crosse Parks & Rec: Learn More >
Dept. of Natural Resources: Learn More>
Helpful Vendors
Goose Island Campground: Rentals & Supplies >
Pettibone Park: Rentals & Supplies >
Island Outdoors: Rentals & Supplies >