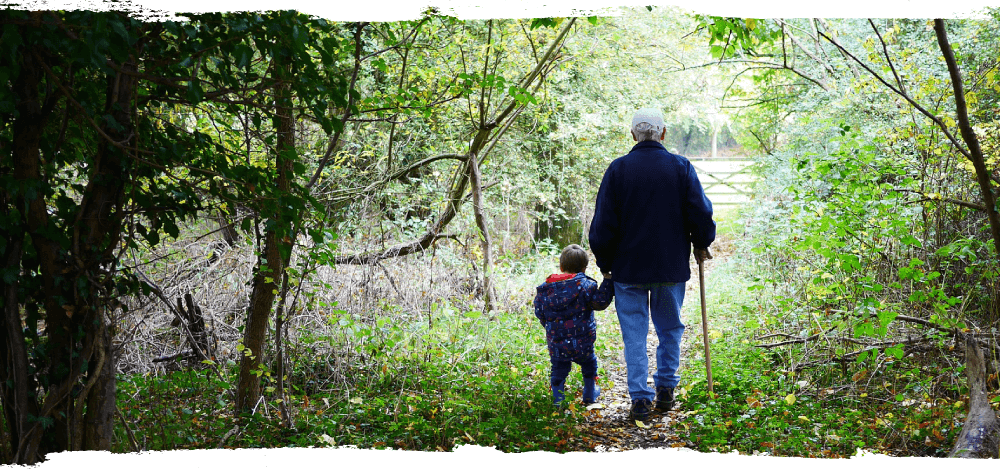 This year has been unique and the concept of travel and play has had to evolve. Specifically, "gramping" or a "grandcation," has become a new approach to vacation and play growing in popularity! Vacations have traditionally involved multiple generations, but gramping is a special getaway dedicated to that of the grands and grandkids. Whether it is experiencing new, local play together or hitting the road and exploring a new destination, the family can enjoy summer vacation with a twist, no parents required.
If you're from the La Crosse Region or interested in making the trip, check out our list of some age-friendly, gramping activities available to you!
Sights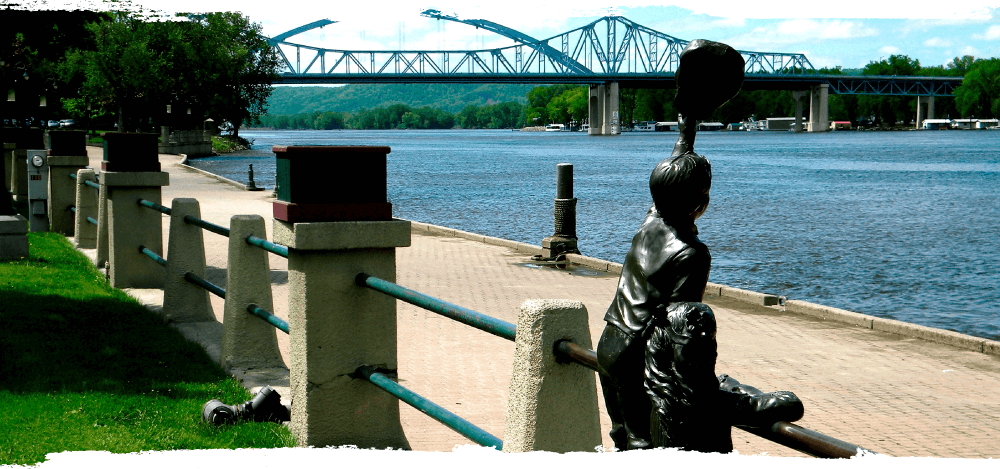 Riverside Park
Riverside Park is legendary in the La Crosse Region and is an accessible stop one block from Historic Downtown. Take a stroll along the winding sidewalks along the mighty Mississippi River, admire the Big Blue Bridge from afar, and loop through the International Friendship Garden. Bursting with unique flowers, plants, art, sculptures and river landings, the garden lends the perfect photo op for your family during your visit together.
Grandad Bluff
Drive up to Grandad Bluff in La Crosse for an unforgettable view of the Mississippi River, La Crosse, Wisconsin, Minnesota, and Iowa. Voted "the most scenic view in the state," by Wisconsin Trails' readers, the bluff stands 600-feet tall and is a must-stop destination in the La Crosse Region. With binoculars, a shelter house, picnic areas, and more, the accessible location will provide exploration for all ages.
The Shrine of Our Lady of Guadalupe
A spiritual destination for visitors all over the world, the Shrine of Our Lady of Guadalupe offers exceptional views, stunning architecture and more. Nestled into 100-acres on the ancient bluffs, you can enjoy tours of the beautiful chapels, statues, gardens and devotional areas. Enjoy a spiritual experience and end your excursion in their café or gift shop as hours permit.
Classics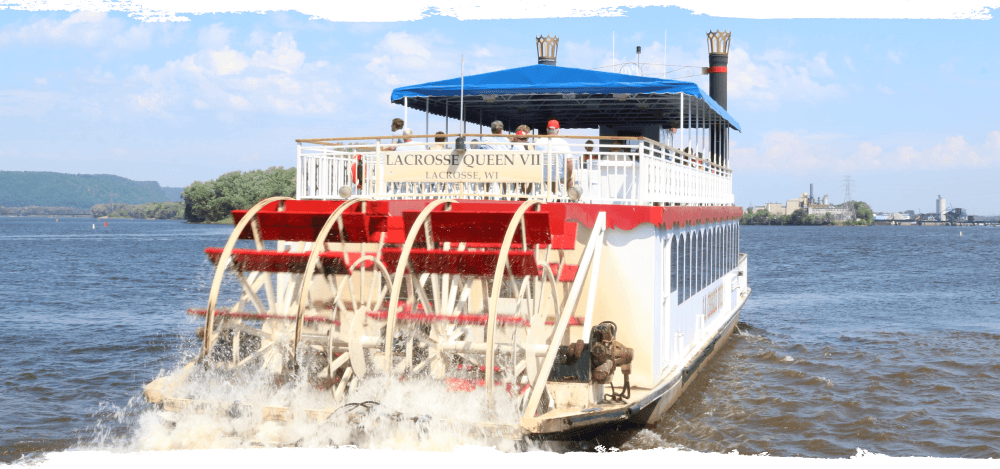 La Crosse Queen
"Cruise back in time and explore the Upper Mississippi with us!" A modern-day replica of historic, 1900s paddlewheel river boats, the La Crosse Queen provides river cruises and tours of the mighty Mississippi River. Located in Riverside Park, the Queen is the perfect gramping excursion. Whether you crave an afternoon Pizza Cruise, a Captain's Sunday Brunch paddle, or a Sightseeing Cruise, the group will get on the River in a safe, socially responsible way. Hit the water and feel the wind in your hair along the La Crosse Region's banks.
Hixon House
The Hixon House was built in 1858 by pioneer and lumber baron Gideon Hixon. In 1965 the family's descendants gifted the home to the La Crosse Historical Society complete with original Victorian, arts and hand-crafted furnishings. Journey through the La Crosse Region's history with your clan at the historical museum. Tours are available by appointment.
Downtown La Crosse
With charming specialty shops, clothing boutiques, hardware, antiques, music stores and more, Historic Downtown La Crosse is an proper destination for all. Downtown is full of life with award-winning restaurants, cafés and pubs, theaters and galleries, museums and public art. Visitors can enjoy the beauty of the Mississippi River and explore a thriving downtown steeped with history and culture. Walkable and age-friendly, Historic Downtown La Crosse is a destination to consider for an hour or an entire afternoon.
P.S. The Pearl Ice Cream Parlor is a must-stop while downtown for your sweet tooth! Travel back in time at the authentic 1930's shop with an old, wooden counter, 20 flavors of ice cream, vintage milkshake machines, homemade candies and more!
Exploration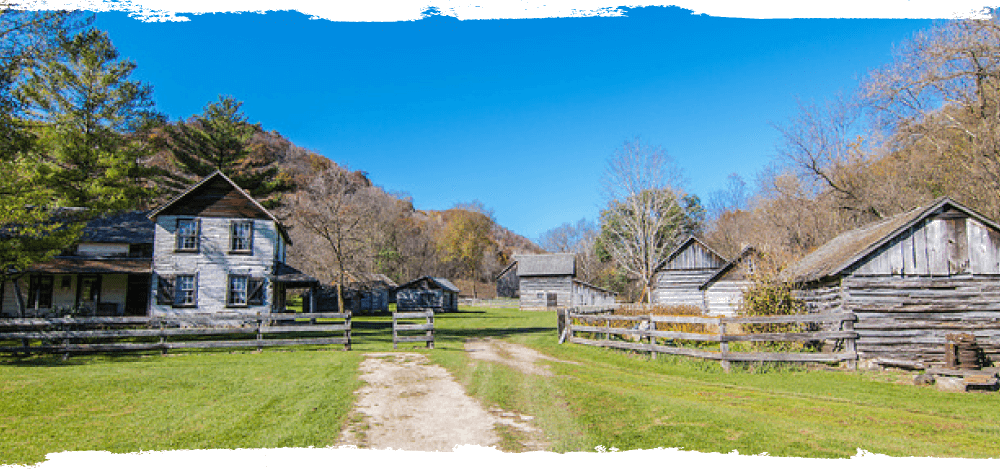 Norskedalen Nature & Heritage Center
This "Norwegian Valley" center is dedicated to preserving and sharing the natural environment and heritage of the surrounding Coon Valley in Southwest Wisconsin. With a Visitors Center, a historical homestead, an arboretum, a Heritage Site, and nature trails, Norskedalen Nature & Heritage Center is truly an adventure-packed destination. Whether you want a formal tour, to rent a cabin, or just explore with your family, memories will be made. Special note – lookout for the famous, friendly trolls and nisse on the Troll Trail!
Down a Country Road
A short trip from the La Crosse Hub in Cashton, Wisconsin is a cozy village of rainbow shops. Open all week besides Sundays, Down a Country Road lends browsing and tours alike! Found in the heart of Amish Country, the six village shops offer unique, specialty foods, children's goods, ice cream, and other hand-crafted treasures!
Hidden Hills
For hours of adventure, head to Hidden Hills. Minutes from La Crosse in Stoddard, Wisconsin is a family-owned wonderland with a petting farm, nerf and paintball courses, obstacle and compass courses, and quaint, homemade goods. Burn some energy and get active outdoors at this safe location suited for all.
Coulee Golf Bowl
Another classic, age-friendly way to get active would be to golf. Coulee Golf Bowl is located in Onalaska, Wisconsin, and has affordable pricing, especially for seniors and juniors, to swing into an adventure. If walking is not an option, don't worry, there are cart rental fees for under $20! If you work up an appetite post-game, you can swing by their Bar and Grill for some crave-worthy grub.
Activities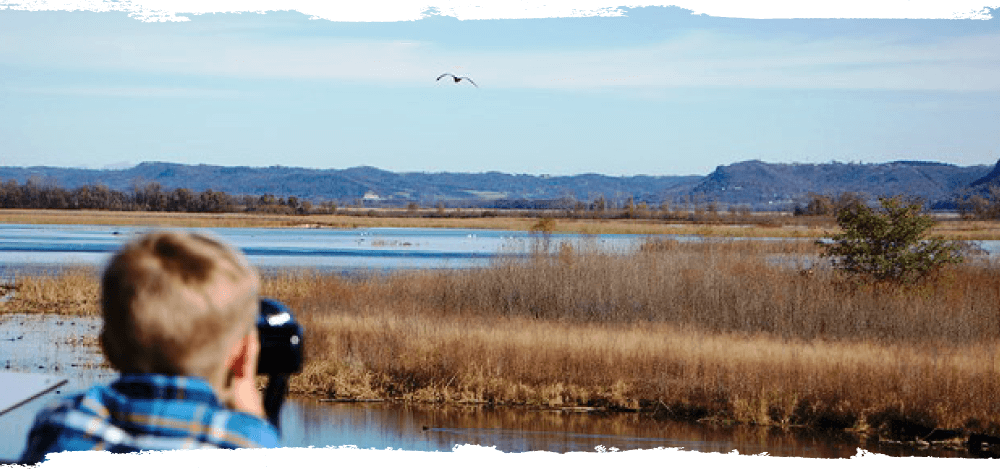 Birding
Whether it is migration season or not, the La Crosse Region is known for some of the best birdwatching in the Upper Midwest. With Eagles and Egrets, bluebirds, warblers and more, you'll find unique species in a peaceful setting with your entourage. You can find a plethora of bird sightings at Goose Island County Park, Van Loon State Wildlife Area, Myrick Park, the Upper Mississippi River National Wildlife and Fish Refuge, and more! Don't forget to snag your binoculars!
Fishing
Fishing is an age-old way to pass the time and what better setting than that on numerous riverlands and between the magnificent bluffs. Summertime fishing in the La Crosse Region can be one of the most exciting experiences all year. No matter the species you seek, their metabolism is spiking and they are waiting to help you reel in some memories. From big northern pike and bass to walleye and panfish, you'll find a phenomenal variety if you choose hit the water or fish one of the many public docks and landings.
The great thing about "gramping" is there is no true definition… make it what you want! Everyone wins; parents get to enjoy some much-earned relaxation, and grandparents get to spend coveted time with their grandchildren. When you're ready to explore, we hope you can enjoy some of these age-friendly adventures in the La Crosse Region.
Helpful Resources