Discover epic fall foliage, get lost in a corn maze, warm up with your coziest flannel and celebrate the fall festivals. No matter your niche, adventure awaits in the La Crosse Region!
Falling For The La Crosse Region!
If you haven't experienced the fall season in La Crosse Region and the surrounding area, you need to add it to your bucket list. The changing colors of the trees that cover the bluffs make for a beautiful sight!
1. Hidden Trails Corn Maze
Growing family memories for over 20 years, Hidden Trails is one of the original fall tourism destinations in the La Crosse Region. Be sure to put this corn maze on your fall to-do list! The Corn Maze is a La Crosse's agri-tainment venue. They offer 4 corn mazes, a pumpkin patch, weekend wagon rides, farm animals, and fall décor, and more! Get lost in over 5 miles of paths in a 12-acre corn maze. This years theme is Alien Invasion, don't accidently get lost and find your way among something extraterrestrial.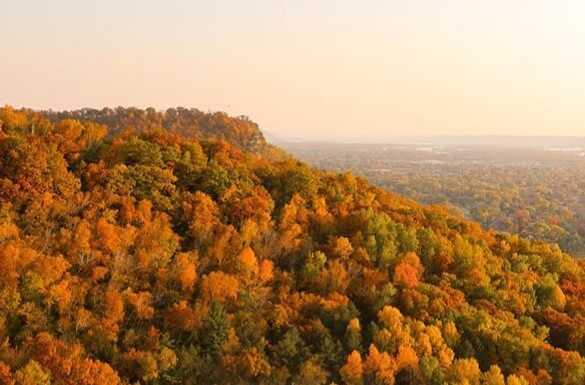 2. Grandad Bluff
Grandad Bluff has become not only a destination point for thousands, but also a famous symbol of the great Driftless Region. The 600-ft high bluff overlooks the city of La Crosse, the Mississippi River Valley, Wisconsin, Minnesota, and Iowa. Just a short 10-minute drive up a winding bluff road are legendary sights bursting of vibrant fall colors. Voted as "the most scenic view in the state" by Wisconsin Trails readers, this signature sight is a bucketlist must when visiting the La Crosse Region.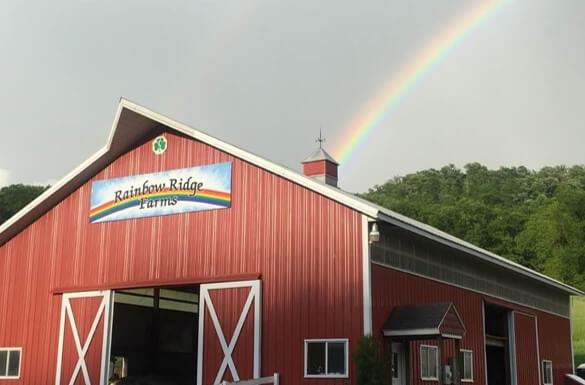 3. Rainbow Ridge Farm
Rainbow Ridge Farms Bed & Breakfast is a charming turn-of-century working farm. Nestled in a peaceful valley, guests can relax and enjoy the area`s attractions. This fall stop by the farm for their pumpkin patch, see farm animals and even pet their friendly goats! There's also three trail-heads for great hiking and biking along the Great River Bike Trail, Sparta-Elroy Trail, and Human-Powered Trails. Or bring a large group and sign up for a farm camp day, where students and others can learn about farming, agriculture and more!
4. Hidden Hills
Look no further for some family fun in nearby rolling country hills! At Hidden Hills there's so many fun fall activities to-do to get in the fall spirit. Start your trip off by petting their many animals on property (goats, cows and chickens, oh my!). Grab your friends for a competitive game of paintball or nerf gun war on their 5 acres of wooded areas or nerf course. Purchase local produce, pumpkins and fall crafts while there and lastly, stop by their haunted barn for a quick scare!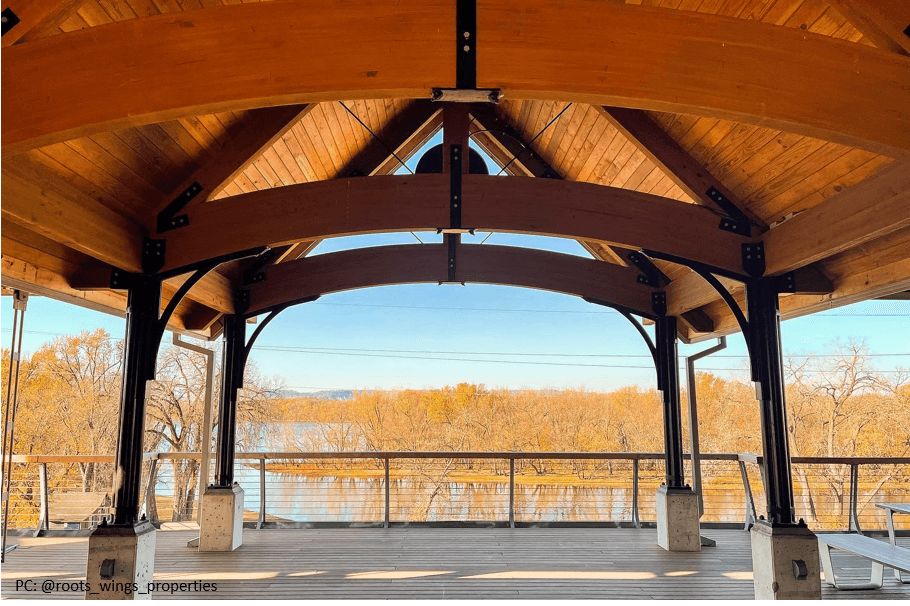 5. Great River Landing
The Great River Landing in Onalaska, WI plays host to the trailhead of the Great River State Trail for bicyclists enjoying the 101 miles of interconnecting state trails. The Visitor Center overlooks the beautiful Lake Onalaska and its wooded surrounding reveals the golden oranges, yellows and reds of fall. Even stop by for a quick family photo op at Sunny The Sunfish a enormous fish along the Great River Road.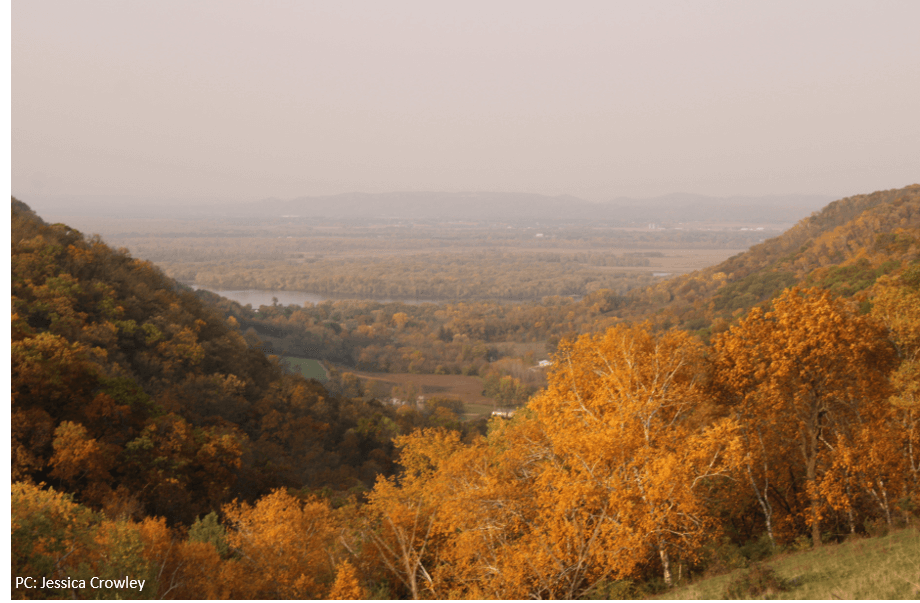 6. Apple Blossom Drive
Wind your way through the colorful bluffs along Apple Blossom Drive in La Crescent, MN. Ride along the bluff-top roads that overlook the Mississippi River and La Crosse, and descend into the Pine Creek Valley. Here you'll see the vibrant fall colors, apple orchards and mighty bluffs. Make a pit stop for a wine tasting, crunchy fall apples, or some of the best restaurants to grab a hot apple cider along the way.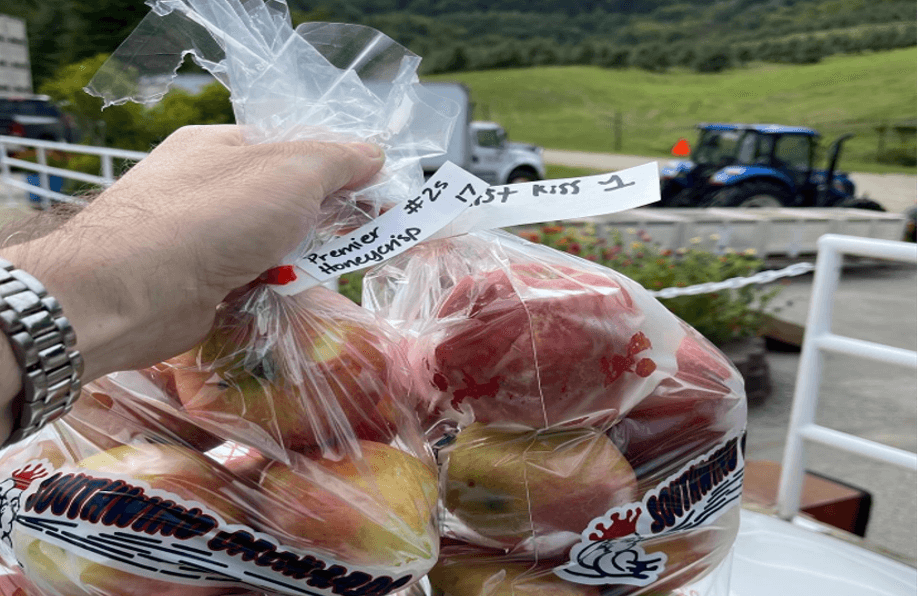 7. Southwind Orchards
Southwind Orchards apples are grown on the choice hillsides of Dakota, MN nestled on the banks of the Mississippi River. You'll spot this orchard along Apple Blossom Drive, full of gorgeous views, colorful trees and memories you won't forget! It's a great stop for purchasing your apples for the season, and many other jam/jellies, caramel apples, and more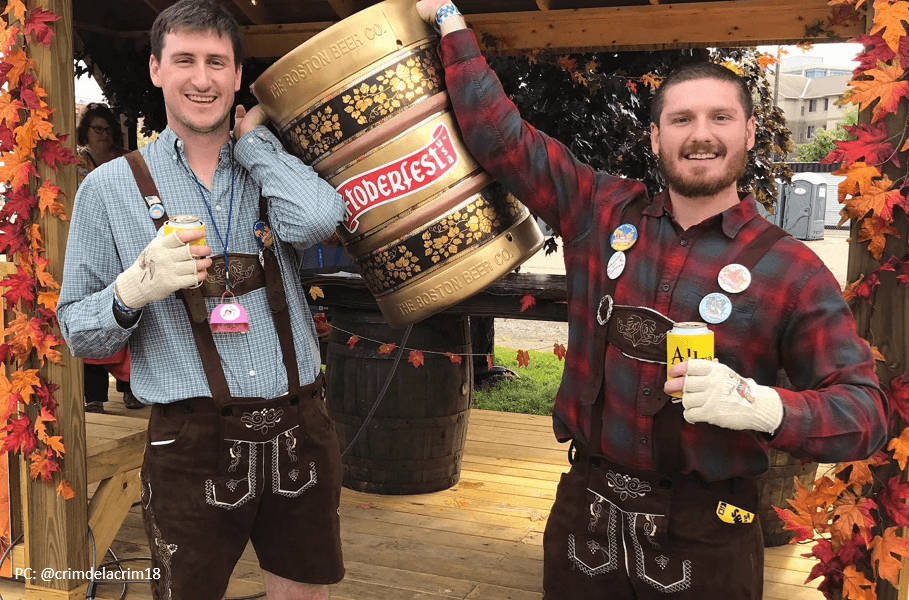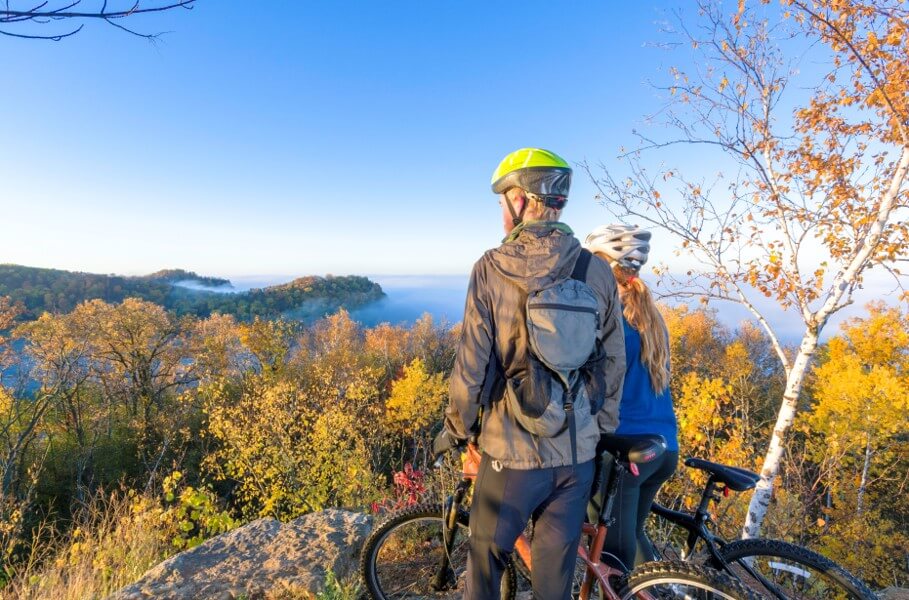 9. Recreation & Sports
Three majestic rivers and the beautiful bluffs surrounding them make La Crosse Region the perfect outdoor recreation area, especially in the fall. You can kayak, fish, or just cruise the Mississippi, and Hixon Forest is full of trails for hiking and biking. You can also cheer on your favorite local football team, work on your short game at our area golf courses and cheer on your favorite runner during this season. And don't forget about hunting season, with the endless wooded forests, waterways and marshes you can't miss your shot.
10. Birding
The La Crosse Region and the surrounding areas are home to some of the best birdwatching locales in the Upper Midwest. From Bald Eagles, Tundra Swans, and Great Egrets on down to bluebirds, warblers, and sparrows, the area hosts a wide range of species sure to satisfy birders of every stripe. Fall is an especially active time of year, with several migrating species spending time in the region, so be sure to visit these places to catch a glimpse of your favorite visiting birds.
Custom Fall Getaway Ideas
Whether you're an adventurer, craving fall flavors, or want to admire quaint and charming scenes, the La Crosse Region abounds with the perfect getaway exploration for you! Check out our custom getaway itineraries fit for your next journey desires.
Fall Agritourism Adventures
What is Agritourism? It is the combination of agriculture and tourism! The La Crosse Region has many farms, sustainable buildings and locations rich in agriculture who use this practice. Visit these six businesses this fall and share your fun with us!