Written by: Joel Nelson
The region surrounding La Crosse, Wisconsin has a lot to offer the avid outdoor adventure seekers.
Its expansive bluffs, miles of trails, and endless array of water are all draws to the area. It wouldn't be fair to mention this area's outdoor connections and not talk about its laundry list of fishing opportunities. La Crosse has prospects for all types, no matter an angler's preference, experience level, or the current season – including opportunities for conventional fishing or fly fishing, as well as the chance to fish from shore, from a boat, or on the ice.
The area boasts healthy populations of panfish, walleye, trout, catfish, and bass to name a few. As a premier fishing destination, the area attracts anglers from all over including several major tournament trails, such as Bassmaster and Major League Fishing.
Perhaps the most well-known body of water in the La Crosse region is the Mississippi River. Three pools of the Mighty Miss are located within close proximity to this region – Pools 7, 8, and 9 which also encompass the popular lake Onalaska. Two major tributaries of the Mississippi River in this region include the Black River and La Crosse River – all of which meet at the City of La Crosse. Beyond the major river systems, this portion of the State is also home to the world renowned Driftless region which boasts healthy populations of brown trout, rainbow trout, and brook trout.
Countless miles of fishable water are available in this region. Regardless of how you want to fish, there are options for you. They can be accessed from shore, from the water, or from some truly unique locations.
The Shore Options
Don't have a boat? Not to worry. The La Crosse Region has many access points for shoreline anglers.
Pettibone Park
If you're looking for family friendly, Pettibone Park is one of the best options in the region. Located on Pettibone Lagoon, a backwater of the Mississippi River, the park has several access options including docks, piers, and shorelines. The area hosts a healthy population of panfish, as well as the chance for bass and pike.
Goose Island Campground & Park
The Goose Island Campground & Park is located just three miles south of the City of La Crosse on the shores of the Mississippi River. The park is the largest county campground in the State of Wisconsin with more than 300 campsites. The area offers more than 2.5 miles of fishable shoreline.
Copeland Park
Copeland Park is located on the north side of La Crosse – just east of French Island – on the Black River. The park offers a stretch of access for shoreline angling. As the home to the Copeland Park baseball facility, the park gives anglers the chance to cheer on the local La Crosse Loggers baseball team while enjoying a night of fishing.
The Driftless Region
If cold water species are more your style, then this area is worth checking out. The Driftless refers to the area of Wisconsin, Minnesota, Iowa and Illinois that was left untouched by glacial erosion during the last Ice Age. This unique area offers some of the best trout fishing opportunities in the country – with more tan 13,000 miles of streams. These streams have impressive numbers of brown trout, brook trout, and rainbow trout with recent surveys showing 2,500 fish per mile. The Wisconsin Department of Natural Resources website has detailed maps and tools to help track down stream locations and access points.
Other Areas
In addition to the number of park facilities throughout La Crosse, there are also several other areas that fishermen can access. Opportunities for fishing access exist near many of the area's dams, spillways, bridges, as well as local power plant facilities.
Floats & Barges
If you're looking for a fun and unique fishing experience, there are two facilities in the La Crosse Region that offer just that.
Best Dam Fishing Float
The Best Dam Fishing Float is a floating dock located just below Lock & Dam Number 7 on the Mississippi River. The operation offers everything you need for a great day of fishing. A day of fishing on the "Float" includes a pontoon ride there and back – and up to ten hours of fishing. You can bring your own rods and tackle, or they have equipment available for rent. The on-site bait shop also sells food, live bit, tackle, and drinks. The Best Dam Fishing Float is typically open from March through October.
Clement's Fishing Barge
Clement's Fishing Barge is located near Genoa, WI just below Lock & Dam Number 8 on the Mississippi River. There's some serious fishing history associated with this "Barge" as it's been operating since 1936. A daily fishing package includes a boat shuttle to the barge and back to shore – with the ability to fish for up to ten hours. They recommend you pick up live bait ahead of time, but food and drinks are available for purchase on-site. The Barge is open year-round except for the month of August.
The Rentals
If do-it-yourself is more your style, there are a handful of resources in this region that offer boat, pontoon, kayak, and canoe rentals.
Keep in mind, the State of Wisconsin requires any residents born on or after January 1, 1989 to have a valid boating safety certificate in order to rent or operate a watercraft.
Schafer's River Rentals
Located on the shores of Lake Onalaska, Schafer's River Rentals offers a wide range of rental options. Options include boat, pontoon, kayak, and canoe rentals – all of which can be rented for a full day or half day. Schafer's has rentals that can accommodate up to 15 people.
American Marine
American Marine has five rental locations including one in La Crosse, WI. They offer four different rental options available for half day, full day, and three-day rentals. American Marine has rentals that can accommodate up to 13 people.
Island Outdoors
Island Outdoors offers rentals for canoes, kayaks, paddleboards and water bikes. They are located right on the shores of the Mississippi River – offering consumers the ability to drop right in without having to trailer or tow their rental for use. Island Outdoors also offers customers the ability to take many of their paddled options for a "test-drive" before they buy.
Other Rental Options
There are a few Parks & Recreation and Local Government resources that offer kayak and canoe rentals throughout the La Crosse Region – including Goose Island Park and Pettibone Park which are located on the Mississippi River and Great River Landing which is located on lake Onalaska.
The La Crosse Region is full of opportunity for the outdoor enthusiast – especially for those that enjoy time on the water. Whether it's conventional fishing or fly fishing, shore fishing or from a boat or kayak, there are options for all. Regardless of what you decide, fishing in the La Crosse area can be fun for everyone.
Join the La Crosse Lunker League
Fishing is an excellent choice of outdoor activity to partake in if you happen to have some time to spend in the great outdoors in La Crosse. If you want to add an extra element of excitement to your fishing, you can join the La Crosse Lunker League.
It's simple. Catch a qualifying species in the La Crosse area, take some pictures for size and memories, release your fish, and submit your catch! You'll be notified when your catch has been approved and you can see the awards you've gained. There are goals, milestones, and various awards to be won.
It's open to both residents and visitors. It's a fun way to challenge yourself and possibly win some cool awards!

Top Shorelines to Fish Today
No boat? No problem!
The area has amazing options to fish from shorelines, docks, piers, floats, and more without ever having to step foot on the water.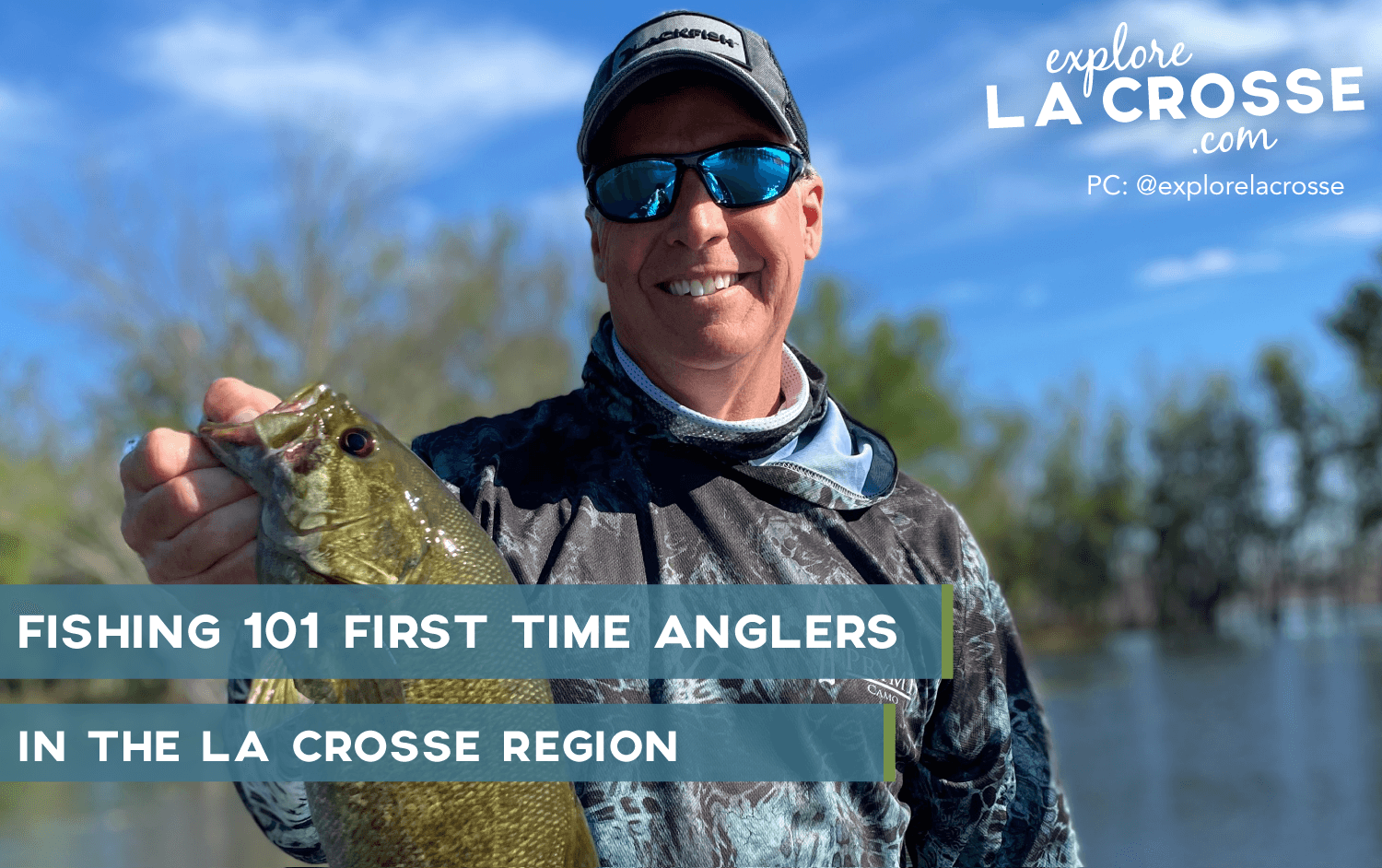 Fishing 101: For First Time Anglers In
The La Crosse Region
No matter what kind of fishing you want to do, there's an opportunity for you in La Crosse. It's an excellent spot for newbies to learn the ropes of fishing.