La Crosse is home to excellent fishing opportunities, from tiny backwaters to lakes that stretch into the thousands of acres. There's also a variety of boat launches, beaches for surf fishing, and marinas.
No matter what kind of fishing you want to do, there's an opportunity for you in La Crosse. It's an excellent spot for newbies to learn the ropes of fishing. But advanced anglers will also find plenty of challenges in these waters.
We've put together a guide for anglers arriving in La Crosse to fish these waters. You'll find all you need to know in this guide: Fishing 101 for first-time anglers in La Crosse.
What Fish Can You Find & When?
Fishing is good year-round in La Crosse. There are plenty of fish species to catch, and whichever season you're fishing in, there'll be opportunities for excellent catches.
Spring & Summer
Just about every species of fish can be found in the area in spring and summer. The walleye are out in full force just after the ice and snowmelt. Head downriver or to one of the many dams if they're your target fish.
As the waters warm up, so do the panfish and pike. But if you're after bass, then late spring, early summer is the ideal time to be casting your line. Both smallmouth and largemouth bass are abundant in the La Crosse waters—largemouth in shallow backwaters and smallmouth in the bigger rivers.
Channel and flathead catfish also put up an excellent fight in the warmer months, providing a challenge for anglers of all levels.
Other fish you may just find at the end of your line include sturgeon, sauger, crappie, and sunfish, and trout (depending on which waters you're fishing in).
Fall & Winter
The cooling of the climate in fall brings out the aggressive side of many fish, as they prepare for food sources to diminish in winter. Bass are much less active in the cooler months, so it's advisable to wait for warmer weather if they're your target.
Walleye are still a predictable and steady catch in the cooler temperatures. And when the waters ice over, winter ice fishing for panfish is one of the most fun winter activities in the region.
When the ice is thick and safe, you can head out to deeper waters and try your hand at reeling in a northern pike.
What Gear Should You Bring?
If you're fishing in the spring or summer, you'll want to use a rod and reel that's appropriate for the fishing you want to be doing.
Take your pick of a fly fishing rod and reel if you want to fly fish for trout. But a normal spinner reel or baitcasting reel and rod will work well for most people if you're fishing for bass, crappie, walleye, or other fish.
For ice fishing, you'll need an ice auger and a special ice fishing rod and reel. Unlike normal fly reels or baitcasting reels and fishing rods, these are designed to be able to withstand the cold and be effective for the kind of fishing you're doing. They're often made of fiberglass to be strong and flexible at the same time and are shorter than usual.
It's a good idea to do some research on fly patterns for your target fish and the season you'll be fishing in.
Other than that, be sure to dress for the weather. Wear wool clothing and layer up in winter to stay warm. Remember to wear a hat and sunscreen in summer. Non-slip shoes are a must, and make sure you have first aid essentials just in case.
Which Fishing Spots Are Best?
Neshonoc Lake
This 606-acre, 11-foot deep lake is about 15 miles outside of the city and offers good fishing opportunities. You can expect to catch largemouth bass, catfish, northern pike, and a variety of panfish.
Depending on the day, the water can be a touch cloudy. Brightly colored lures may have the best luck in these waters.
You can fish from the shore or head out on the boat. Surrounded by trees and marsh, it's a beautiful spot to spend some time.
Lake Onalaska
Lake Onalaska, 4 miles wide and 40 feet deep at its deepest point, is a reservoir on the Black and Mississippi Rivers. It's the ideal place to visit with the family in summer, as there's a variety of activities on offer.
While you're fishing for walleye, smallmouth and largemouth bass, northern pike, or bluegill, the family can waterskiing, wind-surfing, or bird-watching.
But it's equally as great a location in the fall and winter. Fall brings a burst of spectacular color to the surrounding scenery, and when the lake ice over, it's an extremely popular ice fishing spot.
Lake Onalaska also holds the state record for spotted sucker. The big fellow, 20.5 inches in length and weighing 4 pounds 10 ounces, was caught in 2018 in these waters.
Black River
The Black River in La Crosse is a backwater river that offers exciting fishing. The part of the river at MM 695 across from La Crosse is dotted with small islands, providing a variety of hideaways for walleye.
It's a little more remote than the first two locations, which is ideal if you're looking for a serene spot without others around
La Crosse Lunker League
Fishing is an excellent choice of outdoor activity to partake in if you happen to have some time to spend in the great outdoors in La Crosse.
If you want to add an extra element of excitement to your fishing, you can join the La Crosse Lunker League.
It's simple. Catch a qualifying species in the La Crosse area, take some pictures for size and memories, release your fish, and submit your catch!
You'll be notified when your catch has been approved and you can see the awards you've gained. There are goals, milestones, and various awards to be won.
It's open to both residents and visitors. It's a fun way to challenge yourself and possibly win some cool awards!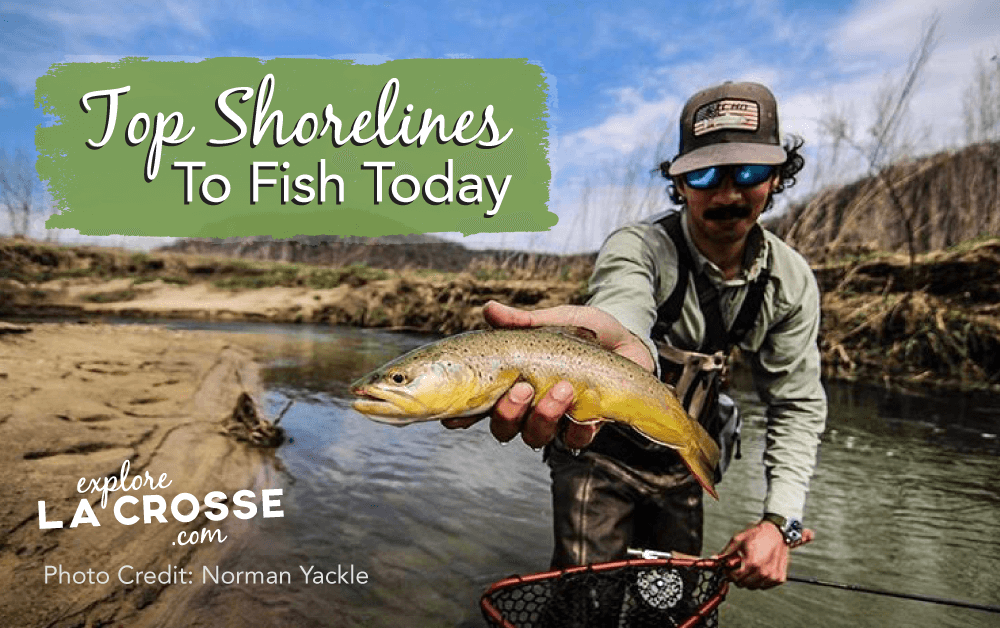 Top Shorelines to Fish Today
No boat? No problem!
The area has amazing options to fish from shorelines, docks, piers, floats, and more without ever having to step foot on the water.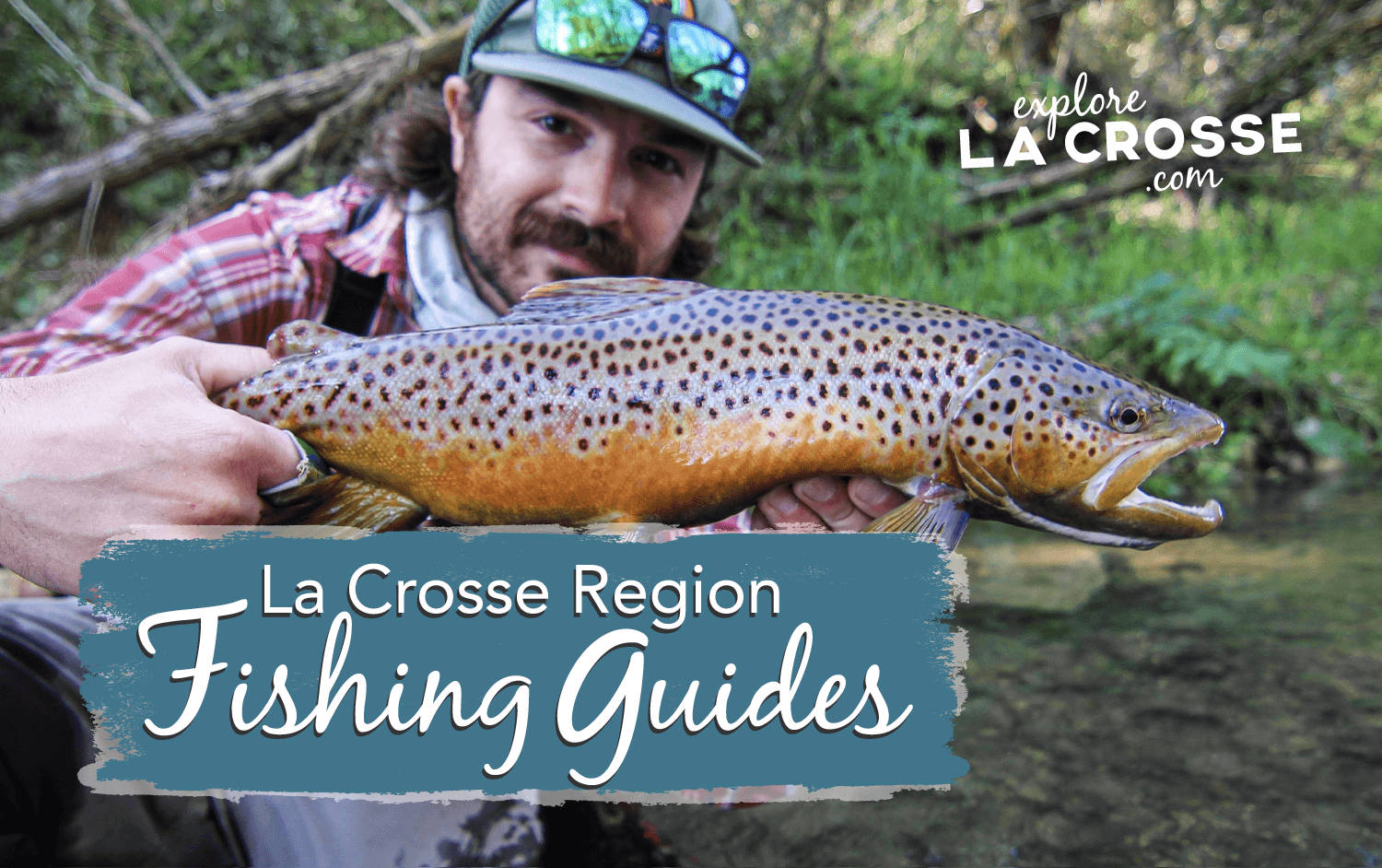 Fall Fishing Frenzy: Guides in the Region
Hit the Fall Fishing Frenzy in the La Crosse Region! Take the guesswork out and enjoy area guides with years of experience navigating the Region's bountiful waterways.