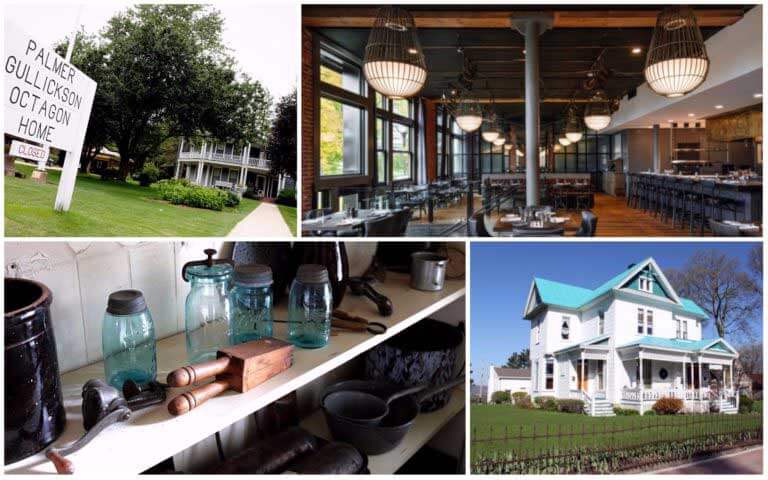 For all you history buffs out there…
La Crosse is home to more historic places than most people realize!
10. Joseph B. Funke Company
If you've previously visited La Crosse, WI and stayed at The Charmant Hotel, stopped in to grab a cup of locally brewed coffee, or maybe treated your sweetheart to dinner, you've unintentionally visited a historic area. It's time to go back and take another peek –  built in 1898, this building used to be an iconic and widely popular candy factory. At it's peak of production, the brick building employed 220 workers. Today, the building showcases it's history with their beautiful wood floors, exposed brick, and even offers chocolate upon check-in when you spend the night.
9. Gideon C. Hixon House
Built in 1859 and once occupied by the prominent lumber baron, Gideon Hixon. You can now step back in time when you walk inside this beautifully built Victorian home. Containing most of the artifacts and original furnishings from the Hixon era, the house is now a museum standing on 429 North 7th Street in La Crosse, open Memorial Day through Labor Day. If you love history and architecture you need to see this historic house.
8.Gund Brewing Company Bottling Works
We're all familiar with La Crosse's rich brewing history but are you familiar with this one? Built in 1903 by Architect Louis Lehle, this factory aimed to be ahead of the curve in superior beer bottling methods, such increasing shelf life and using more progressive sanitation methods. The building has since been converted to apartments on La Crosse's South Side.
7. La Crosse Commercial Historic District
Everyone who visits La Crosse ventures to the downtown area for different reasons, but history fans will want to take a peek at older areas. There are many long-time La Crosse residents who can fill you in about how different the area looks today, but you'll want to be sure to check out the 1866 Voegele grocery and saloon, the 1870 Italianate Solberg grocery store, the 1894 Romanesque/Queen Anne Rehfuss dry goods building, and the 1940 Moderne Hoeschler exchange building. Learn more and venture on a walking tour!
6. Onalaska Pickle and Canning Factory
Previously the Onalaska Brewery, a series of five buildings comprise what was, at its peak, the Onalaska Pickle & Canning Company complex located at 841 2nd Ave SW in Onalaska. The J.S. Gedney Pickle Company, which was headquartered in Minneapolis, Minnesota purchased the former brewery buildings in 1901. After five years of operation, the Gedneys pulled out of the firm and the company was renamed Onalaska Pickle and Canning Company which operated until 1957. In 1963, the buildings were designated as one of two buildings in the city that were identified by the U.S. Army Corp of Engineers as fallout shelters, in the case of a warning or attack. Currently, the property is owned by D&M Recycling.
5. A.O. Jostad's Store
Located on the corner of Main and State Streets in Holmen, Wisconsin is Jostad's Store. The present brick building was erected in 1899. The store sold groceries, furniture, men's clothing, and hardware. Items such as sugar, rice, oatmeal, flour, and cookies were weighed out from barrels. In 1956, the store and its contents were purchased by Jerry Dahl and Conrad Jostad, who continued its operation until 1959, when it closed. The store currently houses small businesses and apartments.
4. Hamlin Garland Homestead
Hamlin Garland, a Pulitzer prize winning author, was born in West Salem in 1860. The West Salem Historical Society has preserved and restored the Hamlin Garland Homestead to the time period of 1912-15. In 1973 the Interior Department designated the house a National Historic Landmark. The house was purchased by the West Salem Historical Society late in 1973, but restoration did not actually begin until 1975.
3. Lumber Baron Inn
The Lumber Baron Inn located in Onalaska, Wisconsin is a completely renovated and restored home originally built in 1888 and is listed on the National Register of Historic Places. The house has its original woodwork, lights and stained glass and now serves as a Bed & Breakfast. The home was built for the first Lumber Mill owner in Onalaska. Overlooking Lake Onalaska, the home also includes the original carriage house and wrought iron fence. Owners Ken and Sandy Berg restored the home in 1995.
2. Palmer-Gullickson Octagon house
The Palmer-Gullickson Octagon home was originally located in Neshonoc, an area about one mile north of West Salem near the La Crosse River. The home was built in 1856 by Dr. Horace Palmer, the first resident doctor of Neshonoc. When thriving Neshonoc lost its residents to West Salem because the railroad was being built – the large Palmer home was moved to its present location. In 1921 the home was purchased by Mr. & Mrs. Oliver Gullickson who's daughter-in-law sold the property to the West Salem Historical Society. The home is now preserved and open to the public.
1. Mindoro Cut
Mindoro Cut is located in the Town of Farmington in La Crosse County, Wisconsin just off of Highway C which links Mindoro with West Salem. The cut is 74 feet deep, 86 feet long, and 25 feet wide and is the 2nd deepest cut built by hand in the Western Hemisphere and the oldest functional cut which has not been improved. Work on the cut began in 1907 and concluded in 1908 and was completed primarily with hand tools. The Mindoro Cut was added to the National Register of Historic Places in 2007.
Local Resources
La Crosse County Historical Society
Holmen Area Historical Society
West Salem Historical Society

Miranda Martin is a junior at the University of Wisconsin-La Crosse, majoring in interpersonal communications with a double minor in creative writing and women gender studies. She is from Franklin, WI, and loves the Milwaukee area. In her free time she loves to write, read, exercise, and be around people! Her favorite aspects of La Crosse are the bluffs and the friendly community atmosphere.