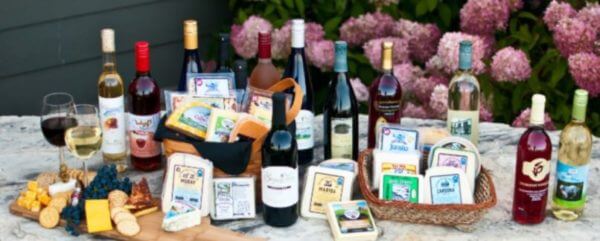 Spring Event Weekend April 13, 14 & 15, 2018
Activities planned at 14 wineries and creameries throughout South Western Wisconsin
March 26, 2018 – Westby, WI – The Driftless Wisconsin Wine & Cheese Trail will hold its Spring Event weekend April 13, 14 & 15th, with special activities at each of fourteen businesses. Launched in 2017, this collaboration between the state's renowned dairy industry and its growing wine industry invites travelers to visit estate wineries and local creameries, tasting wine and sampling cheeses that have received national and international acclaim. The Trail is made possible through a matching Buy Local, Buy Wisconsin Grant through the WI-DATCP.
The Trail is comprised of these businesses located roughly between Madison and La Crosse. The route provides a tour of the stunning natural beauty of Southwest Wisconsin's Driftless Area:
Baraboo Bluff Winery, Baraboo Arena Cheese, Arena
Branches Winery, Westby Carr Valley Cheese, LaValle
Rock N Wool Winery, Poynette Cedar Grove Cheese, Plain
Spurgeon Vineyards and Winery, Highland Organic Valley, Cashton Retail Store
Weggy Winery, Muscoda Pasture Pride Cheese Cashton
Wollersheim Winery & Distillery, Prairie du Sac Westby Creamery, Westby
Vernon Vineyards, Viroqua Nordic Creamery, Westby
Travelers can visit these locations year-round, but will receive a special welcome on the April event weekend. Each business will be open from 10 – 5 pm each day and will offer activities such as tasting specials, discounts, educational programs, tours, etc. According to Trail Director Therese Bergholz, owner, Branches Winery, "The Trail has become very popular because it gives wine and cheese lovers the chance to sample products, learn about wine and cheese pairings, and meet the wine makers and cheese makers." The goal of the Trail is to draw people from all over the Midwest to learn about the area's locally grown/produced wine and cheese and experience agritourism in a delicious, fun, and personal way.
The featured cheese producers offer a wide variety of award winning cheeses including organic cheese and goat cheese. The wineries offer an outstanding range of high quality products – created from estate-grown cold-climate grapes and other fruits. Wines range from dry, oaked red wines to sweet white dessert wines, with many delicious options in between.
The Trail is a self-guided tour which draws customers year-round, not just on special event weekends. Trail event weekends are free to attend; normal tasting fees may apply. The Trail features a passport system where visitors receive a stamp when they make a purchase at each business. When complete, the passport can be redeemed for a VIP discount card. "Many people like to book a weekend trip to enjoy the Trail and explore numerous charming small town businesses and attractions," Bergholz continued. "However, you can start the Trail at any business, at any time of year, and spend many fun days completing your passport." More information about the Trail including a map, details about the passport, and information about each participating business can be found at driftlesswinecheesetrail.com. The Fall Trail Event Weekend is scheduled for October 12, 13 & 14, 2018.
More information about the Trail can be found at driftlesswinecheesetrail.com and Facebook.com/driftlesswinecheesetrail. Inquiries about the Trail can be sent todriftlesswinecheesetrail@gmail.com com or via Facebook.com/driftlesswinecheesetrail.
The Trail office is located at E6796 Old Line Road, Westby WI 54667. Phone 608-634-9463.
Media Contact:
Therese Bergholz
Director, Driftless Wisconsin Wine and Cheese Trail; Owner, Branches Winery, Westby
driftlesswinecheesetrail@gmail.com