Labor Day Weekend
General
What is the LST-325?
The LST-325 is a World War II-era tank landing ship (Landing Ship, Tank) that played a significant role in the Allied efforts during the war. LSTs were used to transport tanks, vehicles, and other equipment directly onto beaches, allowing for the rapid deployment of troops and supplies during amphibious assaults.
LST-325 served on Omaha Beach during D-day, June of 1942. After the War, the ship was decommissioned and transferred to Greece where it would serve until 2000, when it made treacherous 2-month trip back to the US.
Why is it in La Crosse?
The LST is going on a cruise down the Mississippi this fall to showcase its beauty in many port cities of the US, La Crosse happens to be its first stop along this tour.
Where will the LST-325 be docked?
The LST-325 will be docked at Riverside Park from August 31st – Sept. 4th, open daily 9:00 – 5:00
Tickets
How do I buy Tickets?
Tickets are sold on-site only. Cash or Credit – Adults 15$, Children (6-17 y/o) 7$, Active Military Free with ID
*The LST 325 staff has all final say on ticket sales.
What can I expect during the tour?
Tours are self guided with informational brochures that will be handed out with ticket purchase. Tours normally take around 45 – 60 mins.
The tour begins on the Tank Deck then proceeds to the Mess Deck, Galley, Stern of Ship (Guns and Anchor), Wheel House, Officer's Country and the Captain's Cabin, across the Main Deck, down to Troop Berthing, and finishes back on the Tank Deck.
LST-325 Schedule
When are the tour times?
The Boat will be docked and open for tour on | August 31st – Monday Sept. 4th | 9:00am – 5:00pm | You are free to come when you please, because tours aren't guided, there are no set tour times. Just an open house!
Thursday, August 31st, at 9:00am the Da Capo Concert Band will be preforming for free at the Riverside Band Shell for the LST Welcoming Ceremony followed by tours of the ship.

When is the last entry admitted?
Gates will close 5:00pm, everyone on board will be given time to finish their tour
Are Children Allowed?
Yes, but please be aware that you will NOT be able to bring strollers onboard and small children will need to be carried up and down steep, narrow stairs
Directions, Transportation, Parking, & Accessibility
IS PARKING AVAILABLE?
Riverside Park will be closed to drive through traffic Thursday, August 31st through Monday, September 4th from 9am – 5pm
Parking is available. Follow the map below. Please direct all parking to the Riverside Municipal Parking Ramp (424 2nd Street)
A shuttle will be available at the Waterfront Restaurant Parking Lot (328 Front Street) for guests that require golf cart shuttle assistance.
*Waterfront Restaurant Parking Lot is for restaurant patrons only, please park in the Riverside Municipal Parking Ramp and walk over to the lot if needing golf cart shuttle assistance.
Handicap parking available at Riverside Park, please use State Street to access the park.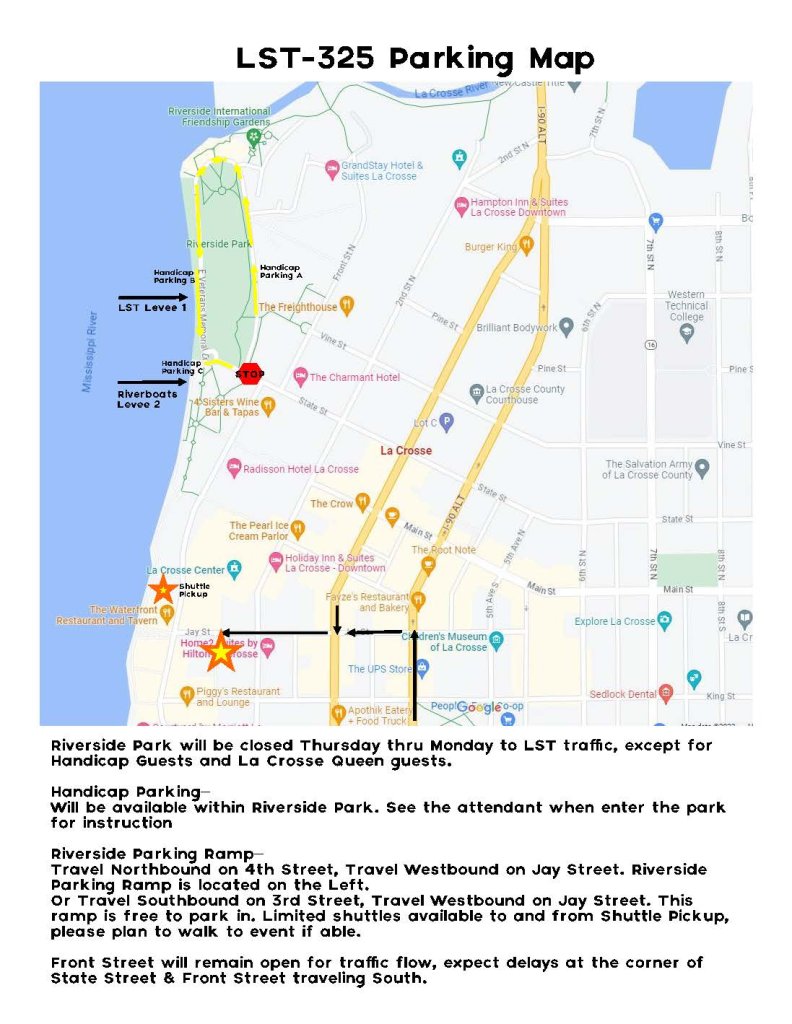 Is the venue handicapped accessible?
No, The LST-325 is not ADA Compliant. However, the Tank Deck is Wheelchair accessible, this includes artifacts and the gift shop
Hotel Accommodations: Do you have any hotel discounts or codes?
Yes, Please visit this link here! HOTEL RATES>>
Can I sponsor the Tours?
Possibly. We have sponsorship opportunities available if it is the right fit for your business and our event. Please contact us to inquire.
Carey Hegge – hegge@explorelacrosse.com
Media
Can I get a media/press pass?
Contact us before the event to discuss.
Volunteering
Where can I volunteer or find more information on volunteering?
Contact us to set up a volunteering experience!
Carey Hegge – hegge@explorelacrosse.com