1. Great River Road Excursion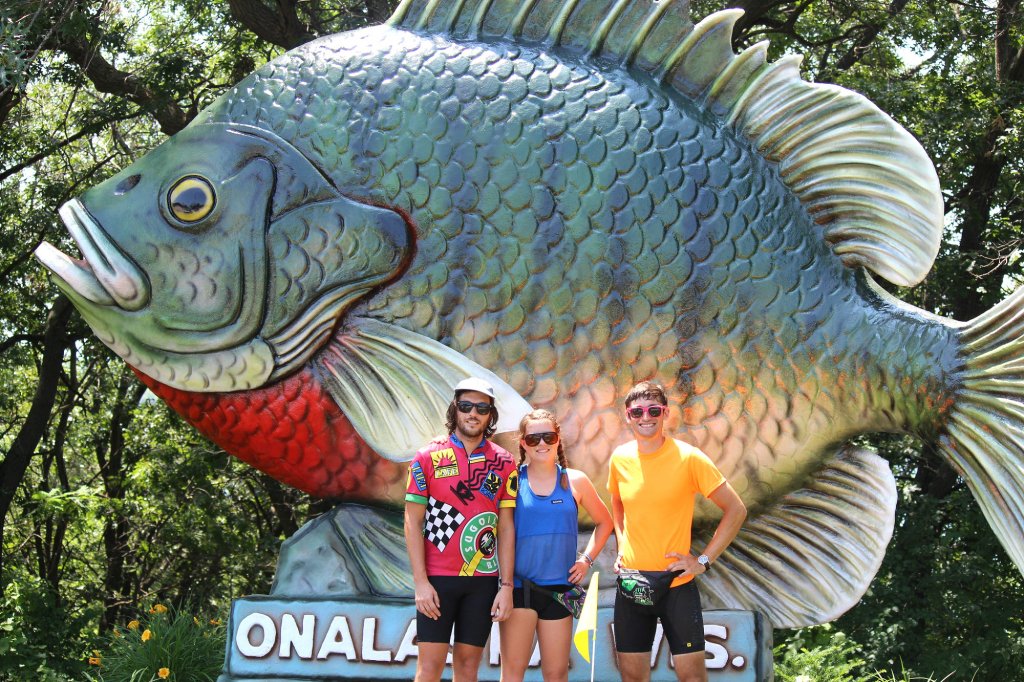 Enjoy beautiful scenery, access to excellent hiking, fishing, scenic overlooks, and the picturesque vistas of the Mississippi River along the Wisconsin Great River Road. The National Scenic Byway sits on Highway 35 and covers 250 miles of adventure and river towns in Wisconsin.
Sunny the Sunfish & Great River Landing | Onalaska, WI
Both located in Onalaska, WI, Sunny the Sunfish and Great River Landing are famous stops on the Great River Road within the La Crosse Region. The Great River Landing is renowned for its natural beauty, Welcome Center, and friendly atmosphere. It serves as the trailhead for the Great River State Trail which connects over 100 miles of state bicycle trails and is a short walk from local cuisine and shops.
Sunny the Sunfish is a quick drive North of the Great River Landing on HWY 35. The massive and brightly colored sunfish sculpture is perched on a scenic overlook of Lake Onalaska.
Blue Moon Restaurant | Onalaska, WI
A Highway 35 landmark for nearly 100 years, the Blue Moon Restaurant was once a popular nightclub, "Blue Moon!" However, for over 10 years now, the legendary stop is known for providing quality service and cuisine for breakfast, lunch, happy hour, and dinner. With views of Lake Onalaska, the location is hard to beat for a classic American meal in a unique setting. Better yet? They offer carryout options – you can grab your grub, head down the Great River Road/HWY 35, and pull over for some scenic overlooks of the region.
Downtown La Crosse & Riverside Park | La Crosse, WI
Filled to the brim with outstanding refreshments, travel further south from Onalaska to La Crosse! Located between Downtown La Crosse and the confluence of the Black, Mississippi, and La Crosse Rivers, Riverside Park is a famed destination of the La Crosse Region. Home to the La Crosse Queen Paddleboat, the International Friendship Garden, and one-of-a-kind events, the park is perfect for both activities or simply a leisurely stroll.
Historic Downtown La Crosse is also an iconic piece of the La Crosse Region. With stunning architecture, urban influences and developments, and locally owned businesses, it bursts with arts and culture, shopping, dining, and nightlife activities.
Big Blue Bridge & Swing Bridge Pub | La Crescent, MN
After soaking in the downtown pleasures of La Crosse, you can continue your journey across the famous Big Blue Bridge. Heading South, hop onto Cass Street to cross over the mighty Mississippi River and head into Minnesota. A short drive past the bridge lies La Crescent, Minnesota. A quaint community known as the Apple Capital of Minnesota, this town offers plenty of scenery and fun dining options as well.
The Swing Bridge Pub is the perfect place to grab dinner or lunch after a long day of sightseeing and exploration. With fantastic appetizers including four flatbreads, pub pretzels, nachos, and steak sliders, a fantastic salad bar or Friday night fish fry and Saturday Prime Rib. There's something tasty for everyone!
2. Apple Blossom Scenic Drive Day Trip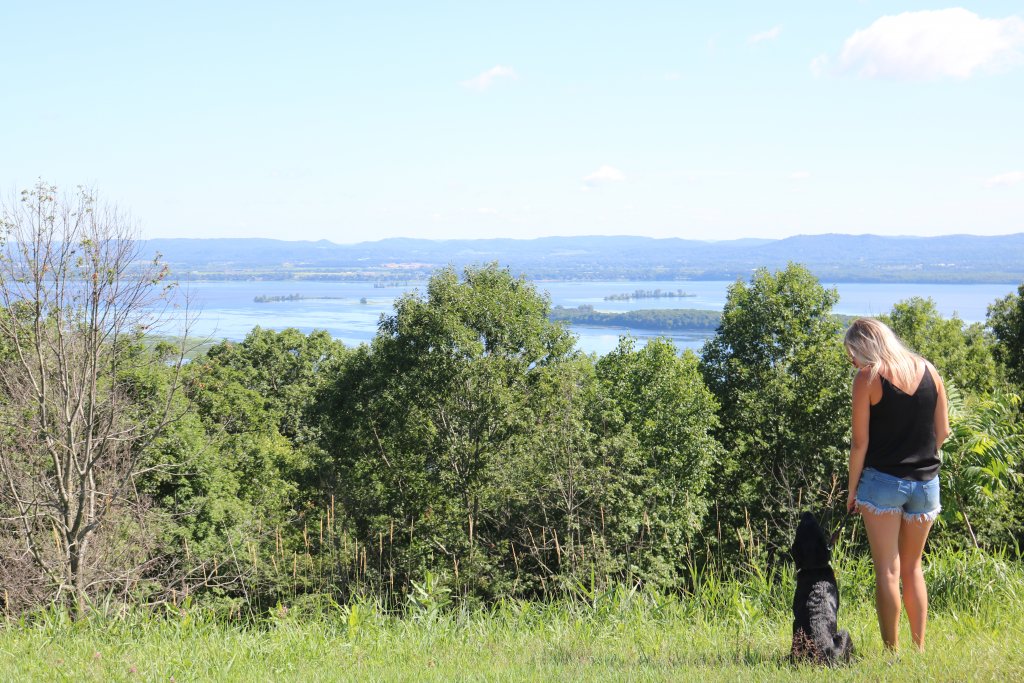 Only a short drive from La Crosse itself. get ready to enjoy rolling hills covered in the famed apple trees of La Crescent, MN! Hit the road on the 17-mile route and ride along ancient limestone, bluff-top roads that overlook the Mississippi River and La Crosse, descend into the Pine Creek Valley, and make your return back to charming La Crescent.
Pettibone Boat Club | La Crosse, WI
Start your day trip with a full belly after stopping at Pettibone Boat Club. Located on the banks of the Mississippi River, just west of the Big Blue Bridge, this restaurant and tiki bar offers classic entrees and drinks along the river's edge. Stocked with classic summertime treats and meal options with great service, Pettibone Boat Club should make your bucket list year after year!
Apple Blossom Scenic Overlook | La Crescent, MN
Next, head a few miles further west to the Apple Blossom Scenic Overlook! This famous overlook, located on Apple Blossom Scenic Drive, showcases stunning views of the Mississippi River Valley and the La Crosse Region. Part of the legendary Great River Road, the overlook is known for its breathtaking vistas, convenient location, and sweet aroma of apple blossoms in the spring.
After a few photo ops from Apple Blossom Scenic Overlook and the mini trails it hosts, head back onto Apple Blossom Scenic Drive for a day trip full of winding highway, miles of sightseeing, and charming businesses off the beaten path.
End Day at Best Western Pool | La Crescent, MN
After a brief road trip returning to La Crescent, nothing quite sounds as refreshing as a dip in the pool at the Best Western Plus saline pool! Providing guests with spacious rooms and suites, the hotel is a coveted lodging destination designed with your comfort in mind.
3. Brice Prairie Wildlife Adventure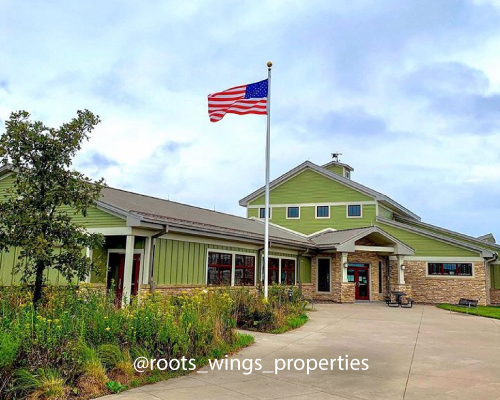 Calling all nature and wildlife lovers for this wee, day trip adventure! Revel in outdoor beauty just outside of Onalaska, WI with wildlife education, a unique hiking experience, and cuisine exclusive to the "Northwoods" of Onalaska!
Upper Mississippi National Wildlife & Fish Refuge | Brice Prairie, WI
Just outside of Onalaska, the Upper Mississippi National Wildlife and Fish Refuge is a fabulous resource where visitors can explore local natural wonders and enjoy the sights of the magnificent Mississippi River. Make sure to see what lies below the surface of the famous river through The River Walk, "walk on water" exhibit! The changing prairie colors provide everlasting freshness from late spring to early fall.
Lytle's Landing | Brice Prairie, WI
A brief drive past the Upper Mississippi National Wildlife and Fish Refuge is Lytle's Landing. A pleasant, moderate hiking excursion is in store on an old railroad track near the Black River! Enjoy multiple bridges with stunning architecture among the beautiful creeks and waters of the prairie. Perfect for an easy walk with the family and pets or a unique bike ride, this hidden gem is a bucket-list must!
Red Pines Bar & Grill | Onalaska, WI
After a day of soaking in the great outdoors, why not dine in them too! Nestled on a shoreline amongst the trees, Red Pines Bar & Grill has become a destination unto itself. Voted La Crosse County's #1 Rural Bar located on Lake Onalaska, they have become renowned for a cozy, rustic atmosphere featuring hand-prepared fish, excellent meats, and homemade pizzas. Soak in a "Northwoods" experience both indoors or on their (heated) outdoor patio!