Paddling
The meandering waterways of the La Crosse area are an absolute paradise for paddlers of every stripe. Take the family on a gentle canoe ride through relaxing wetland courses, or enjoy moderate to strenuous kayaking adventures along the Mississippi, Black, or La Crosse Rivers. Canoe trails, launches, and outfitters abound in the area, making it one of the best paddling destinations in the region. Check out this excellent map of canoe launches in the area to find the most convenient access point for you!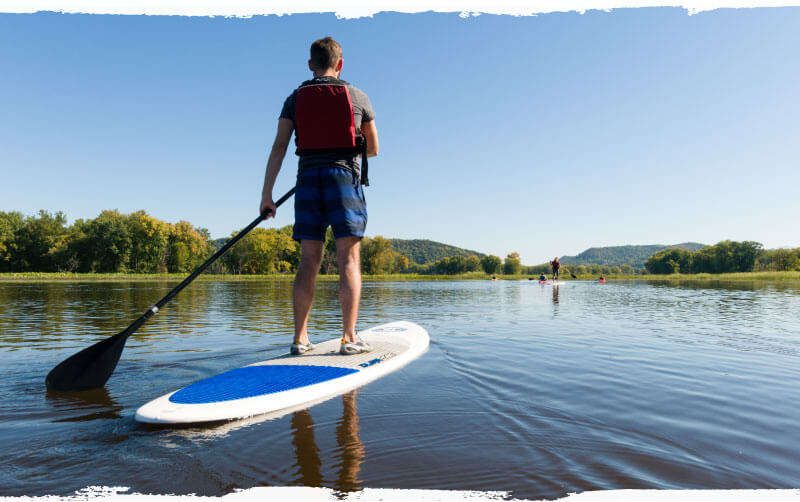 Goose Island Campground & Park
Just a few miles south of downtown La Crosse lies Wisconsin's largest county campground. Situated directly on the Mississippi River, Goose Island Campground is popular for its nature trails, excellent fishing, and beautiful views and sunsets. The canoe trail has seven miles of moderate paddling that will take you 4 to 5 hours to complete. Half of the trip will be paddling against the current, and strong currents are possible during high water. Canoe rentals are available from the Goose Island County Park. Directions from La Crosse: Take HWY 35 S to Cnty HWY GI (west), the road into Goose Island County Park. The canoe trail may be accessed from any of the four boat ramps within the park. Goose Island Canoe Trail Map
Neshonoc Lakeside Campground Resort
One of Western Wisconsin's most popular campground destinations located in West Salem, WI, just 14 miles from La Crosse, Neshonoc Lakeside Campground Resort offers canoe and kayak rentals for paddlers wish to explore and relax on Lake Neshonoc's beautiful, placid waters.
Pettibone Park Resort
Pettibone Park Resort is a 115-site campground located directly across the Mississippi River's main channel from downtown La Crosse, offering excellent access to the myriad backwaters and smaller channels meandering through the area as canoe and paddleboat rentals to explore them.
Upper Mississippi Refuge Canoe Trails
Long Lake Trail
Five miles of easy paddling. The trail is through the Mississippi backwaters and can take 3 to 4 hours to complete. Directions from La Crosse: Take HWY 35 N to Trempealeau, head south on Fremont Street (Lake Road), pass the railroad tracks – 1.5 miles to Long Lake Landing.
Long Lake Canoe Trail Map
Lake Onalaska Canoe Trail
The newest marked trail on the refuge. Follow Mississippi River backwaters out into Lake Onalaska.
Lake Onalaska Canoe Trail Map
Brown's Marsh Canoe Area (Lytle's Landing)
This is a canoe area without a marked trail. The area is closed year-round to motorized watercraft and is easy paddling. Directions from La Crosse: Take HWY 35 N, turn left on County Rd OT, turn left onto County Rd ZN, turn right onto Cnty Rd Z. Follow Z to the end of the road. NOTICE: Lake Onalaska Voluntary Waterfowl Avoidance Area is in effect October 15 through mid-November. When large numbers of diving ducks are present on the lake, buoys mark the area's boundaries.
All Upper Mississippi Refuge Canoe Trails
La Crosse River
The La Crosse River is an often overlooked paddle through the Onalaska area to Riverside Park in La Crosse. With 6 conveniently spaced boat landings situated below Lake Neshonoc. For a leisurely paddle to Riverside Park, put in at Holiday Heights and meander past the bluffs and through the marshland.
Onalaska Waterfront
The Onalaska Waterfront and Spillway offer an opportunity to go canoeing & kayaking in Mississippi backwaters. Turn west on Irvin Street off of Highway 35, one block south of Onalaska's Main Street. The City of Onalaska Park and Rec department has a few canoes and kayaks available for rent down at the waterfront. Stop into City Hall at 415 Main Street or call 781-9560.
More information:
KayoeSUP
KayoeSUP is the driftless region's premier standup Paddleboard Instruction, guide, and rental service. All equipment is provided – Paddleboard, Paddle, PFD and Leash – with each lesson or tour. THEY COME TO YOU!
Ellistone Canoe & Kayak Rentals
Canoe and Kayak rentals on the La Crosse River. Choose from 2 and 4-hour trips, only 20 minutes out of La Crosse.
Schafer's River Rentals
Canoe and Kayak rentals on Lake Onalaska. They also have pontoons and fishing boats to get you out on the water.
Island Outdoors
On the Black River, Island Outdoors offers canoe and kayak rentals and water bikes, SUP boards, and paddle boats. Check out their evening guided paddles.
Hidden Hills
Canoe rentals on Coon Creek. Meet at Chaseburg Park to receive a complimentary ride with the canoes to Coon Valley Park. Enjoy beautiful scenic views and meet Hidden Hills staff back at Chaseburg Park after your creek travels!