Bow wow! Let the dogs out during your next trip at these epic, 5-paw-star businesses and adventures. Bring your furry-friend along while you explore the La Crosse Region!
"Barkworthy" Shopping & Play
Hiking/Parks
The La Crosse Region
With plenty of parks, trails, and bluffs, your furry friend will have plenty of options for rolling around and getting great exercise! Check out the customized itinerary for a dog-friendly adventure!
Downtown Mainstreet, Inc.
422 Main St, Downtown La Crosse
Take a walk with your adventure buddy through historic downtown. Stop and see the many businesses with special "Dogs of Downtown" stickers indicating pet-friendly shops and restaurants.
All Glazed Up!
205 Pearl St. La Crosse, WI
This is the perfect place for everyone to release their Inner Artist (even your fur buddies)! They offer Paint Your Own Pottery, jewelry and glass fusing, and more! Visit to make new, creative memories!
Duluth Trading Co.
400 Main St. La Crosse, WI
If you and your fur buddy need to find matching overalls, here's your chance! At Duluth Trading Company you will find men's and women's clothing, accessories and outdoor gear. This is a perfect pit stop for all outdoor gear for a great hike!

Larson's General
509B Main St. La Crosse, WI
Looking for the best way to become sustainable? There's no other place to look than with your furry friend at Larson's General. They offer the community an accessible way to reduce single-use packaging and offer earth-friendly, daily goods.
The Antique Center of La Crosse
110 3rd St. S. La Crosse, WI
The Antique Center, in the heart of Downtown La Crosse, is housed in the century-old Gantert building. The Center has a fine display of valuable antiques and unique collectibles. This makes one of the most unique places to stop on your shopping trip.
Honorable Mentions: 6-11 Crystals, Citizen's State Bank, Crescent Jewelers, La Crosse Community Foundation, Monet Floral, Smith's Bike Shop, TJ's Cheddarheads, Tree Huggers Co-Op
"Bone" Appétit! Pet-Friendly Drinks & Dining Options
Rudy's Drive In
1004 La Crosse St, La Crosse, WI
Enjoy an authentic 1950s drive-in restaurant with roller skating carhops and some of the best Root Beer floats, frozen yogurt, burgers, and unique flavors of ice cream. Don't forget to grab a sweet treat for your furry friend to enjoy while sitting shotgun!
608 Brewing Co.
83 Coeland Ave. La Crosse, WI
608 is a veteran owned and operated craft brewery with excellent, drinkable and high-quality craft beer for La Crosse and the Driftless Region. Your pup may not be able to join you in tasting the craft beverages, but will be able to enjoy the howling good vibes and patio.
Huck Finn's on the Water
129 Marina Dr. La Crosse, WI
Located at North Bay Marina in Pool 8 of the Mississippi River, Huck Finn's is nestled within the scenic Upper Mississippi River Valley. There's great food, panoramic river views & a relaxed atmosphere, the best for a howlin' good time!
Crooked Pint Ale House
9348 WI – 16, Onalaska, WI
This is a family and fur friendly bar and restaurant in Onalaska known for their beer list. They also have famous wine, spirits and delicious Juicy Lucy burgers! Avoid having a ruff day by bringing your pup along for some classic, savory bites.
Elmaro Vineyard
N14756 Delaney Rd Trempealeau, WI
At Elmaro Vineyard, their focus is on producing great wines and providing an unmatched setting in which to enjoy them. Their family works together to make sure you have the best experience possible, including you and fur buddy!
Honorable Mentions: Schmidty's, Lindy's Sub & Salads, Moxie's, Fathead Steve's
No Need to "Ruff" It: Pet-Friendly Lodging
Justin Trails Resort
7452 Kathryn Avenue, Sparta, WI
Welcome to the 200-acre Driftless Region Wisconsin Bed and Breakfast where land is plentiful, and buildings are few. TripAdvisor rates them as one of the top Wisconsin Bed and Breakfast! Enjoy an eco-luxury pet-friendly stay with acres of trails, and fun activities for friendly play.
The Charmant
101 State St. La Crosse, WI
The Charmant Hotel marks the transformation of an 1898-built Candy Factory. The property is the first independent luxury hotel in the area, and includes a restaurant with ample outdoor seating, a lounge and a rooftop bar, and loves to boast about their pet-friendly guests!
Radisson Hotel
200 Harbor View Plaza, La Crosse, WI
The Radisson Hotel is an award winning hotel located along the Mississippi River. They offer luxurious rooms and views! They're conveniently located right next to Riverside Park, which makes the perfect spot for an afternoon walk with your adventure pup!
Neshonoc Lakeside Campground
N5334 Neshonoc Road, West Salem, WI
Vacation at one of Western Wisconsin's most highly rated and picturesque campgrounds located on beautiful Lake Neshonoc. Features include immaculate campground facilities, heated pools, kiddie pool, adult spa, and large grassy sites for a "dog-gonit" great time!
GrandStay Hotel & Suites
525 Front Street North, La Crosse, WI
The GrandStay Hotel & Suites in La Crosse is located in historic downtown and conveniently situated near the Mississippi River, International Friendship Gardens and walking trails. Their pet friendly hotel is perfect for a short visit or extended stay.
Days Inn & Suites Onalaska/La Crosse
9409 Hwy 16 Onalaska, WI
Enhance your western Wisconsin visit with a stay at Days Inn & Suites by Wyndham Onalaska/La Crosse, a pet-friendly hotel, you'll be very close to hiking or biking the La Crosse River State Trail, perfect for an afternoon stroll with your "pawsome" fur friend.
Honorable Mentions: Baymont Inn & Suites, Ecno Lodge, Motel 6, Candlewood Suites, Super 8, Gundersen Hotel & Suites, Pettibone Resort, Quality Inn, Holiday Inn Hotel & Suites, Home2 Suites by Hilton, Country Inn & Suites, Welch Motel, Wilson Schoolhouse Inn, Comfort Inn, Holiday Inn Express & Suites, Stoney Creek Hotel & Conference Center, Goose Island Campground, Pine View Campground, Veterans Memorial Campground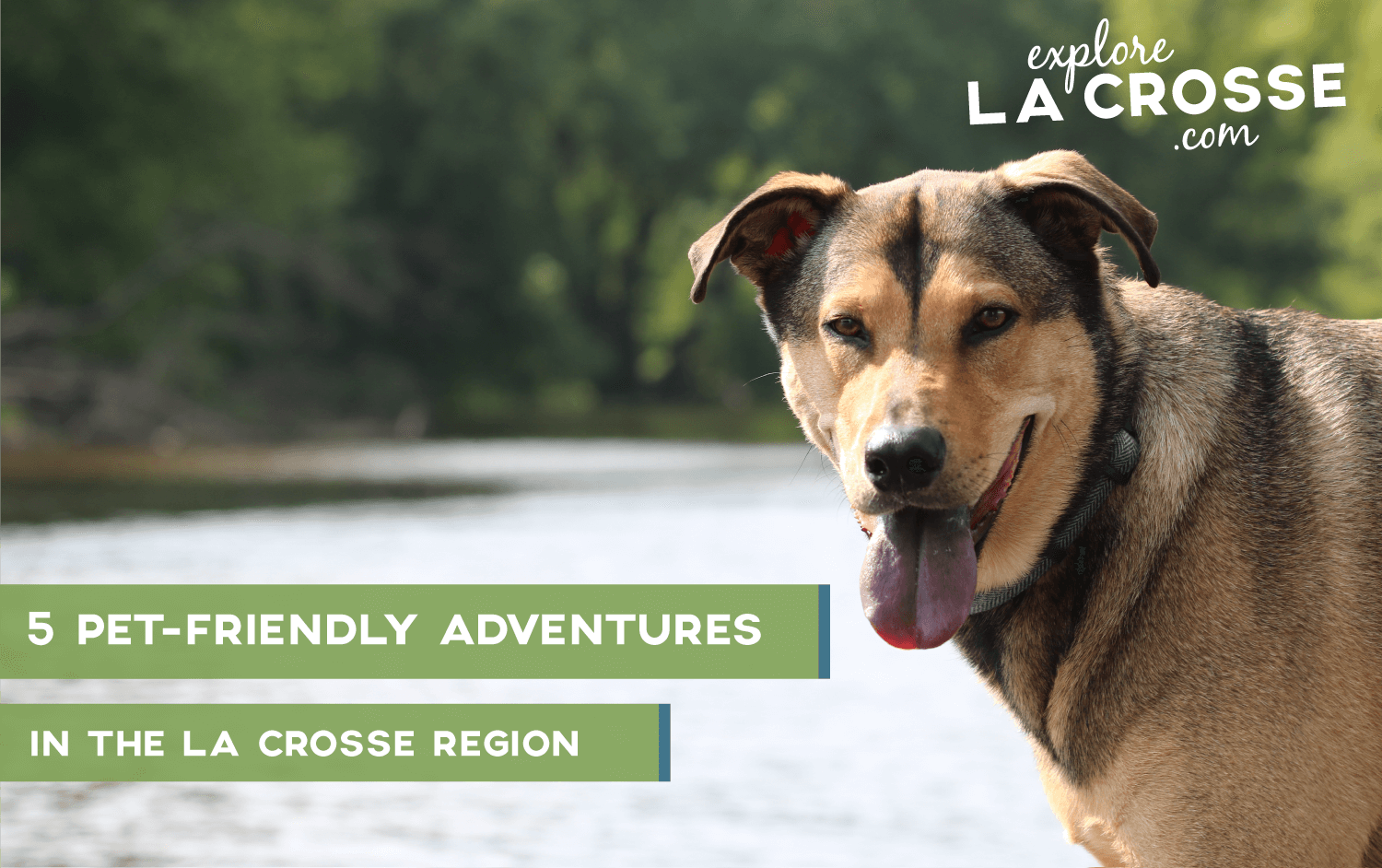 5 Pet-Friendly Adventures
As the weather warms it is getting easier to entertain ourselves and our "best friends" each and every day! The La Crosse Region is full of pet-friendly fun to enjoy together! We have compiled a list of five great to-do's for you and your furry entourage to explore this season. Happy trails…or better yet: Happy Tails!